PROTECTION.
SECURITY.
READY TO SHIP.
Linetec offers custom packaging with many different options. Material is protective wrapped to the customer's specifications; from boxing and master bundling to individually packaging material into crates.
LINETEC packaging options
Linetec offers many different types of packaging to fulfill every shipping need.
---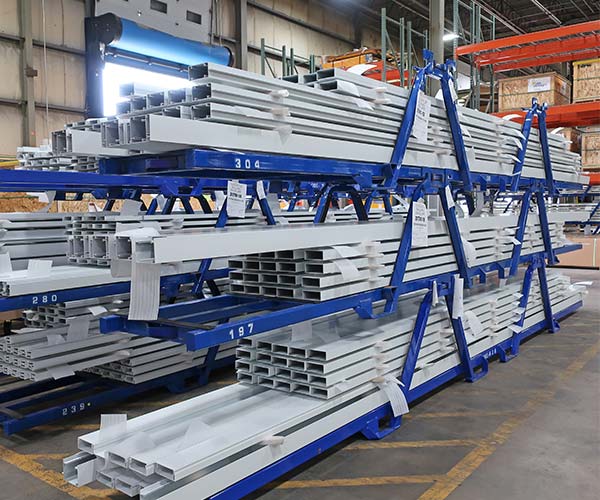 CUSTOMER CARTS AND CRADLES
Carts and cradles are utilized for Linetec trucking. Foam interweave is used between painted extrusions, with sticks separating the layers of both paint and anodize material.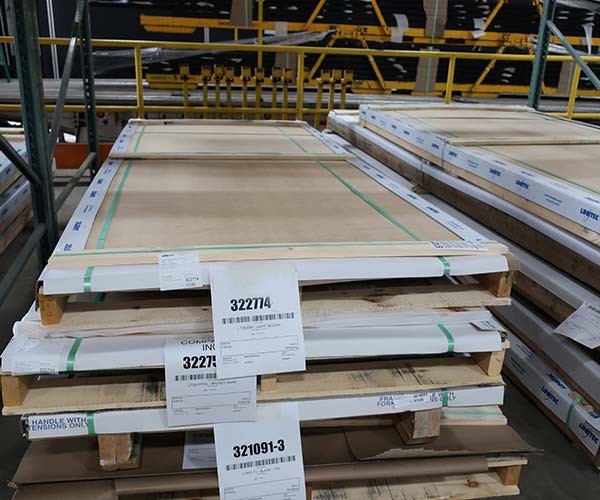 SKID PACKAGING
A skid is used for flat sheets and panels. Skids are built so a fork lift can get under the material.
CUSTOMER SUPPLIED CRATE
For ease of crate re-use screws are preferred rather than nails; with an easy access opening to remove the parts and replace them after they are finished. For strength and sturdiness, the crate should be built with 2X4's verses 1X4's.
When replaced after finishing, the material within each crate is packaged securely. Foam spacers are used to prevent finished panels from sliding inside crate.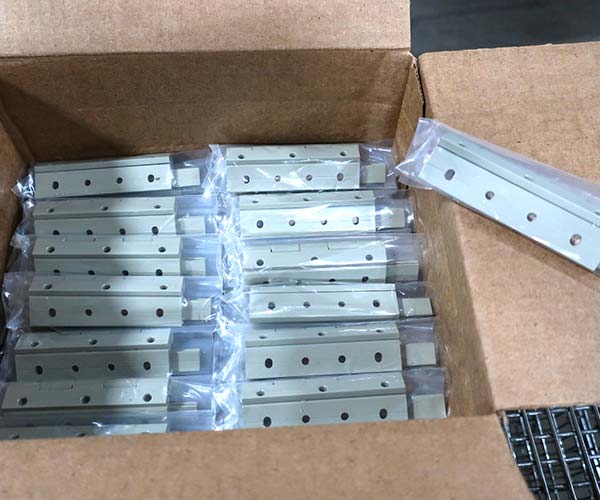 SMALL PART PACKAGING
Finished pieces are securely wrapped in plastic and taped. All material is snuggly placed in cardboard boxes to prevent pieces from rubbing against each other, causing damage.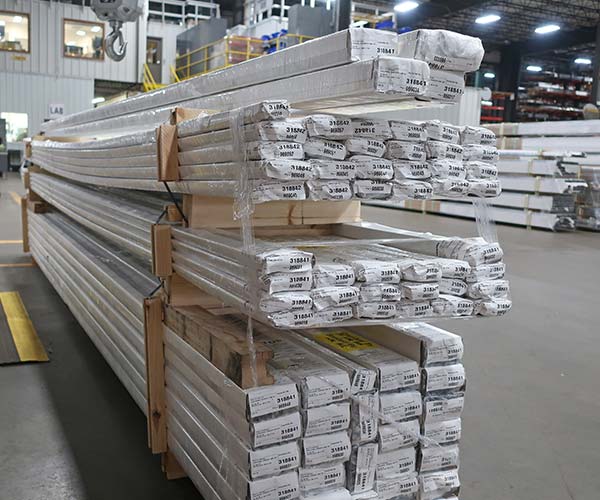 BOX PACKAGING
Extrusions are nested together with poly film interweave and v-board corner protection. The extrusions are then wrapped tightly as they are put through our robo-packaging machine.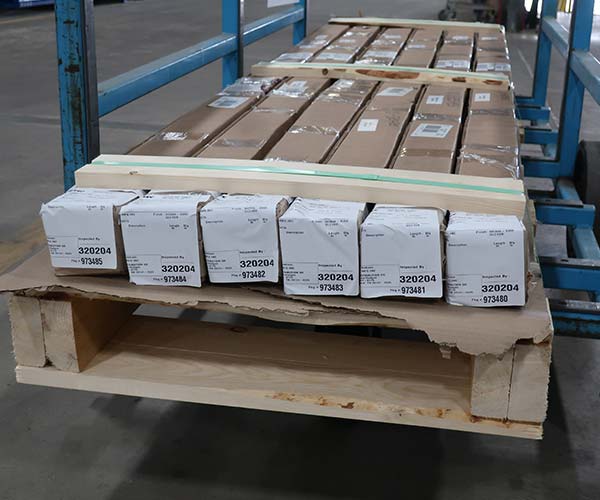 BOX PACKAGING – BUNDLES
The separate boxes, each with their own label, are bundled together with wood blocking and banding. The maximum bundle size is 20" X 20". The bundled boxes help to reduce handling and potential damage of the packages while being loaded on and off trucks. It also helps to eliminate the possibility of lost packages during transportation.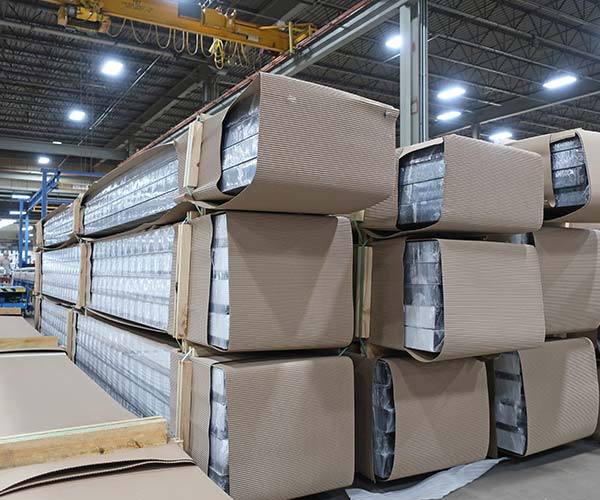 MASTER BUNDLES
A master-bundle consists of lineal extrusions that are interweaved with poly-film and nested together within the master bundle then block and plastic or steel banded. One label will identify the contents in the entire bundle.Dependent on shape and size, extrusions may require to be sent through our robo-packaging machine – charges would be handled accordingly.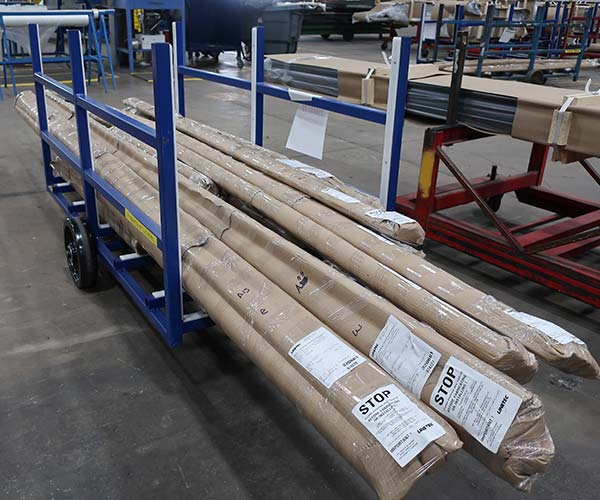 Corrugated Cardboard Packaging
Corrugated cardboard packaging is used for skylight assemblies and all radius material. The product is interweaved with high density plastic, wrapped with corrugated cardboard, and labeled.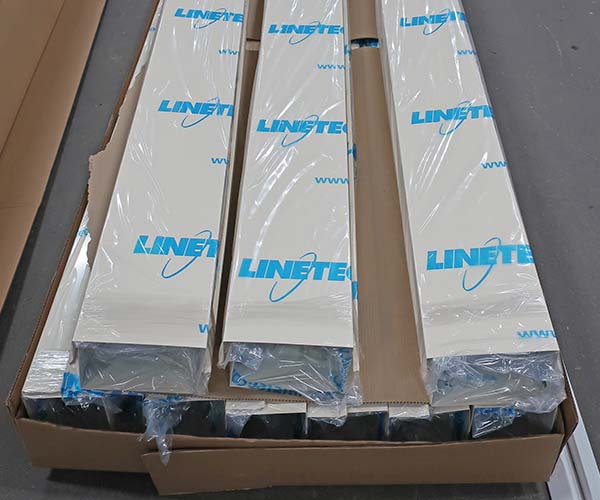 PACKAGING PROTECTION
There are three types of packaging protection offered for brake metal – Polymask, foam-interweave (as shown) and plastic-interweave. Polymask protection is typically used for flat sheets and brake metal shapes. It is machine applied for flat sheets and hand applied for brake metal shapes.