Linetec offers anodize color cards, with our 7 standards, and individual color samples. The color obtained in the anodizing process is dependent on many factors such as aluminum alloy, temper, shape, etc., therefore it is not possible to produce an exact color match. As a result, some color variation should be expected.
Range samples are offered to show what color variation should be expected.
Linetec has one of the tightest ranges in the industry. Per AAMA specification the range shall not differ by more than 5 Delta E. When various suppliers, alloys, etc. are used color uniformity may vary in excess of 5 Delta E. Linetec strives to keep its range from 1 to 3 Delta E. The lighter the anodize finish, the more noticeable the range.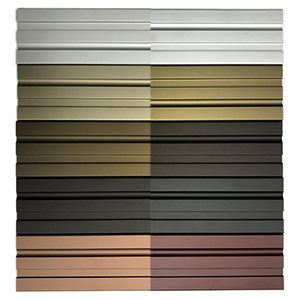 STANDARD COLORS:
Request anodize samples here.
---
NOTE: Actual anodize colors may vary from on-screen and printer representations.
---
Download a printable version of these anodize color samples:
Anodize Brochure
or request a physical brochure here.