COLOR/SHADE VARIATION IN COPPER ANODIZE
---
Linetec's unique copper anodize finish is achieved through a three-step electrolytic coloring process, rather than the standard two-step process. Parts are anodized and then introduced into two separate coloring tanks where elemental metals are placed into the pores of the anodic coating.
The first color tank contains tin and the second color tank contains copper. Slight variances in how much of each metal is placed in the pores will result in a shift of color and/or shade. Linetec's goal is consistency throughout each job, and to achieve this fully-automated equipment is used. However, due to the complexity of the copper anodize process variation in both color and/or shade may exist.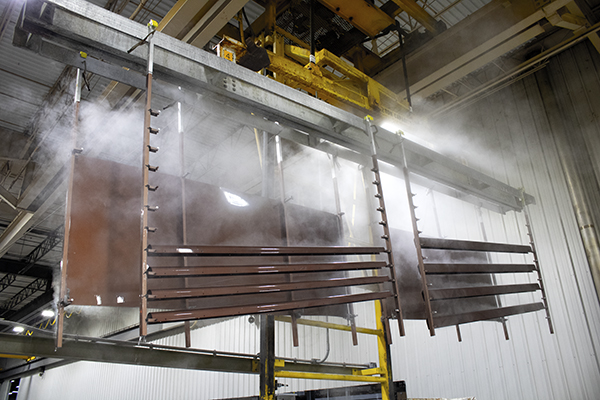 In addition to the anodize process there are many other factors that can affect the resulting color and/or shade and should be taken into consideration when considering copper anodize.
These factors can include but are not limited to:
Aluminum Alloy and Temper
Different Alloys and Tempers within the job
Part Orientation as it runs through the line
Part Size / Load Size
Different material types within job (break metal, extrusion and panels will not color the same)
Aluminum manufactured or extruded from different lots of raw material (If a job is of a size where multiple lots of material are necessary, use one lot of material for each elevation)
If variation is not allowable Linetec recommends one of their many copper paint finishes be considered.
If there are any questions regarding what can be done to limit the amount of variation, or other questions regarding the copper process, prospective copper anodize customers should contact their supplier or Linetec directly. Linetec's copper anodize will maintain its initial copper color, will not patina over time, offers a standard 5-year warranty, and meets all AAMA 611 Class I specifications.