paint process - pretreatment liquid paint & powder coating
Paint systems are designed to be applied over clean metal that has been properly pretreated. At Linetec you can be assured of the quality of the pretreatment system which, in summary, consists of: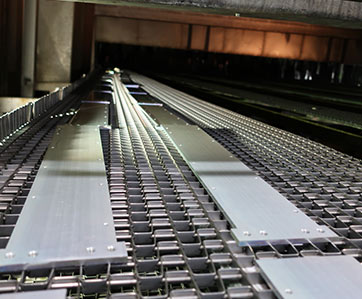 Stage 1          High temperature acid clean,
etch and de-smut
Stage 2          Ambient rinse
Stage 3          Amorphous chromium phosphate
conversion coat
Stage 4          Ambient rinse
Stage 5          Final rinse with R.O. water
Dry Off            Gas Convection Oven
Unlike batch pretreatment systems that group your products together and immerse them into a static dip tank, Linetec utilizes a dynamic power spray pretreatment system. Your products are loaded individually into the pretreatment system, and continue through the five stage 130-foot long power washer that cleans and treats them in accordance with AAMA & ASTM specifications.
Stage one of the pretreatment systems incorporates 140 high-pressure nozzles positioned to reach recessed areas on lineal or fabricated parts. Stage one nozzles circulate 550 gallons per minute of high temperature (140-160 degrees Fahrenheit) acidic solution, which cleans, etches and de-smuts the aluminum.
Stage two incorporates a high power clean water rinse.
In the third stage the aluminum surface is converted to an adherent, amorphous, iridescent surface through a chromium phosphate coating which increases the corrosion-resistance, adhesion properties and durability of any applied paint film. This conversion coating is recommended for use under severe conditions of service and for all architectural aluminum finishes.
The fourth and fifth stages of the pretreatment system are neutralizing clean water rinses containing 24 high-pressure clear water rinse nozzles in two columns. R.O. water is used in stage five to remove any hard mineral staining.
The high volume re-circulating system used in the pretreatment chamber provides a high velocity spray on your product creating a scrubbing/flushing action.
Solutions are recycled after passing through pretreatment baffles and filtering systems so the pretreatment used on your product is always fresh. The pretreatment tanks are checked and maintained regularly by dedicated chemical technicians to assure that the solutions and temperatures are operating at optimum conditions. After pretreatment your product moves directly into a dry-off oven where any remaining moisture is evaporated.