LONGLASTING PROTECTION.
PRECAUTION &
AWARENESS.
Fluoropolymer resin-based coated finishes (often referred to as Kynar®) provide long-lasting protection against weathering, aging and pollution on architectural, commercial and residential buildings around the world. The sustainability of fluoropolymer resin is unparalleled in the industry. 
linetec material precaution guidelines
---
Flat Sheet

---
Be aware that flat sheet, leveled and sheared, may return to coil memory when baked in a cure oven, subsequently causing some tolerance issues or curvature in the sheet.
Assembled Parts

---
Solution entrapment from the pretreatment process can be problematic to assembled parts. Material that will carry water must be drilled to allow drainage of the water in capture areas. It is recommended that customers make provisions for this prior to sending for finishing. 
Welded or stud welded attachments

---
Welded or stud welded attachments may cause flat sheet or break metal to distort when baked. Once distorted, the sheet or break metal may not return to its original shape when cooled. Welding will almost always cause distortion on aluminum sheet that will be noticeable after painting.
enclosed tubes

---
Tubes with welded ends rarely are completely sealed and water will leak inside the tube. Enclosed tubes will require drain holes for the entrapped liquid to escape.
radius material
---
The heat from the baking process may distort radius material out of tolerance. 
Extrusion Thickness
---
If extrusion wall thickness varies significantly on your project, color uniformity may be at risk. This is due to the differential in baking temperatures to get the metal to temperatures required to cure the paint. If a heavy walled extrusion is painted with a thin bead die, the bead die may over-bake, resulting in a darker appearance and lower gloss, as well as possible warpage of the metal.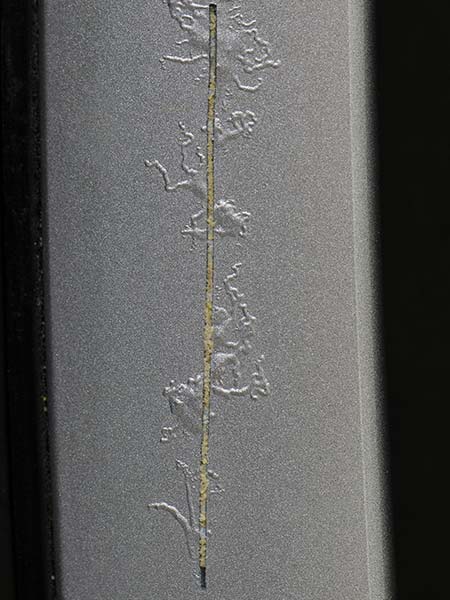 material contaminants awareness
fisheye

---
Linetec's pretreatment system is not equipped to remove non-water soluble oils. These types of oils contaminate the system and cause "fisheye" problems with the paint finish. Fisheye is a defect in the paint film appearing as a circular depression resembling a crater but not revealing bare substrate.
corrosion

---
Storing metal outside prior to painting can cause corrosion that, unless removed by sanding, will cause staining and poor aesthetic quality.
extrusion process

---
Residue from lead and wax used in the rolling process of tubes and extrusions will cause contamination problems if all of it is not removed. The lead and wax may run out in the baking process and cause damage to the paint finish and metal.
Photo credits: Super Sky Products intl