ECO-FRIENDLY.
ENVIRONMENTALLY FOCUSED.
SUSTAINABLE DESIGN GOALS.
PAINT FINISHING
ENVIRONMENTAL CONSIDERATIONS
Linetec has earned a long-standing reputation as a leader in environmentally-conscious practices and finishing options. For more than a decade, environmental responsibility has been written into our core values.
70% PVDF PAINT COATING / ECO-FRIENDLY FINISHING
As a USGBC member, Linetec supports green building through our eco-friendly finishing applications.
---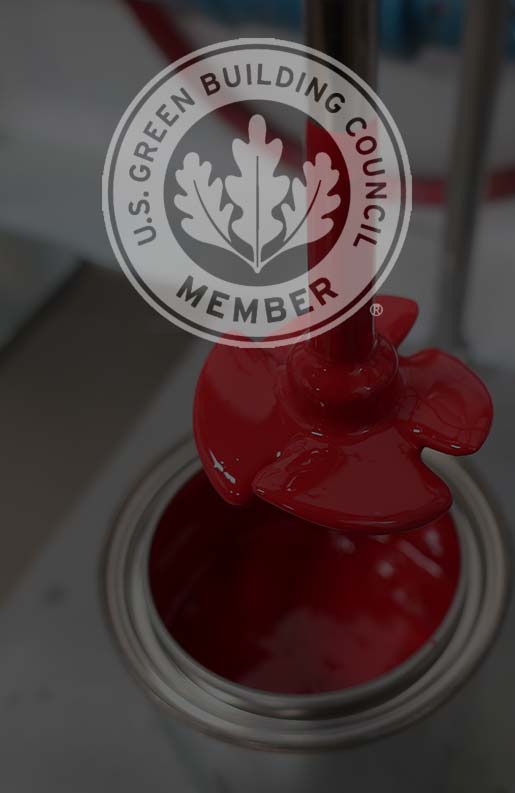 As a USGBC member, Linetec supports green building through our eco-friendly finishing applications, ongoing research and environmentally friendly business practices and facilities.
Fluoropolymer resin-based PVDF paint coatings (often referred to as Kynar®) have been the proven mainstay in the architectural market for decades. The leading brands include PPG Duranar, Sherwin Williams (Valspar) Fluropon and Akzo Nobel Trinar. The primary environmental concern with liquid paints is the solvents used to deliver the paint to the part; some of the solvents used are considered volatile organic compounds (VOC) content and must be destroyed.
VOC content when released directly into the atmosphere has been known as a contributor to ozone depletion. However, Linetec and other environmentally-conscious finishers use a 100% air capture system and destroy the VOCs with a regenerative thermal oxidizer, so there is no adverse environmental impact.
Because powder coatings lack solvents, they do not emit VOCs. Liquid coatings are made with solvents that contain VOCs, but their VOC content is off-gassed and cured at the factory before arrival on the building site. This process makes both liquid paint and powder coating an excellent choice for any environmentally-conscious building.
If you want the color flexibility of paint, the long-term proven reliability of liquid fluoropolymer (Kynar) paint, and an environmentally-friendly finish, you can have it all by specifying liquid paint applied with an air capture and VOC
destruction system.
As an applicator of all architectural finishing technologies- paint, powder coat and anodize – Linetec is highly qualified to help you determine the best finish for your project based on coating performance, environmental considerations, and project design goals.
LINETEC FACILITIES ENVIRONMENTAL COMMITMENT TIMELINE
Going green is an opportunity to satisfy customers to a higher degree. Anticipating customer needs, Linetec is continuously reviewing and researching other environmentally responsible coatings.
---
1987  /  Installation of fume scrubbers removes 99% of Contaminants in airstream.

---
Linetec has been environmentally focused long before green was anything other than a color. As an example, in 1987, Linetec's installed fume scrubbers at its anodize facility. This equipment removes 99% of the contaminants in the airstream prior to exhausting outside into the atmosphere.
1992  /  MULTI-FACILTY MATERIAL RECYcLING PROGRAMs LAUNCHED
---
Since 1992, Linetec has led a multi-facility material recycling program. Each year, tons of aluminum cans, paper, plastic bottles, light bulbs, scrap PVC, wood, steel and other metal, cardboard and banding are diverted from the waste stream.
1994  /  DESTructive oxidizer protects from vOCs
---
In 1994, Linetec installed a destructive oxidizer that protects the environment by destroying the volatile organic compounds (VOCs) emitted by the painting process. The facility captures 100% of the VOCs released and, of those, 99.4% are destroyed in its oxidizer.
1994  /  LINetec partners with re-usable containers
---
Partnering with its customers, in 1994, Linetec created a re-usable container system that uses material carts and cradles for shipping raw and finished product, without disposable packaging material and wood pallets. These carts and cradles are designed for stacking to effectively use the space within a truck or trailer bed to maximize trailer space.
These shipping containers are re-used for many years. Each year, hundreds of thousands of pounds of plastic, wood and cardboard associated with packaging are eliminated and diverted from landfill.
1996  /  Streamlining shipping & packaging waste reduction
---
Linetec also has focused on minimizing the amount of packaging materials, while not compromising the integrity of the packaged product. Since 1996, Linetec's re-usable shipping containers have been available. These minimize the use of disposable wood pallets, and maximize container space within a truck or trailer bed helping reduce fuel for transportation. Minimizing wasted time and fuel, Linetec's optimized truck routes and dedicated transportation fleet can ship finished materials directly to many of its customers and their job sites.
1998  /  Streamlining shipping & packaging waste reduction
---
Numerous miles of trucking and hours of driving also have been eliminated due to maintained inventory. Starting in 1998, key customers could ship large quantities of material to Linetec. This is stored and controlled by Linetec until the customer needs it to be finished and shipped. On average, 3 million pounds of customer-supplied aluminum is under Linetec's supervision and care.
1999  /  Energy saving construction begins
---
Also helping save on energy costs, Linetec's facilities began updates in 1999 to have white or light-colored roofs. This resists heat absorption and enables the buildings to cool down faster and minimizes air conditioning loads.
2003  /  TWO large dry coolers naturally reducing temperatures with little energy consumption
---
Given our Northern climate, Linetec used Wausau's cold temperatures during fall, winter and spring to provide cooling for its anodizing tanks. To control the build-up of heat in the anodizing bath Linetec installed two large dry coolers in 2003, which act like a cars radiator. Water is pumped through the coolers, which reduces the temperatures, and the chilled water is returned to the building and used to cool the tanks. Linetec shuts down all electrical-run process chillers when outside temperatures dip below 35ºF. The facilities continue to benefit from this "free cooling" system until the outside temperature exceeds 55ºF, which provides a significant reducing in electrical consumption.
2007  /  DIESEL FUEL Consumption reduced through auxiliary power units
---
In 2007, auxiliary power units were added to trucks reducing unnecessary diesel fuel consumption by more than 85%. This has since become a requirement on trucks in California and New York.
2008  /  Scrubbers enhanced by circulating water supply
---
In 2008, the investment was enhanced by treating and re-circulating the water used from the scrubbers so that fresh water does not need be used in this process, saving more than one million gallons of fresh water per month.
2011  /  new automated paint dispensing system managing further waste reduction and cost savings
---
In 2011, Linetec's added a new automated paint dispensing system that produces only the amount of paint needed for each specific customer's order. "Just in time" savings and efficiency are realized when Linetec makes the batches and manages the waste reduction during agitating, cleaning, etc. Thousands of gallons of unneeded paint have been saved from this new dispensing system.