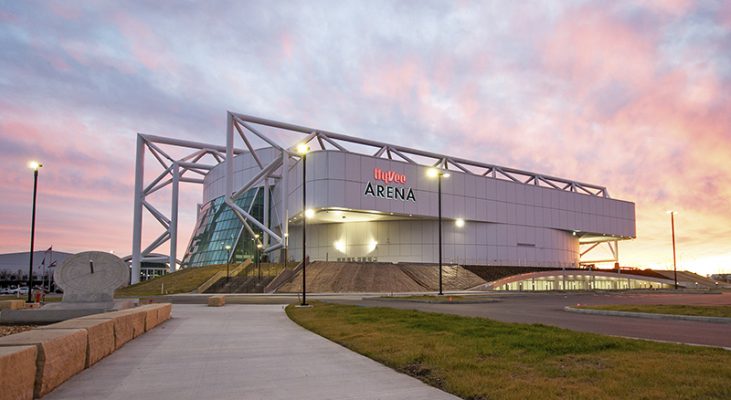 Considered the nation's first multi-level sports complex, HyVee Arena adaptively reused the historic Kemper Arena's single-level venue transforming it into a modern, four-level, multi-functional, 10,000-seat recreational facility in Kansas City, Missouri. Listed on the National Register of Historic Places, the arena's renovations needed to meet aesthetic standards, as well as functional and energy-efficiency goals.
As a single source solution to Tubelite Inc., Linetec provided both the high-performance architectural coatings in the historically approved color and the thermal improvement services for HyVee Arena's new entrance, storefront and interior aluminum framing systems. Viracon's glass further enhanced the aesthetic and the glazing systems' high solar, thermal and optical performance.
Expansion and renovation adds full floor and natural light
Foutch Architecture and Development (Foutch A+D) invested more than $39 million in the arena's infrastructure to repurpose the building. Working with McCownGordon Construction, the building owner and design team devised a solution that inserted a second floor in the middle of the existing facility.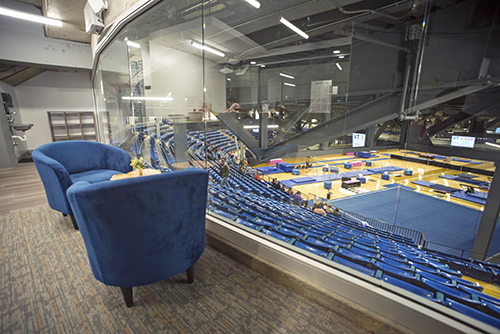 According to McCownGordon Construction, "The renovation also included enhancements to the interior environment for the concourses, offices and retail spaces by adding 17 exterior windows. The north and south lower entrances were also renovated to make them more accessible and inviting."
Mike Woolley, project manager with McCownGordon Construction, elaborated, "The owner/designer wanted to get as much natural light into the building as possible. With the east and north elevations limited by historic guidelines, they had to turn to the south and west to add the new windows. On the interior, there used to be three or four walls blocking the light. We used interior glazing systems to extend the light all the way through to the corridor and into the interior suites that look out over the playing area."
Custom colors meet historical aesthetics
To maintain the architectural heritage of the facility's exterior, Woolley added that the design team used Viracon's VE1-2M "low-iron glass and vertical, white frit silkscreen pattern" combined with Tubelite's aluminum framing "set flush with the existing conditions" and finished in a "Super White" color custom-matched, blended and applied by Linetec to create the desired effect.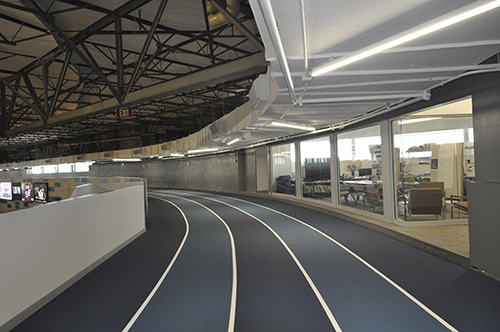 After analyzing the finish on the former Kemper Arena's existing glazing systems, Linetec's in-house color laboratory customized a "Super White" color to match the owner's and historic review committee's standards. "Even with more than 50,000 in our library, sometimes, only a custom-match will work, especially for historical projects," said Linetec's marketing manager, Tammy Schroeder, LEED Green Associate.
(more) 
She described Linetec's proprietary process, "Our color-match computer, called a spectrophotometer, scans color samples and provides the recipe of tints and bases to precisely match the color sample. Using this equipment, and years of experience, our lab technicians can match anything from a piece of metal, to a section of masonry, to a swatch of fabric."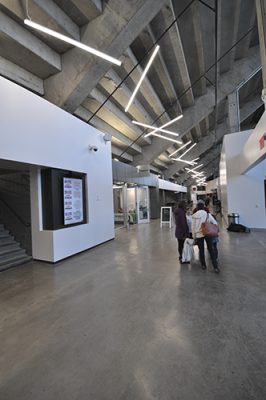 Schroeder continued, "Having in-house blending capabilities allows us to better meet our customers' needs in hours not days or weeks. Typically, custom sample and color match requests are processed and completed in 24 to 48 hours for most in-house blendable colors."
High-performance finishes for a high-traffic arena
Upon approval, Linetec produces the coating in its blending "kitchen" and applies it under quality-controlled conditions at its facility. For the new Tubelite aluminum systems on the HyVee Arena, Linetec relied on Sherwin-Williams Fluropon® 70% PVDF resin-based architectural extrusion coatings to meet the specified performance and application.
According to Schroeder, "These Fluropon coatings offer the ultimate protection in building performance. These finishes exhibit outstanding resistance to humidity, color change, chalk, gloss loss and chemicals, and ensure a long-lasting, durable finish. No other coating system can withstand the rigors of nature and time like those based on the 70% PVDF resin-based coatings."
All of the 70% PVDF resin-based coatings applied by Linetec meet the industry's stringent standards for exterior coatings – the American Architectural Manufacturers Association's AAMA 2605. After providing a lifetime of constant use in a high-traffic venue like HyVee Arena, the coatings can be removed and Tubelite's aluminum framing material can be recycled or reused.
Energy-efficient entrances and enduring exteriors
In addition to the durable and sustainable qualities of the coatings on HyVee Arena's new glazing systems, Linetec also applied the thermal strut on Tubelite's Therml=Block® entrances. Adding insulating, thermal, polyamide strut to aluminum framing members separates the inside and outside metal, which greatly enhances the entrance system's thermal performance. This thermal break reduces the amount of heat transfer, therefore saving energy and increasing occupant comfort.
"The thermal performance was really important as Foutch A+D was not only the designer,
but also the owner," emphasized McCownGordon Construction's Woolley.
In total, Byers Glass and Mirror installed 62 leafs of Tubelite's Therml=Block entrances and 4,800 square feet of T14000 storefront on the exterior, and 15,800 square feet of aluminum framing systems on the interior. Viracon glass was used for these new systems and its insulating laminated glass remained unchanged on the former Kemper Arena's existing glazing systems.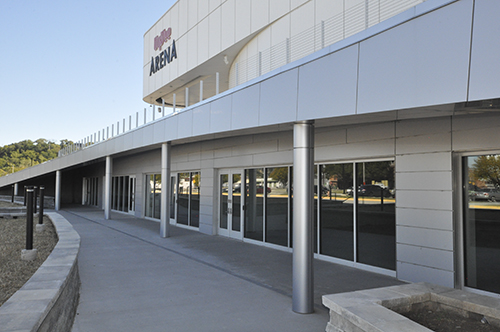 Revitalized as a new destination and community center
Originally designed by Helmut Jahn, the Kemper Arena was completed in 1974 on the site of the former Kansas City Stockyards, just west of downtown in the West Bottoms.
"It's really easy to go build a new building to make it exactly the size and shape and complexity that you want. With historic, you only got what you got. You have to live with the structure you're given," observed Steve Foutch, CEO of Foutch Brothers. "We had to fit the sizes, the shapes, the orientations of these courts to maximize the space."
Renovation began at the arena in Sept. 2017 and was completed in Aug. 2018. Two separate floors in the improved and expanded HyVee Arena include more than 84,000 square feet of column-free space of 12 hardwood maple floors. Sports agility, fitness facilities, health care services, retail, entertainment and dining services surround the two hardwood court floors. Above the second level of courts is one of the largest indoor practice tracks at 350 meters in length.
Beyond the building itself, Foutch looks to a larger view of success: "This arena hopefully will be a new destination. There's a lot here to do with helping the urban youth. We can help out thousands of kids… The biggest compliment is obviously someone will say, 'This really made a difference. It made a difference in my kid's life. It made a difference in the stockyards district.' There's a lot of different answers, as long as we've made a difference. That's the best part."
HyVee Arena; 1800 Genessee St., Kansas City, Missouri 64102; https://www.hyveearena.com
• Owner: Foutch Brothers LLC; Kansas City, Missouri; http://foutchbrothers.com
• Architect: Foutch Architecture and Development, LLC; Kansas City, Missouri; http://foutchbrothers.com
• Historic review: Rosin Preservation LLC; Kansas City, Missouri; https://rosinpreservation.com
Video: https://rosinpreservation.com/kemper-hy-vee-arena-the-long-view
• General contractor: McCownGordon Construction LLC; Kansas City, Missouri; https://mccowngordon.com
• Glazing contractor: Byers Glass and Mirror, Inc.; Springs, Kansas; http://www.byersglass.com
• Glazing system – storefront, entrance and interior framing systems manufacturer: Tubelite Inc.; Walker, Michigan; https://www.tubeliteinc.com
• Glazing systems – glass fabricator: Viracon, Inc.; Owatonna, Minnesota; http://www.viracon.com
• Glazing systems – aluminum finisher: Linetec; Wausau, Wisconsin; https://linetec.com
• Glazing systems – architectural coatings manufacturer: The Sherwin-Williams Company; Cleveland; https://www.valsparcoilextrusion.com/en/architects/fluropon
• Photos by: Foutch A+D