Striving to achieve increased sustainability goals for both new construction and renovation projects, architects, contractors and owners turn to building products manufacturers for solutions.
Supporting your projects' green building objectives, Linetec's anodized aluminum delivers an environmentally responsible, protective, durable finish with exceptional performance and longevity.
Green Growth, "Green" Finishes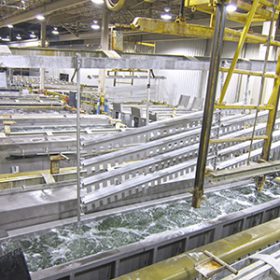 Green building activity is projected to grow over the next three years, according to the "2021 World Green Building Trends" report by Dodge Data and Analytics, produced in collaboration with the U.S. Green Building Council (USGBC). Of the 1,207 respondents surveyed for the report, 51% said they plan to use "green" finishes in the next five years.
You can be confident you're recommending a finish that supports sustainability when you specify our eco-friendly anodize. Compared with traditional, caustic-etch, our improved acid-etch process reduces energy use, produces 90% less waste and generates recyclable byproducts.
This reliable, resilient finish meets or exceeds all AAMA 611 performance specifications. It resists the ravages of time, temperature, corrosion, humidity and warping. It is an inert material that is not combustible, 100% recyclable and poses no health risks.
Red List Free
Supporting occupant health and wellbeing, more project teams are expecting manufacturers to supply in-depth and detailed material ingredient information for their products. There's no need to worry or delay when you're asked for documentation on anodized aluminum.
Linetec's anodize finishes have earned a Declare Label as Living Building Challenge™ (LBC) Red List Free. This means that our anodize finishing is in full compliance with the highest level of LBC criteria established through the International Living Future Institute.
We have disclosed 100% of the product ingredients to 100 ppm and confirmed they do not contain any Red List chemicals. Our Declare Label for anodized aluminum indicates that there are no applicable VOCs associated with this product and lists a life expectancy of 40 years.
Today and Tomorrow
Declare LBC Red List Free products also are recognized by the USGBC's LEED® Rating System, the International WELL Building Standard™ and other guidelines for today's sustainable, healthy buildings.
Selecting anodize finishes for aluminum building products manufactured with high recycled content extends the sustainable advantages by further conserving resources and reducing waste. After the finished product is installed, its longevity contributes to lowering the need for repairs or replacement. The durable anodize finishes also require minimal maintenance, reducing the associated labor and saving costs.
At the end of an anodized aluminum product's long lifecycle on a building, the metal can be recycled and re-used again and again for future building components or other products.
For personalized assistance with your anodize selections or other finishing service needs, please contact your local representative.