Americans are opting for more expensive cars, according to Kelley Blue Book. The top five most-shopped luxury car brands are: 1. BMW, 2. Lexus, 3. Cadillac, 4. Audi and 5. Mercedes-Benz.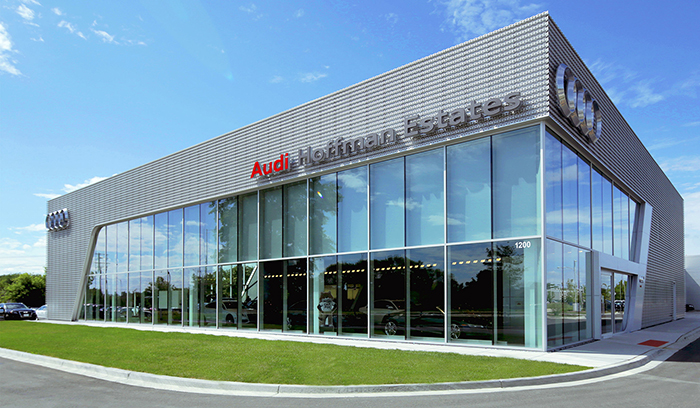 When purchasing luxury items, consumers expect their experiences to align with their expectations of the premium price and brand, both online and in-person. Setting their clients at ease and appropriately representing their high-end product lines, luxury dealerships understand the value of investing in a showroom that presents an attractive, comfortable, on-brand appearance.
Like a priceless work of art exhibited in a museum or a precious gem in a jewelry case, a dealer's showroom enclosed in expansive glass with precisely finished framing can create the intended atmosphere.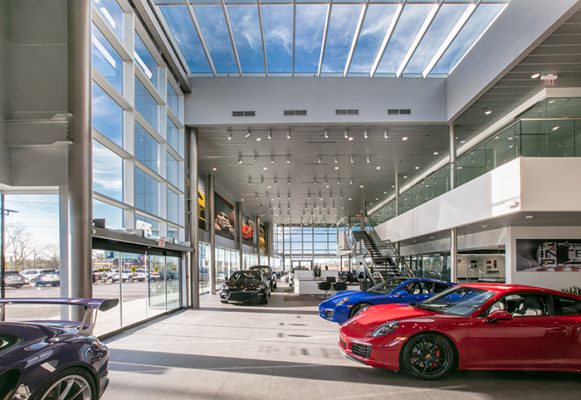 Moving Metal
Storefront, curtainwall, skylight and entrance systems are essential components of constructing car dealerships. Of course, the beauty is in the details.
Architectural aluminum products and automotives have a similar color palette. Examining 6.1 million one- to five-year-old cars on the road in 2022, iSeeCars.com reported the most popular color choices are white, black, gray and silver.
Clear, champagne and light bronze anodized finishes rev up metallic tones. Classic black, extra dark bronze and dark bronze anodize on aluminum framing outlines the display case effect, defining the objects of our desire.
While metallic and neutral finishes have classic appeal, luxury brands can afford to have some fun. "Luxury buyers are passionate and care more about the personality of a car. About three in four consider themselves enthusiasts and see their car as a form of self-expression," shared CarGuru, summarizing its New Luxury Buyers (US) buyer insight research.
Self-expression doesn't have to be lipstick cherry red. A few of the newest colorful examples from CarBuzz include BMW's regal purple Thundernight Metallic, Lexus' Nori Green Pearl opalescent finish, and Audi's nearly neon Kyalami Green.
For dealers willing to promote adventurous hues, remember that aluminum wall panels, sun shades and branded accents can be painted to match almost any color.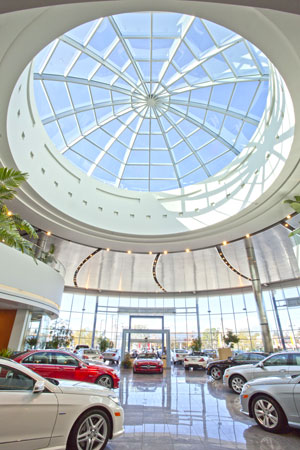 Retaining Value
Vehicles update their appearance and improve their performance with each model year. The dealer's showroom and sales office can be designed and constructed to make a lasting impression and help retain its value for years to come.
Choosing a high-performance, durable finish for the building's architectural aluminum products will keep the building looking its best.
For colorful painted finishes, specify 70% PVDF resin-based architectural coatings that meet AAMA 2605. These coatings exhibit outstanding resistance to humidity, color change, chalk, gloss loss and chemicals and provide a long-lasting, durable finish for exterior applications.
For metallic tones, choose Class I anodize finishes that meet AAMA 611

specifications. These anodize finishes are more resistant to salt spray, including in coastal environments and where road de-icing salt is used, and are more durable in high-traffic areas such as a showroom or service lounge.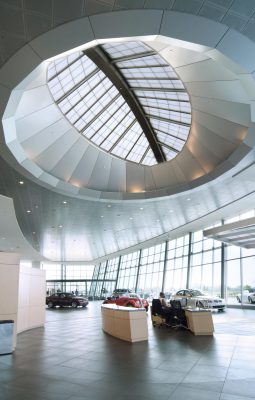 Trending Views
CarGurus' 2022 Consumer Insight Report found that 71% of car sales were through dealerships. Car shoppers are completing more of their research online and are considering more dealerships than they did in 2021. Walk-in dealer visits increased in 2022, but remained lower than in 2019. Of the 20% of online car sales, 34% are attributed to luxury car buyers. If it wasn't for the test drive, most car buyers would be willing to complete the entire process online. For luxury car buyers, 75% are open to an all-digital transaction.
Aware of these trends, smart dealerships know that after the sale is completed, their service centers offer an opportunity to earn customer loyalty and to sow the seeds for the next lease upgrade or future purchase. Dealerships remain the most common resale channel, especially for those buying a car.
Traditionally, service areas and sales and financing offices have been windowless backrooms that can contribute to buyers feeling pressured or stressed. Outdoor views not only let car buyers imagine themselves on the open road, but they also support a sense of comfort and connection. Dual finishing options for aluminum framing allow dealerships to maintain a consistent exterior appearance with a different interior finish to complement different interior décor or unique performance requirements for each area.
Whether your project involves finishing selections for a luxury or economy project, let us know how we can assist with your next project.