Terra Cotta specialty coatings from Linetec create the look and texture of real terra cotta on your architectural aluminum products.
Here are six important reminders to produce the best results:
1. Choose Your Color
Linetec's Terra Cotta coatings are available in 17 natural tones representing a wide range of earthenware-inspired colors all with a lightly textured matte surface that looks like fired clay. With a variety of shades in similar and complementary colors, our Terra Cotta finishes lend themselves to expressive patterning in wall panel and rainscreen systems.
You can select from multiple shades of the traditional reddish-brown you expect from terra cotta, as well as a variety of subdued coppery hues. Or pick from brown, gray and beige colors to serve as comforting neutrals. You also can specify terra cotta texture in custom colors to ensure you get the color you want for your project.
2. Spec for Success
Guaranteeing that your finish performs to your project's requirements and expectations always is a crucial step. To produce your long-lasting, high-performance Terra Cotta finishes, Linetec uses a 70% PVDF resin-based coating system with a texture additive. For these specialty finishes, your aluminum material can be in lengths up to 360 inches, heights up to 96 inches, widths up to 48 inches, and weights up to 1000 lbs.

As with all your 70% PVDF painted coatings applied by Linetec, Terra Cotta finishes meet the AAMA 2605 specification for high-performance exterior applications. They exhibit outstanding resistance to humidity, color change, chalk, gloss loss and chemicals. Our Terra Cotta finishes for aluminum are suitable for high-exposure outdoor environments as proven by intensive testing.
3. Form before Finishing
If your project calls for curved architectural aluminum products, the material must be shaped before it receives a Terra Cotta coating. This will ensure proper coverage and performance. As a single source solution, you can count on Linetec to coordinate your stretch forming and bending capabilities prior to applying our Terra Cotta finishes.
You have a maximum arc length up to 260 inches and curved shapes can be up to 10 inches in width. Custom dies, tooling and thermal improvement services also can be requested for your curved extrusions being finished at Linetec. Our quality-controlled process and on-site project management helps you shorten lead times, while ensuring color consistency and performance as specified.
4. Embrace the Environment
The earth tones of Terra Cotta coatings provide the look and feel of fired clay, adding a biophilic element to your projects' designs. Biophilic design capitalizes on our innate attraction and connection with the environment by incorporating natural colors and textures to create comforting and inspiring spaces. The natural texture and earth tones of our Terra Cotta finishes help establish a healing and pleasant environment for building occupants.
As an environmentally responsible finisher, Linetec also contributes to your projects' sustainability goals. We use a 100% air capture system and a regenerative thermal oxidizer to safely contain and eliminate volatile organic compounds (VOCs) associated with solvents in liquid paint. We carefully manage this process in our facility. This prevents adverse environmental impact and alleviates concerns about VOCs for your team at the jobsite and after the finished material is installed on the building.
5. Speed up Shipping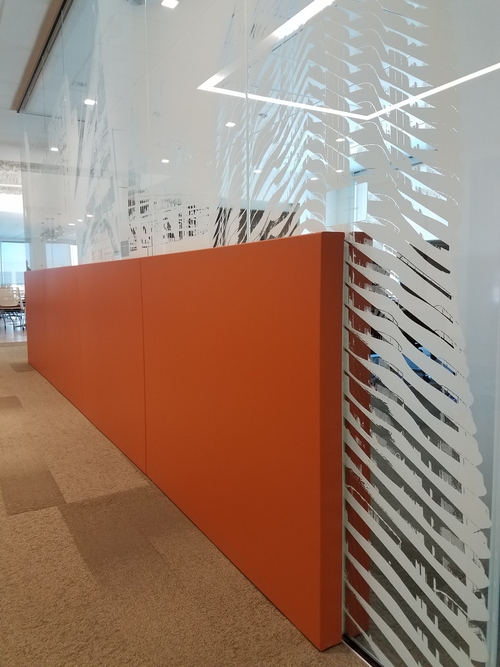 Compared with real terra cotta, Linetec's Terra Cotta coatings for aluminum provide a similar look and feel at a fantastic value. Our specialty finishes are:
• More economical for budget-conscious projects
• Readily available for condensed construction schedules
• Easier to fabricate for a wider range of shapes and sizes
• Less fragile and more resilient during shipping, handling and installing
• Lighter weight for simplified and faster installation
Use our Quick Ship Program for even faster service with your Terra Cotta finished stock flat sheet aluminum. We can assist you with stock sheets in sizes ranging from 48 by 96 to 60 by 144 inches, and from 0.040 to 0.125 inch thick, and shipping as fast as four days.
6. Warranty without Worry
Because our Terra Cotta specialty finishes are formulated with 70% PVDF resin-based coatings, you can be confident in their reliable, durable, long-lasting performance. Linetec offers further assurance with our 10-year standard warranty with an option to extend the warranty length.
Specialty coatings deserve special attention. Please contact us for personalized assistance with Terra Cotta coatings or other finishing service needs.
Contact Us