Linetec finishes and thermally improves 290 units from St. Cloud Window
Listed on the National Register of Historic Places, the 205,000-square-foot Vandalia Tower in St. Paul, Minnesota, recently completed a significant renovation to meet the modern needs of its commercial, nonprofit and artistic tenants and the approval of the State Historic Preservation Officer and National Park Service.
To maintain the 1920s, industrial, brick building's architectural heritage, the property owner sought to replace the broken and missing windows with ones that replicated the look of their original, large, steel-framed, divided lite appearance with new units that would improve energy savings and comfort.
Helping meet both the project's aesthetic and performance requirements, Linetec finished and thermally improved 290 aluminum-framed replacement windows manufactured by St. Cloud Window. NewStudio Architecture specified these products with a durable 70% PVDF resin-based finish in black to resemble the color of old steel windows.
Linetec applied Fluropon® architectural extrusion coatings from Sherwin-Williams. Meeting the industry's most stringent specification standard, AAMA 2605, these painted coatings exhibit outstanding resistance to humidity, chalk, gloss loss and chemicals to ensure a long lasting, black color finish without fading.
"A magnificent project like Vandalia Tower speaks logically to the application of state-of-the-art, high-performing aluminum windows, coatings and glass for responsible landmark building renovation," said St. Cloud Window's president, Casey Mahon. This property has, at once, become highly efficient and environmentally sustainable, while preserving the bespoke elegance of legacy architecture; and thus, serves the evolving needs of its owners, tenants and community for many generations to come."
Drawing from its SCW3000 Series, St. Cloud Window manufactured 214 units as fixed windows with additional 76 supplied as awnings. The units were mulled together and installed by S&J Glass within Vandalia Tower's expansive openings.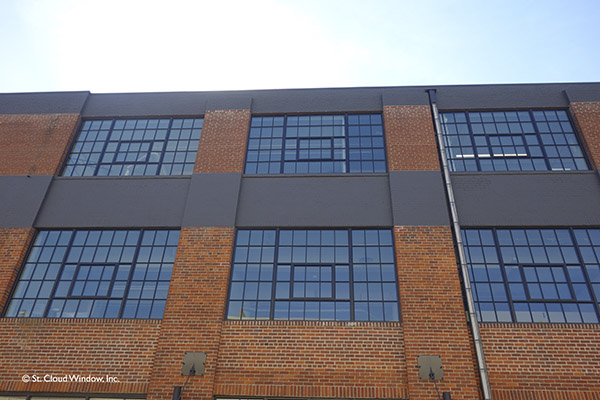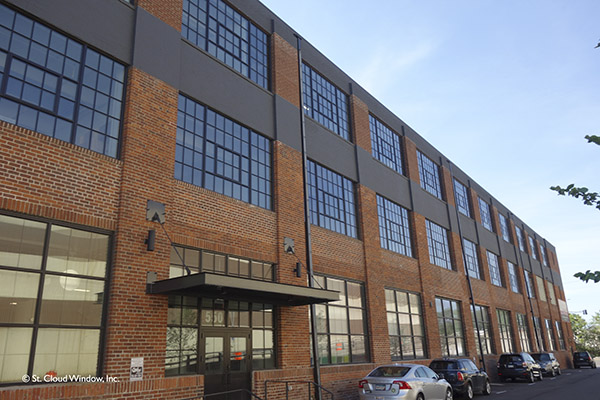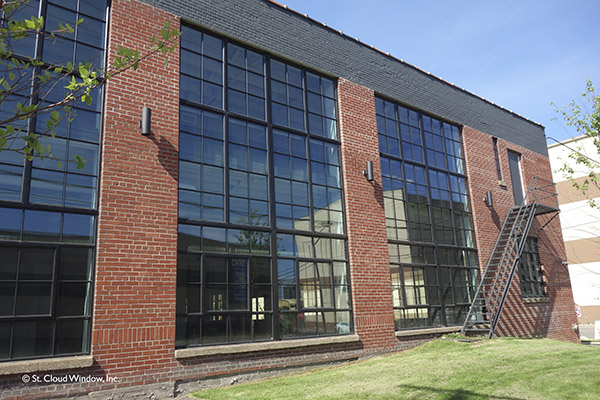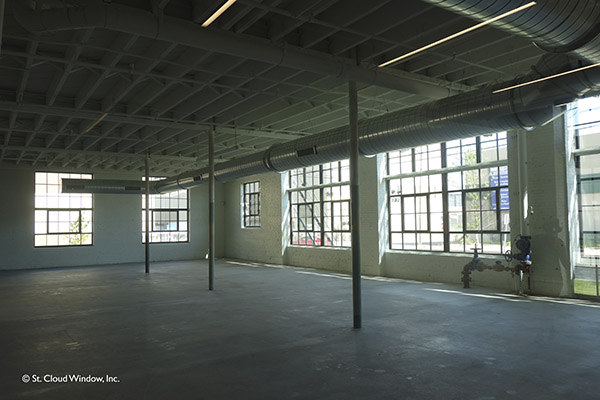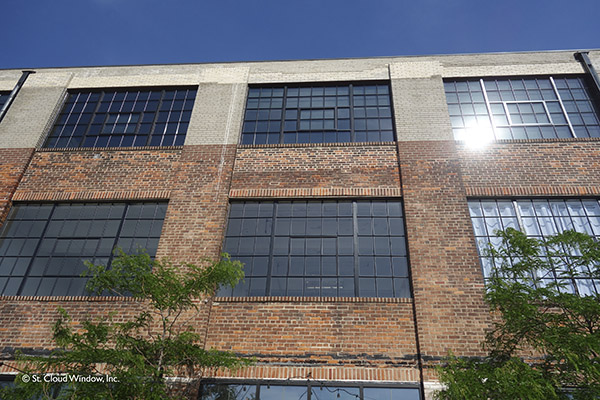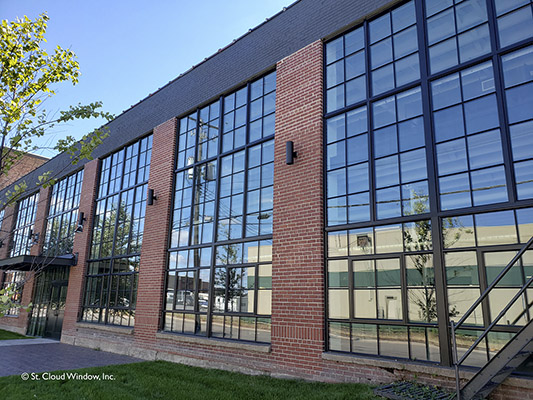 Throughout the North elevation, window openings stretch more than 20 feet high and span 13 feet 9 inches wide. The combined units replicate the original columns of three layers, stacking fixed over operable outswing windows. Like their predecessors, the awning vents were centered at the lowest level for easy access. Similar configurations were scaled for the building's smaller openings on the other elevations' three stories.
Retaining useable portions of the existing steel framework, the new windows' muntin grids simulate the former true divided lites. For centuries, glass fabrication was limited to small, individual, single-pane lites that were framed together with steel or wood to form the larger daylight opening. Now, massive, insulated glass units provide uninterrupted views with improved performance for thermal, structural and water resistance.
"Aluminum has consistently proven to be the material of choice for fenestration framing because it is strong, corrosion resistant, fabrication-friendly, long-lasting, infinitely recyclable and can be finished in an almost unlimited choice of colors," explained Linetec's marketing manager, Tammy Schroeder, LEED® Green Associate. "It also is a good conductor of thermal energy, which means the framing members need to be physically separated to avoid unwanted heat transfer."
She continued, "By increasing the separation width of the thermal break cavity and adding an insulating thermal barrier system between the aluminum framing members, manufacturers can confidently meet their customers' highest thermal performance needs and energy-saving goals."
Today's historical building window retrofits benefit from contemporary glass and framing technology that increases energy efficiency and interior comfort, while preserving their classic styling. For Vandalia Tower, Linetec first finished the windows' aluminum extrusions, then prepared the thermal cavity, inserted Technoform's polyamide thermal strip, and finally, crimped the composite assembly to mechanically lock the strip in place between the aluminum extrusions.
The muntins and structural window mullions also were finished by Linetec and secured by St. Cloud Window under quality-controlled conditions. Custom 1-1/4-inch insulated glass units with tempered exterior lites were factory-glazed into the SCW3000 Series windows. In addition to the window units, Linetec also finished the aluminum framing and muntins for two SCW5000 Series sliding glass doors, which showcase the same grid pattern for a continuous, historic aesthetic.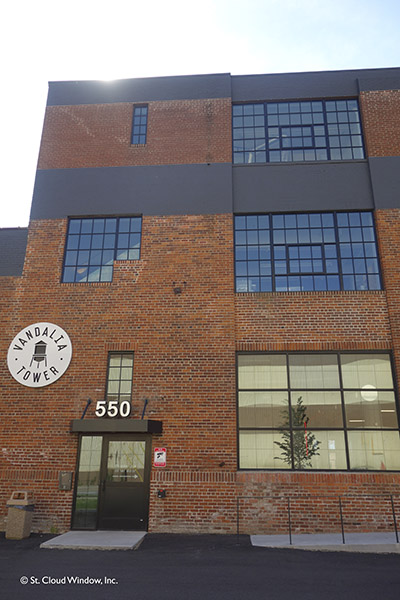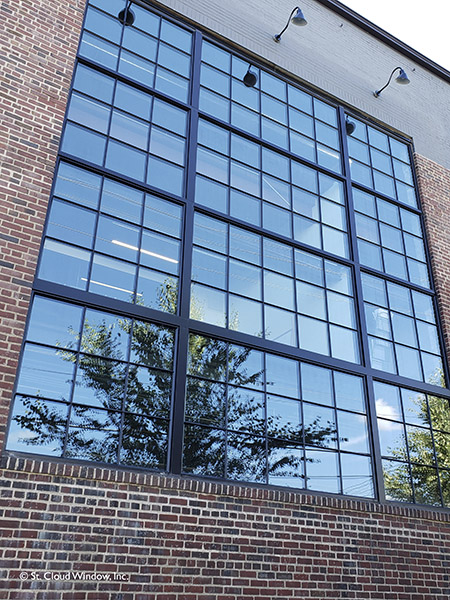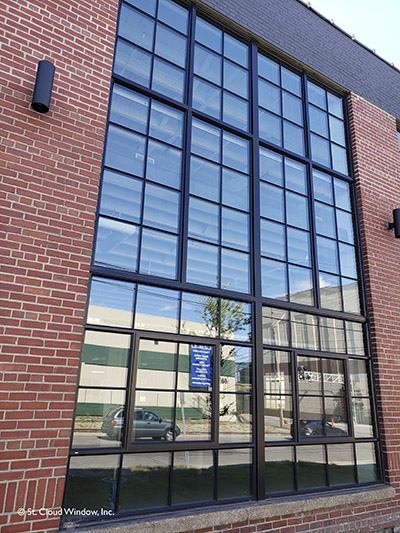 Along with the intended appearance, daylight and views, the operable sliding doors and outswing windows also provide a seasonal opportunity for natural ventilation. Passive ventilation and high thermal performance products lessen the demand on the HVAC systems, and natural light reduces the need for electric lighting. Together, these attributes help the building's owner and occupants lower their energy use and maintain a comfortable interior climate, even during Minnesota's hot, humid summers and freezing cold winters.
The project's phased renovation also spanned multiple seasons and overcame unprecedented challenges. Crediting careful planning during the pre-construction process, general contractor Greiner Construction kept the project moving at a fast pace, and within budget, throughout the pandemic. In compliance with the building's historic requirements and the owner's and tenants' needs, Vandalia Tower's full renovation was completed in 2021.
Prior to its redevelopment, Vandalia Tower consisted of seven vacant and dilapidated factory buildings on a 5.5-acre site. A decommissioned 100-foot-tall water tower rose from an overgrown courtyard. Transforming the warning post into a beckoning welcome, the water tower serves as the brand icon and namesake for the mixed-use, modernized, transit-oriented development.
An inspiring anchor in the city's Creative Enterprise Zone, Vandalia Tower's ample indoor-outdoor spaces have revitalized the property as a destination for the Twin Cities' artists and creative professionals. Current tenants include: CityDeskStudio architectural design, The Dapper Wolf barber shop, FilmNorth, Grinkie Photography, Hackwith Design clothing, Lake Monster Brewery, Saint Paul Neighborhood Network and SK Coffee.