When your project's goals prioritize sustainability and wellness, without compromising on exceptional performance and a luxurious appearance – look to Copper Anodize and Bordeaux Anodize.
These environmentally responsible finishes have earned a Declare Label as Living Building Challenge™ (LBC) Red List Free. This means that Linetec's anodize finishing is in full compliance with the highest level of LBC criteria established through the International Living Future Institute (ILFI).
Longevity leading to circularity
The Declare Label for all of Linetec's anodized aluminum, including Copper and Bordeaux Anodize, lists a life expectancy of 40 years and indicates that there are no applicable VOCs associated with this product.
Because it is an integral part of the aluminum substrate, Linetec's eco-friendly anodize finishes lengthen the lifespan of your aluminum products. After installation, they're longevity contributes to lowering the need for repairs or replacement. These durable finishes also require minimal maintenance, reducing the associated labor and costs.
Further supporting wellness, sustainability and circularity, anodized aluminum can be made from recycled material and can be recycled at the end of its useful life on the building. Because there is no degradation to the inherent properties and strength of aluminum, these materials can be "upcycled" as future building components or other products.
Ingredients for healthier products
Declare is a voluntary self-disclosure program of the ILFI that aims to transform the building materials industry toward healthier products through ingredient transparency. Declare reviews complex chemical analysis and raw material source location information, and provides an easy-to-use "nutrition label" for architecture firms, corporations, municipalities, consumers and high-profile LBC projects.
Copper and Bordeaux Anodize, plus seven standard anodize colors, were evaluated for compliance with all of the Declare Label's 20 Imperatives applicable to the selection of building products within the LBC 4.0 standard. Copper and Bordeaux Anodize finishes for architectural aluminum products are designated as LBC Red List Free products. This means the manufacturer has disclosed 100% of product ingredients plus residuals present at or above 100 ppm in the final product, and the product does not contain any Red List chemicals.
Credits for compliance
Declare LBC Red List Free products are recognized by the International WELL Building Standard; the U.S. EPA's Recommendations of Specifications, Standards and Ecolabels for Federal Purchasers; and the U.S. Green Building Council's LEED Rating System. Declare Label products that are LBC Red List Free have been approved as a compliance pathway for the LEED v4 and v4.1 Building Product Disclosure and Optimization – Material Ingredients, Option 1 and 2.
Certified LEED Platinum, the highest certification level, the University of Arizona's Sixth Street Residence Halls (SSRH) in Tucson feature five stories clad in Copper Anodize exterior panels, manufactured by Dri-Design. As part of its environmentally sustainable goals, NAC|Architecture designed the project to provide a cohesive, comfortable home away from home serving 1,088 freshman students for the next 50 years and beyond.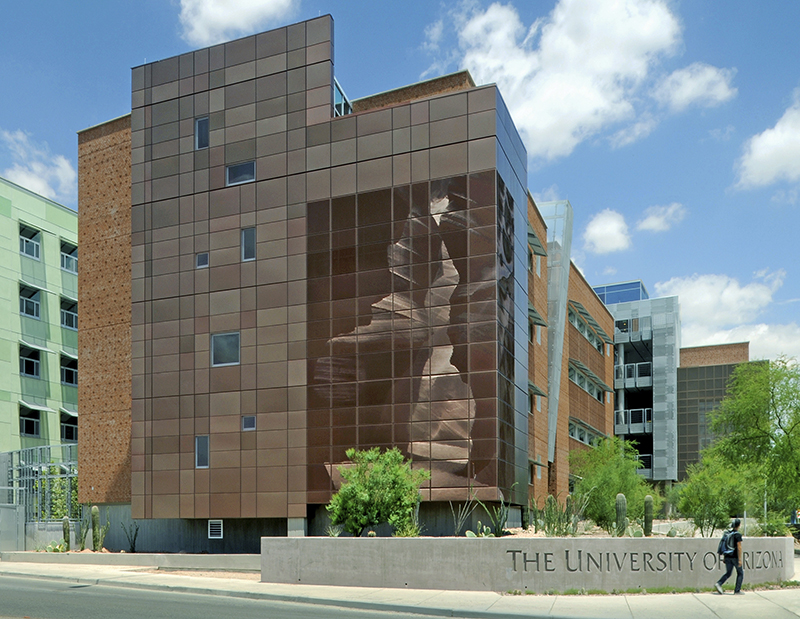 The Copper Anodize aluminum panels compose a multi-colored façade welcoming a multi-cultural, multi-disciplined student body. Constructed on two, non-adjacent sites, the SSRH's copper color, aluminum wall panels provide a distinctive appearance that harmonizes with the surrounding campus and the natural Southwest landscape. In addition to reflecting the colors of the Sonoran Desert, the Copper Anodize panels also deliver the high performance necessary to withstand the extreme climate's direct sunlight, fluctuating temperatures and abrasive sand.
A system of perforated, metal, exterior sun shades and vertical sunscreens offer additional shading to protect interior spaces from heat and glare. Operable windows allow for passive ventilation and fresh air. The natural ventilation and diffused daylight also lessen the need for electrical lighting and HVAC, and reduce the associated carbon emissions. Students can monitor energy use and resource consumption through the SSRH's building dashboard.
Opened for the 2011-12 academic year, SSRH was the first LEED Platinum-certified residential building on the University of Arizona campus and in the whole state of Arizona. Along with the students' private rooms, the SSRH includes office suites, a conferencing center, living-learning classrooms, study and socializing areas, enclosed outdoor courtyards, easy access to public transit and numerous other amenities contributing to a sustainable, healthy community.
Please visit our Specialty Finishes webpage, to learn more about Linetec's Copper and Bordeaux anodize options.
The Declare Database of products is free for everyone. Declare product information also is entered into the mindful MATERIALS Library for designers, specifiers and other building industry professionals.
For personalized assistance with your anodize selections or other finishing service needs, please contact your local representative.