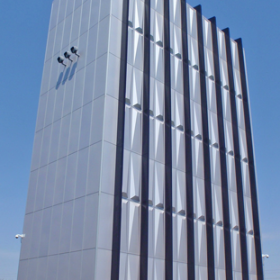 Delivering a shining shimmer and a vibrant, visual appeal, mica and metallic coatings can add the extra sparkle your projects need to attract attention and tenants.
Creating a unique, modern aesthetic, these coatings make a memorable impression on any architectural aluminum product. Their striking appearance is most noticeable on large wall panel systems, canopies, sun shades, doors and as decorative accents. Used on framing members of curtain wall, storefront, window and entrance systems, they present a more subtle, elegant effect.
Metallic or Mica?
As a single source solution for architectural finishing, Linetec can provide either metallic or mica coatings to meet your project's needs.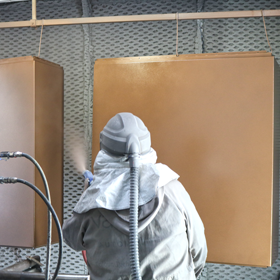 Available in almost any color, metallic coatings add pigments with reflective aluminum flakes to achieve their brilliance and depth. Mica coatings provide a similar, but more subdued look, because they are manufactured with a non-conductive mineral flake rather than with conductive metal. Due to their inert formulation, micas generally don't require a clear coat, making them a more economical option to metallic coatings.
Dynamic Delivery
A dynamic finish choice, the reflective quality of these specialty coatings appears to change throughout the day and the seasons.
Typically, lighter colors provide a bit more bling than darker tones. The size and reflectivity of the flakes in the coating, their orientation and the degree to which they are all oriented in the paint coating also will affect the brightness of the color.
Applied Aesthetics
As a fully approved and licensed applicator of PPG, Sherwin-Williams and AkzoNobel, Linetec relies on the following paint coating systems to achieve your desired appearance and performance.
We offer mica two-coat systems as either 70% PVDF resin-based coatings to meet AAMA 2605 high-performance specification standards, or 50% PVDF to meet less stringent AAMA 2604 requirements. Common brand names include:
AkzoNobel TRI-Escent® II (70%) and Alum*A*Escent® (50%)
PPG Duranar® Sunstorm® (70%),  Acrynar® (50%)
Sherwin-Williams Fluropon® Classic II (70%), Acrodize® (50%) and Acroflur® (50%)
For 70% PVDF resin-based, three-coat, metallic coatings, we recommend:
AkzoNobel Trinar® TMC
PPG Duranar® XL
Sherwin-Williams Fluropon® Classic
Going beyond the luster of traditional metallic and mica 70% PVDF coatings:
Trinar® Brilliance from AkzoNobel is formulated with a proprietary flake technology in the clear that allows for extreme sparkle an extra pop in the finish. This alternative flake technology eliminates the "flop" color shift seen in traditional mica/metallic coatings and helps avoid muting the finish's reflective qualities when selecting darker, more saturated hues or white colors.
Fluropon® Effects Nova from Sherwin-Williams also offers rich, deep colors with a choice of gold or silver flake. Intensify the effect by pairing similar hues such as gold flake with Sunshine Gold color coatings, or standout with stellar contrasts such as silver flake and Sparkling Midnight.
Whether you're looking to for a finish that seems to have an internal illumination or you're seeking a gentle glimmer, we can help.
For personalized assistance with your coating selections or other finishing service needs, please contact your local representative.