Trident Technical College (TTC) is the largest provider of nursing education in the Lowcountry of South Carolina. With old facilities scattered throughout campus, and a national shortage of nursing professionals, the need for an attractive, new facility was deemed critical. Today, TTC's Nursing and Science Building on Thornley Campus not only can accommodate more than 1,000 students from the tri-county area, it does so in a stylish and sustainably designed, LEED Gold-certified facility clad in multi-color wall panels.
Finished by Linetec in Champagne paint, Dark Bronze Anodize and Copper Anodize more than 24,378 square feet of 0.080-inch aluminum wall panels from Dri-Design define the structure. Designed by LS3P Associates, the three-story, 90,000-square-foot facility's custom façade adds depth and dimension by emphasizing the different metallic tones.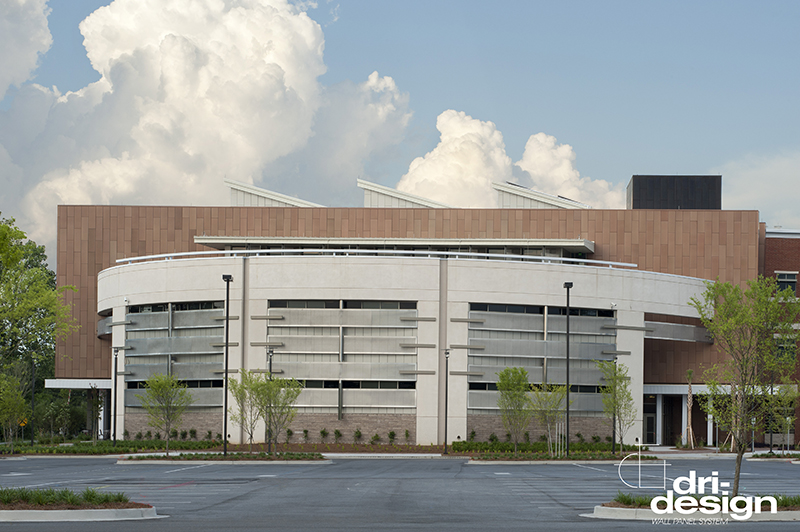 "The architectural metal element is a stunning design feature," said Daniel J. Scheaffer, AIA, LEED BD+C, principal with LS3P. "The high-tech material reflects the building's high-tech healthcare curriculum taking place inside. The subtle variations in the panels create an earthy, healthy feel appropriate to the function of the facility."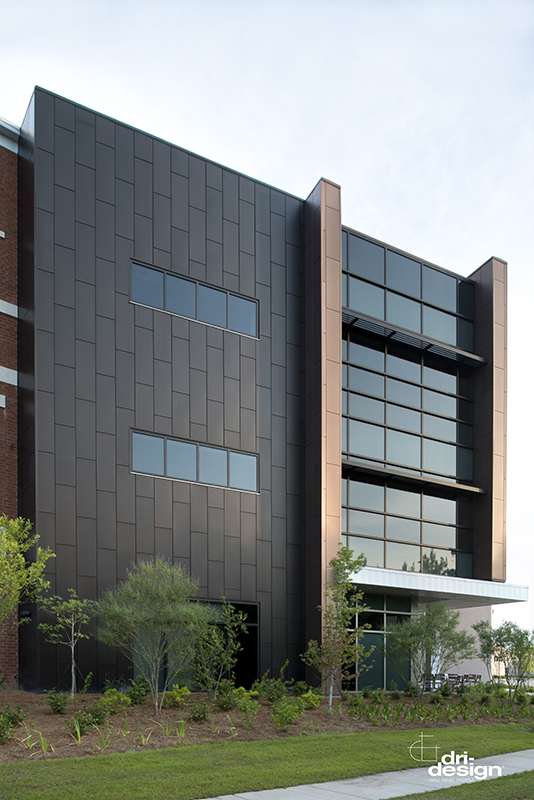 The Copper Anodize metal-clad walls complement and contrast with the adjacent materials and colors. A traditional, red brick masonry construction flanks one side and the other side links with a contemporary, concrete parking garage. In response to the horizontal lines of these connected structures, the rectangular-shaped and perforated metal panels were installed vertically.
LS3P selected the distinctive finishes to mimic the look of actual copper and bronze without the expense. These durable finishes also alleviate the maintenance issues of real copper, such as salt run-off stains, galvanic corrosion and patina, as well as reduce the associated labor and costs.
Supporting longevity and LEED certification criteria, Linetec's eco-friendly anodize finishes for architectural aluminum products have earned a Declare Label as Living Building Challenge™ (LBC) Red List Free. The Declare Label for all of Linetec's anodized aluminum, including Dark Bronze and Copper, indicates that there are no applicable VOCs associated with this product and lists a life expectancy of 40 years.
Dri-Design's panels were manufactured with recycled content and can be recycled at the end of their useful life on the building. "Anodizing successfully combines science with nature to create one of the world's best metal finishes," described Dri-Design.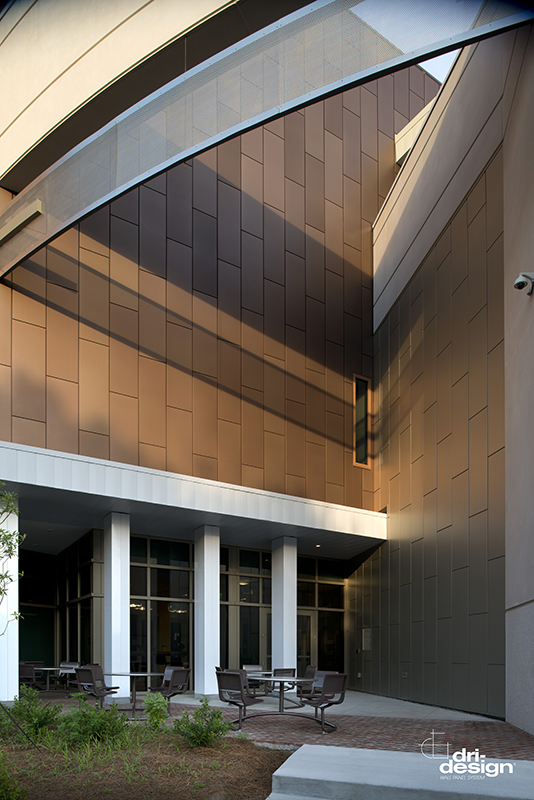 Similarly, LS3P noted, "From the earliest programming meetings, the faculty reminded the design team that the nursing profession is a combination of art and science. The program spaces, massing and materials celebrate the best of each perspective."
Providing outside perspective and views, the building also features curtain wall, storefront and entrance systems, which are finished to match the multi-color exterior panels that frame them. These large openings carry natural light deep into the building's core from the ground floor to the rooftop terrace. Interior glass features and reflective surfaces diffuse the daylight for a more comfortable learning environment.
Inside, a central, circular, open stair ascends vertically through the building, connecting all three floors. Staff offices also are located on site for personalized interaction, and generously sized study and socializing areas encourage casual collaboration. Students and faculty work together in individual classrooms, nursing and science laboratories, and a tiered auditorium.
The facility also includes specialized program spaces where the educational areas mirror actual clinical environments. These mock clinical spaces use full-scale hospital beds, headwalls with patient monitors and medical gases, and integrated technology for observation and feedback.
Meeting TTC's Nursing and Science Building multiple goals, LS3P drew from its combined expertise in health care, higher education and sustainable design. "LS3P designed a building that conserves resources without sacrificing either beauty or utility. Our students and faculty love the building and are proud of what it represents in terms of sustainability," said TTC's president Mary Thornley. "We are committed to being good stewards of the environment and also of our financial resources. The Nursing and Science Building is a physical representation of those commitments."
The Nursing and Science Building achieved LEED Gold certification in Sept. 2016 for implementing practical, measurable strategies and solutions aimed at achieving high-performance in sustainable site development, water savings, energy efficiency, materials selection, and indoor environmental quality. Additional green design contributors included: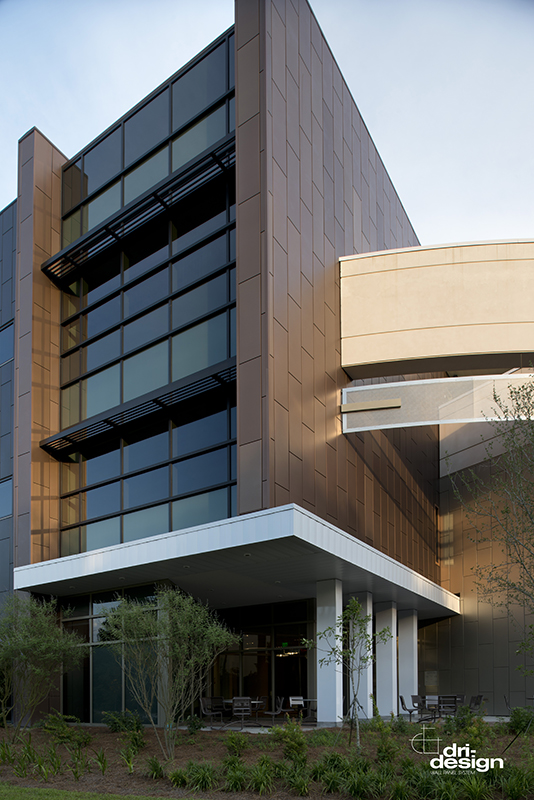 • Optimized façade systems to control and reduce solar heat gain
• Building automation system monitors and LED lighting
• Low-VOC finishes selected for better indoor air quality
• Low-flow fixtures for water conservation
• An onsite rainwater/condensate harvesting system for toilet flushing and irrigation
• Air-cooled chillers, solar hot water preheat panels and a high-efficiency HVAC system
• Photovoltaic panels in the parking lot
• A living green roof to control stormwater runoff and provide additional event space
The project was honored with 1st Place in the LEED category of the 2015 American Society of Interior Designers' Carolinas Design Excellence Awards. The American Institute of Architects' South Carolina Committee on the Environment also recognized the project with a 2016 Sustainability Merit Award.
Trident Technical College, Nursing and Science Building, 7000 Rivers Ave., Building 970, North Charleston, SC 29406