Are you looking for a refreshing change from the standard palette of anodized aluminum?
Seeking a less expensive alternative to real copper?
Trying to find a rich, metallic color with the durable performance of anodize?
Searching for an on-trend tone that will last decades?
Our Copper and Bordeaux Anodize specialty finishes may be the perfect choice for your project. Providing a timeless appearance with broad appeal, these unique anodize color options elegantly balance luxury and comfort for modern and historic architectural designs.

Timeless Appeal 

Your new construction projects will look as fresh as the day they're installed without turning the dated green color of pure copper seen on historic properties. For buildings seeking to regain their former luster, anodized aluminum in a bright elemental Copper Anodize or the deep burgundy of Bordeaux Anodize can replicate the original intended appearance, while reaping the benefits of modern materials.
Unlike real copper, these anodize finishes will not stain adjacent building materials with salt run-off or patina with time. Anodized aluminum also is one-third of the weight, a fraction of the cost and more durable than actual copper.
The natural metallic Copper and Bordeaux tones make a refined statement, contributing to an inspirational and welcoming environment with their warmth and soft shine. These biophilic metallic tones are part of an evolved aesthetic that harmonizes with the natural world, blends with established neighborhoods, and transcends interior spaces and exterior façades.
Countless Applications
Whether your project is institutional, commercial or residential, Bordeaux and Copper Anodize can help elevate the aesthetic and maintain the highest performance finish. Suitable for both exterior and interior applications, you can specify these distinctive colors for your extruded, stretch-formed or flat sheet architectural aluminum products.
Copper and Bordeaux Anodize specialty finishes deliver an eye-catching appearance on:
• Framing members in curtainwall, storefront, skylight, window and entrance systems
• Architectural sun shades and screens, coping and fascia, louvers, canopies and trellises
• Panels in exterior cladding, rainscreens, column covers and interior wall systems
• Decorative accents, trim and railings
Universities, colleges, schools, libraries, courthouses and city halls with these stately finishes fit seamlessly alongside past constructions, while denoting longevity, stability and permanence – values of academic and governmental institutions.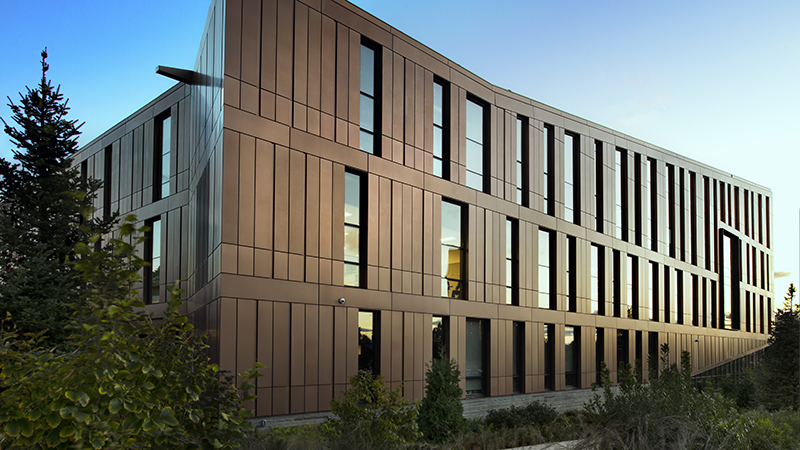 Student residences, apartments and single-family dwellings merge contemporary and classic styles to make everyone feel at home. At the University of Arizona's Sixth Street Residence Hall in Tucson, the exterior wall system supplied by Dri-Design features Copper Anodize aluminum panels within a multi-colored façade welcoming its multi-cultural, multi-disciplined student body. NAC|Architecture designed the five-story building to capture "an 'unexpected moment' at an important corner of the campus."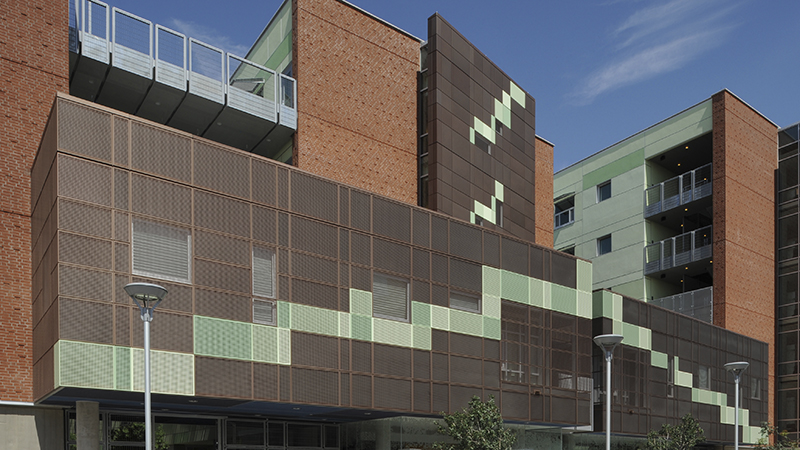 Luxury condominiums, top-rated hotels and destination resorts also appreciate the enduring, attractive and approachable appearance gained by Copper and Bordeaux Anodize finishes.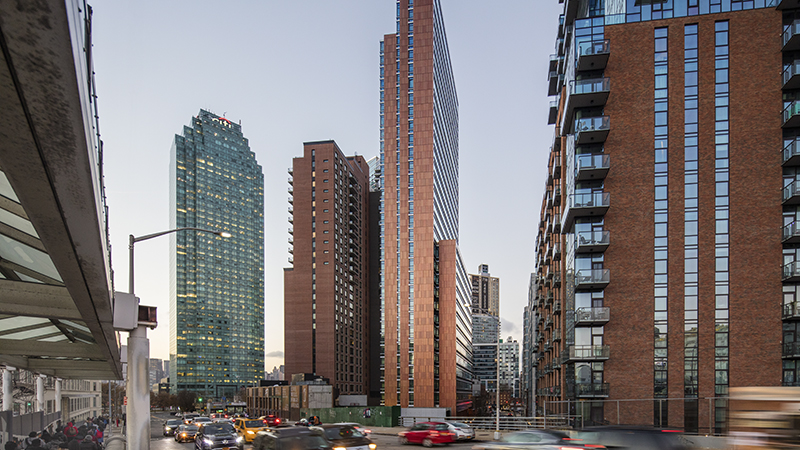 Satisfyingly refreshing Bordeaux and Copper Anodize add panache to high-end restaurants, boutique retailers and mixed-use developments.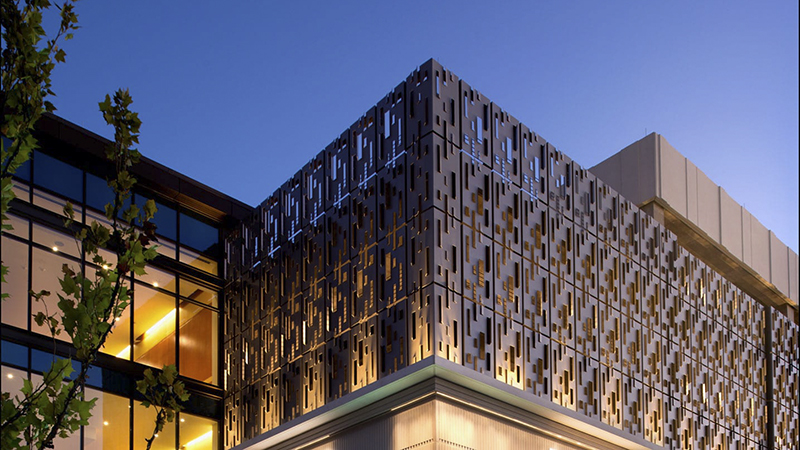 Museums, theaters, event venues and cultural centers beckon visitors and patrons with perpetually shining Copper and earthy Bordeaux anodize colors.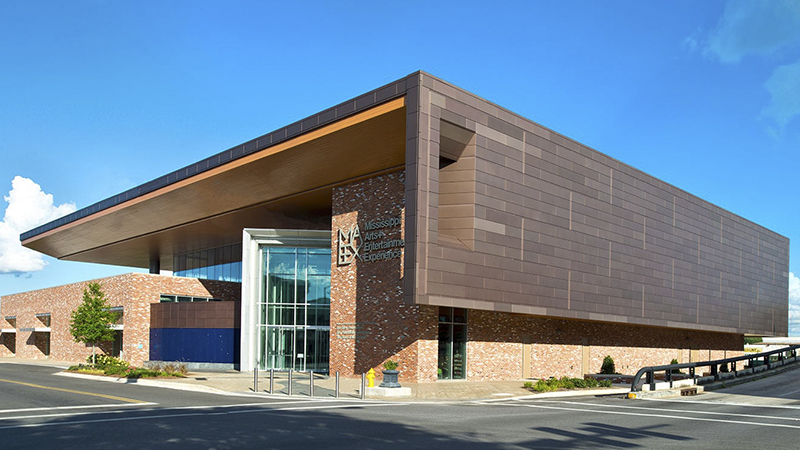 Laboratories, clinics, hospitals and medical centers showcasing these anodize color options gleam with pride in contributing to individual and community wellness. Confidently withstanding the rigors of high-traffic, frequent use, Class A offices, entries, lobbies, atriums, boardrooms, conference centers and meeting rooms deliver a good impression with architectural aluminum products with easy-to-clean, durable, Copper and Bordeaux Anodize finishes.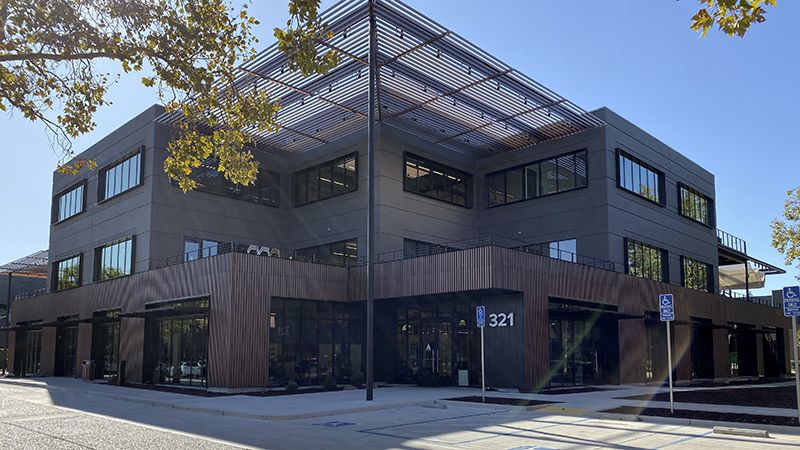 If you like what you see, we invite you to take a closer look. Please visit our Specialty Finishes webpage, to learn more about Linetec's Copper and Bordeaux anodize options.
For personalized assistance with your anodize selections or other finishing service needs, please contact your local representative.