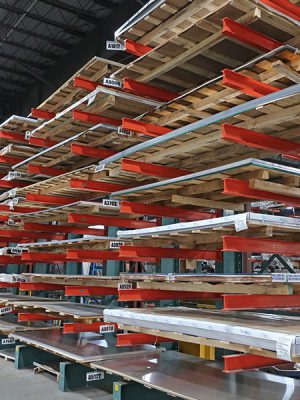 Over 20 sizes of stocked flat sheets are ready for your quick-turn project or finished to your specialty specifications. Our flat sheet program supports customers with projects incorporating architectural aluminum products for:
Exterior wall cladding

Interior metal partitions, screens and panels

Curtainwall and window wall infill panels

Soffits and coping

Trim and panning

Decorative accents
Four-Day Quick-Ship (just reduced from 5 days!)
Order up to 25 finished sheets, and we'll send them to your shop or job-site within four days of your order confirmation. Choose from more than 20 standard stock sizes, then have us finish it in one of our nine anodize colors or any of our 30,000 in-house blendable paint colors.
Our quick-ship finish options include most mica and metallic coatings, and our proprietary Copper and Bordeaux Anodize. Our in-house blending laboratory also can custom-match your project's branded colors and finish the flat sheets for use as bold accent pieces.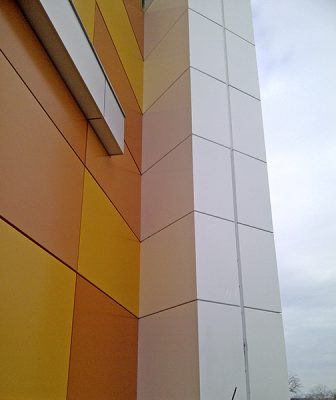 Specialty Selections
For flat sheet projects with larger quantities, we are ready to assist you with specialty finish selections.
Our Terra Cotta textured coatings simulate stone, adding depth and a tactile dimension.

Our painted Spatter Coat combines multiple colors to mimic brick or marble or to personalize an abstract design that unifies an entire palette.

For unique and high-visibility applications, we also offer 4-by-10-foot aluminum flat sheets with our new Brushed Anodize or Wood Grain finishes.
High-Performance and Low-Maintenance
Beyond aesthetics, building owners and occupants are increasingly concerned with health, safety and maintenance considerations. Because our flat sheet is finished in our quality-controlled facility, you and your clients can be assured they will perform as intended with no adverse effects.
Once installed, these hard, nonporous, architectural aluminum products are easy to clean and to keep clean. For interior applications, your customers can rest easy knowing that your finished material, arriving VOC-free, will not affect the project's indoor air quality after it arrives on site.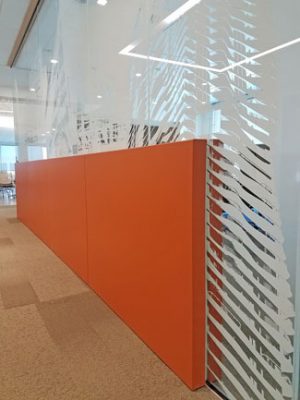 Enhanced Protection
Many facility managers urgently are re-configuring and renovating their interiors to meet recommended guidelines and best practices. If you are contributing to projects that are remodeling for socially distanced interiors, or are making improvements to office, educational and healthcare spaces, consider enhancing your products' performance by selecting flat sheet finished with our antimicrobial architectural coatings.
Available in nearly any color, our coatings with antimicrobial protection work continuously to help prevent the growth of damaging stain- and odor-causing bacteria on the finished aluminum surfaces.
More than Finishing
In addition to finishing your aluminum flat sheet, we also can assist with fabrication for small to medium-size brake metal projects, in conjunction with finishing and transportation. We carefully package your finished material and can ship your order through our trucking service directly to your destination.
To request a quote for finished flat sheet, please click here or contact your sales associate for more information.