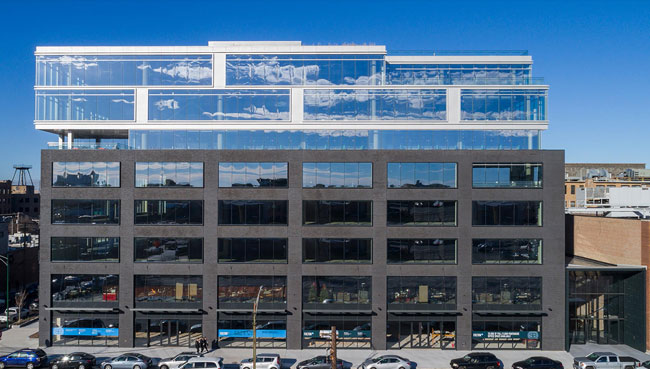 Designed by Gensler to earn LEED Gold certification, Chicago's 1330 Fulton West's Class A mixed-use office building recently was recertified as LEED Platinum – the U.S. Green Building Council's (USGBC's) highest level for energy-efficient and environmentally responsible projects.
Supporting the modern office building's green goals, Fulton West's building envelope showcases numerous architectural aluminum products finished by Linetec in durable 70% PVDF resin-based architectural mica coatings. As a USGBC member, Linetec supports green building through its eco-friendly finishing applications, ongoing research and environmentally friendly business practices and facilities.
"The primary environmental concern with liquid paints is the solvents used to deliver the paint to the surface; some of the solvents used are considered VOC content and must be destroyed," explained Linetec's marketing manager, Tammy Schroeder, LEED Green Associate. "At Linetec, we use a 100% air capture system and safely destroy the VOCs with a regenerative thermal oxidizer, so there is no adverse environmental impact."
For Fulton West, Linetec applied PPG Duranar® Sunstorm® mica coatings under environmentally managed, factory controlled conditions to ensure color consistency and performance reliability across multiple manufacturers. Meeting the industry-leading specification, AAMA 2605, this long-lasting, durable finish exhibits outstanding resistance to humidity, color change, chalk, gloss loss and chemicals.
Mica coatings include a reflective mica flake that instill a vibrant shimmer to the finish of the aluminum components. "Because of their lively properties, mica coatings can be challenging finishes. Working with an experienced finisher and minimizing the number of paint applicators on Fulton West allowed for better overall control of color variations," added Schroeder. "Not only was Linetec able to provide a high-quality mica finish for one customer's material on Fulton West, but for all four of our customers involved with this project."
Finished in a silver color, curtainwall and standard entrance systems from Pittco Architectural Metals, compose the majority of Fulton West's 290,000-square-foot, nine-story exterior. Additional entrances were provided by Tee Jay North and Dormakaba and finished in graphite gray. Linetec also applied both the silver and graphite gray colors to column covers and other metalwork supplied by Quality Metalcraft.
The resulting contemporary appearance of Fulton West's amenity-filled office and retail building serves as an architectural anchor for the west boundary of the historic meatpacking district, which once again, has become an important economic hub. Bridging between the industrial past and the tech-fueled future, Fulton West's pedestal of dark gray, brick and concrete complements the urban neighborhood by referencing the surrounding buildings' materials. This sturdy foundation is topped with a modern four-floor structure featuring large spans of glass framed in aluminum.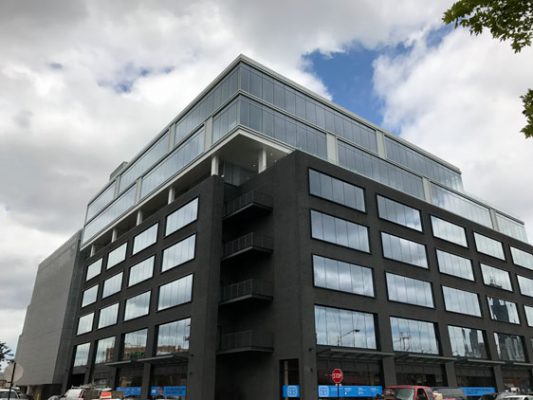 The aluminum-framed openings not only allow natural light, but also connect the people inside Fulton West with outside views of nature and community. All tenants have private balconies, plus access to a roof terrace, a lounge, a fitness center, a café/bar, more than 600 parking spaces and several public transit options within walking distance.
To attract emerging tech companies to this designated "Innovation District," Sterling Bay acquired the property in 2014. The real estate investment and development firm engaged Gensler in reviving work on a previously abandoned development to create a unique and desirable workplace.
Guided by Sterling Bay's vision and Gensler's design, general contractor Leopardo Companies, Inc. began the project's construction in 2016 and completed it 12 months later. In 2018, following occupancy and building commissioning, the property was certified at the Gold level under LEED v2009 for core and shell. The same year, the project was honored as Office Redevelopment of the Year at the 30th Chicago Commercial Real Estate Awards.
"Fulton West is designed in harmony with the surrounding area," observed Sasha Zeljic, a principal and regional practice area leader for Commercial Office Buildings in Gensler's Chicago office. "Carving out exterior terraces and balconies for each floor to capture some of the most exciting and inspiring views of Chicago skyline for tenants and their future clients became a signature move for Sterling Bay. It adds unique experiences for tenants and in return yields premium leasing prices."
Sterling Bay sold the property to Commerz Real AG in September 2019 for $167.5 million. At the time of the sale, the property was fully leased to 10 corporate tenants and recertified under LEED v4.1 criteria as Platinum. Recognized at the highest level LEED certification, Fulton West stands as a sustainable example within Chicago's West Loop/Fulton-Randolph Market District.
This former industrial area has transformed into an attractive location for technology tenants and corporate headquarters. "1330 West Fulton is a prime example of what an office building should look and feel like nowadays," stated Henning Koch, global head of transactions at Commerz Real AG. "In particular, in terms of the extensive services and quality of life for the tenants, apart from simply providing office space."
**
1330 W. Fulton St., Chicago, IL 60607
Owner: Commerz Real AG; Germany; https://www.commerzreal.com
Architect: Gensler; Chicago; https://www.gensler.com
General contractor: Leopardo Companies, Inc.; Chicago; https://www.archglassworks.com
Curtainwall and entrance systems – installing contractor: Architectural Glass Works; Tinley Park, Illinois; https://www.archglassworks.com
Curtainwall and entrance systems – manufacturer: Pittco Architectural Metals, Inc.; Elk Grove, Illinois; http://www.pittcometals.com