Linetec's anodize finishing for aluminum has earned a Declare Label as Living Building Challenge™ (LBC) Red List Free. This means that Linetec's anodize finishing is in full compliance with the highest level of LBC criteria established through the International Living Future Institute (ILFI).
Linetec is the nation's largest independent architectural metals finishing company and recognized for its environmentally responsible practices.
"We are proud to work with customers who look to us as a resource in selecting finishes that not only protect and enhance the appearance and durability of aluminum architectural building products, but also supports their projects' goals for sustainability and wellness," said Linetec's marketing manager, Tammy Schroeder, LEED Green Associate.
Declare is a voluntary self-disclosure program of the ILFI that aims to transform the building materials industry toward healthier products through ingredient transparency. Declare LBC Red List Free products are recognized by the U.S. Green Building Council's LEED Rating System, the International WELL Building Standard, and the U.S. Environmental Protection Agency's Recommendations of Specifications, Standards and Ecolabels for Federal Purchasers.
"All of our anodize colors are covered by the Declare Label without restriction," said Andy Joswiak, Linetec's vice president of operations. "We offer seven standard colors of anodize finishing plus proprietary Copper Anodize and our new Bordeaux Anodize."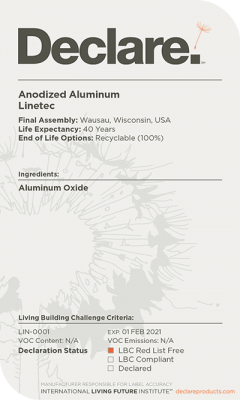 Linetec's eco-friendly anodize process is well suited for recycled aluminum billet as the frosty, matte finish helps hide small imperfections that may occur in secondary billet. At the end of its life on a building, the finished aluminum is 100% recyclable.
The Declare Label for Linetec's anodized aluminum lists a life expectancy of 40 years and indicates that there are no applicable volatile organic compounds (VOCs) associated with this product. Because it is an integral part of the aluminum substrate, Linetec's anodic coating results in a hard, durable finish. The finished aluminum requires minimal maintenance and provides excellent wear and abrasion resistance, and long-lasting performance that meets or exceeds the AAMA 611 industry-leading standard.
Declare reviews complex chemical analysis and raw material source location information, and provides an easy-to-use "nutrition label" for architecture firms, corporations, municipalities, consumers and high-profile LBC projects.
The LBC is comprised of seven performance categories, or "Petals" – Place, Water, Energy, Health + Happiness, Materials, Equity and Beauty. These seven categories, subdivided into 20 Imperatives, can be applied to almost every building project, including both new construction projects and renovation of existing structures.
The Declare Label evaluates a product according to its compliance with all Imperatives applicable to the selection of building products within the LBC 4.0 standard. Products shown to meet the requirements of the LBC Red List Imperative are noted as LBC Red List Free products. This means the manufacturer has disclosed 100% of product ingredients plus residuals present at or above 100 ppm in the final product and the product does not contain any Red List chemicals.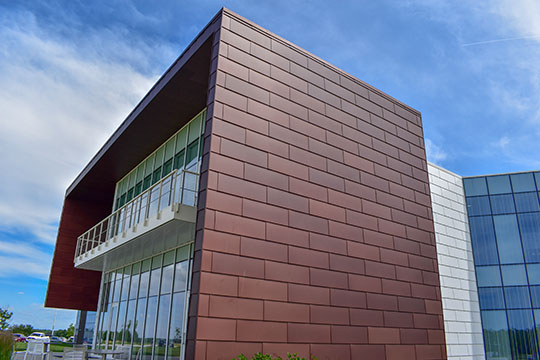 Declare Label products that are LBC Red List Free have been approved as a compliance pathway for the U.S. Green Building Council's LEED v4 and v4.1 Building Product Disclosure and Optimization – Material Ingredients, Option 1 and 2.
Declare LBC Red List Free products also have been approved as compliance pathways for the International WELL Building Standard v1 Feature 26 for Enhanced Material Safety and v2 Feature 13 Enhanced Material Precaution. In additional, all active Declare Labels contribute to WELL v2 Feature 14 Material Transparency.
Declare product information also is entered into the mindful MATERIALS Library for designers, specifiers and other building industry professionals.
The Declare Database of products is free for everyone. Declare Labels are active for 12 months, at which point the license requires renewal.
According to the ILFI's Declare Manufacturers' Guide, "By offering a platform for public disclosure that surpasses any other materials label, Declare rises above the greenwash and enables a deep connection between suppliers and consumers."
Learn more about the ILFI, Declare, LBC and the Institute's other programs at https://living-future.org/.
Learn more about Linetec's anodize and other finishing services at https://linetec.com.
About Linetec
Located in Wisconsin, Linetec serves customers across the country, finishing such products as aluminum windows, wall systems, doors, hardware and other architectural metal components, as well as automotive, marine and manufactured consumer goods. The company is a subsidiary of Apogee Enterprises, Inc. (NASDAQ: APOG).
 Linetec is a member of the Aluminum Anodizers Council (AAC), the American Institute of Architects (AIA), the Association of Licensed Architects (ALA), the Fenestration & Glazing Industry Alliance (FGIA), the National Glass Association/Glass Association of North America (NGA/GANA) and the U.S. Green Building Council (USGBC).