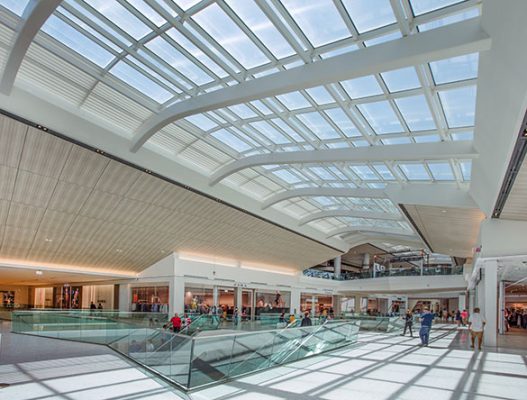 Wausau, Wisconsin (March 2019) – Florida's Aventura Mall recently completed a new wing expanding the Miami-area retail destination by 315,000 square feet to 2.7 million. This makes it the third-largest shopping mall in the United States, averaging more than 28 million visitors each year. Providing a sunlit experience with indoor conveniences, Super Sky Products Enterprises, LLC manufactured and installed a 347-foot-long, 96-foot-wide, custom, vaulted skylight to crown the new addition.
Supporting Aventura Mall's bright, modern design, Linetec finished the skylight's aluminum framing components in a Pale Oak color. Upholding the specified appearance and functionality, the durable, 70 percent PVDF resin-based coating helps protect against the intense sunlight, heavy rains, high humidity and salt spray. The finishes also complement the skylight's high-performance Viracon glass to keep shoppers comfortable beneath the warm, Florida sun.
Sunlit, contemporary town square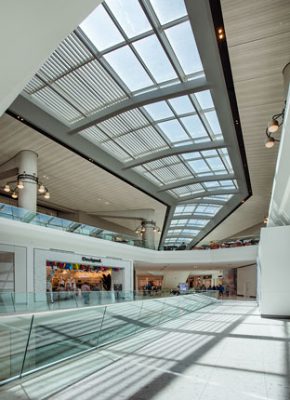 Opened in 1983 at less than half its current size, Aventura has grown steadily through the decades. The newest addition on the eastern edge was completed in March 2018. "Retail is certainly evolving and we're always innovating to stay ahead of the curve," explained Jackie Soffer, co-chair and CEO of Turnberry Associates, the owner and managing entity of the premier fashion destination. "Aventura Mall is now more than just a shopping destination. It's a gathering place of dynamic, interactive experiences—from fashion to dining to culture, and more."
JPRA Architects, Inc., served as the project's architect of record, working with general contractor Plaza Construction Group and design architect Carlos Zapata Studios. Envisioned as a contemporary town square, Aventura Mall's three-level new wing fuses retailers, restaurants, immersive contemporary art, a food hall and a VIP lounge.
According to Turnberry Associates, "Zapata's guiding principles – connectivity, integration and transparency – are the hallmarks of the wing's distinctive design, and complement Turnberry's progressive vision. Everything is bathed in the sun's rays filtering through a continuous skylight that hovers over the entire length of this modernist extension."
Durable performance in a challenging climate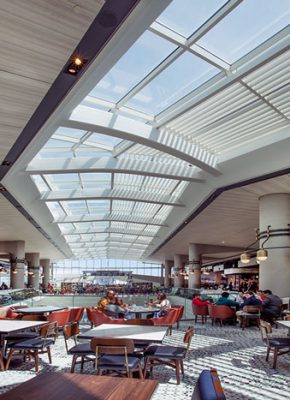 With 2,903 hours per year of sunshine and 62 inches per year of rainfall, the skylights brings the outside indoors without the inconvenience of precipitation or unwanted solar heat gain. Super Sky incorporated nearly 11,000 square feet of Viracon's VNE1-63 clear, insulated, heat-strengthened glass with white, 40 percent dot frit silk-screening and low-e coating. The 0.5-inch air space with stainless steel spacers improved the insulated glass units' thermal performance for energy efficiency. The StormGuard® enhanced PVB interlayer also optimized performance for large missile impact hurricane-resistance.
"Performance in coastal conditions also is one of the most challenging environments for aluminum," says Linetec's senior marketing specialist, Tammy Schroeder, LEED® Green Associate. "Without proper precautions and finishes, corrosion to aluminum components can damage the building envelope's structural integrity, leading to systemic failure. With skylights – especially those located in a regions prone to high winds, tropical storms and hurricanes – structural integrity is critical to protecting both property and people."
To stand up to harsh coastal or corrosive environments, Linetec recommends the highest-performing organic paint coating meeting the stringent, industry-leading American Architectural Manufacturers Association (AAMA) 2605 specification. This specification requires paint coatings to meet rigorous testing performance standards including more than 4,000 hours of salt spray, and heat- and humidity-resistance. These 70 percent PVDF resin-based coatings also shield the aluminum against weathering, pollution and aging, as well intense UV radiation, attributes that contribute to long-term chalk resistance, gloss retention and color retention.
Custom color, lasting impression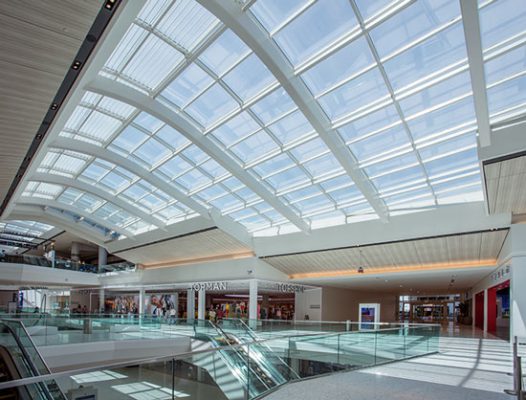 In addition to the reliable performance, the breadth of colors offered in these durable coatings make them a popular choice for architects, specifiers and aluminum architectural product manufacturers. Linetec currently offers more than 50,000 colors and its in-house blending laboratory can match or make almost any conceivable color. For Aventura Mall, Pale Oak was the custom color chosen for the skylight.
The same year Aventura Mall opened its eastern wing, Town & Country Magazine named it one of 2018's chicest shopping destinations in Miami.
Anchored by Nordstrom and Bloomingdale's, Aventura Mall highlights a mix of more than 300 luxury boutiques and shopper favorites, including Apple, Adidas, Anthropologie, Burberry, Cartier, Givenchy, Gucci, H&M, Louis Vuitton, MCM, Microsoft, Sephora, Topshop Topman and Zara. Aventura Mall also features more than 50 eateries and restaurants, including Treats Food Hall, and the experiential Arts Aventura Mall program showcasing 20 museum-quality pieces in a range of mediums. Learn more at https://aventuramall.com.
**
Aventura Mall; 19501 Biscayne Blvd., Aventura, FL 33180; https://aventuramall.com
Owner: Turnberry Associates; Aventura, Florida; https://www.turnberry.com
Architect of record: JPRA Architects; Farmington Hills, Michigan; http://www.jpra.com
Design architect: Carlos Zapata Studios; New York; http://www.cz-studio.com
Construction manager: Plaza Construction Group Florida, LLC; Miami; https://www.plazaconstruction.com
Skylight manufacturer and installer: Super Sky Products Enterprises, LLC; Mequon, Wisconsin; http://www.supersky.com
Skylight – glass fabricator: Viracon; Owatonna, Minnesota; http://www.viracon.com
Skylight – finishing provider: Linetec; Wausau, Wisconsin; https://linetec.com
Photos by: William Lemke, courtesy of Super Sky Products Enterprises, LLC