October is Energy Awareness Month, aluminum garage doors are extremely durable and one of the most energy-efficient doors available.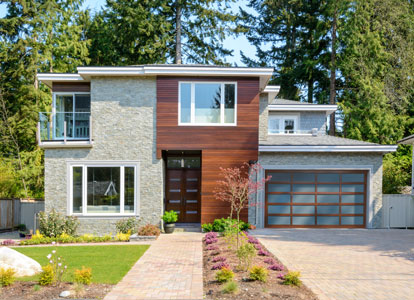 Home builders, owners and residents want a house that looks great year-round, doesn't require seasonal maintenance, and can withstand brutal winter weather or sizzling summer temperatures.
Exterior wood trim and building materials present a warm, welcoming, upscale appearance. However, as time passes, wood can rot, swell, warp and attract insects. Its finish can fade and flake. Continuous exposure to direct sunlight, humidity, rain, snow and other natural elements can cause damage and degradation.
When wood is installed in a highly visible, frequently used part of the home – such as a garage door, it also must contend with daily bumps, scrapes, car exhaust and road salts.
Homeowners and builders no longer need to choose between the look of wood and the durable, low maintenance of metal. Now, they can have both with Linetec's wood grain painted finishes for architectural aluminum building products. Textured wood grain finish options mimic not just the look, but also the feel of natural wood.
Typically, Linetec also can offer the preferred appearance of wood at less cost than real wood. Working with residential product manufacturers, Linetec uses a heat transfer sublimation process, starting with a high-performance powder coat paint to finish the aluminum in a choice of wood grain patterns and colors.
Haas Door also reminds homeowners that "the garage door is often the single most used door in a home on a daily basis. Having a newer garage door makes it a more pleasant way to exit and re-enter your home each day. Plus, a newer door can be more reliable and safer than an older door that has its best years of service behind it."
When considering home remodeling and improvement projects, remember that wood grain finishes for aluminum building products can offer a good return on investment. According to Remodeling magazine's "Cost vs. Value" 2018 report, common remodeling projects that have a high return vs. investment cost for a homeowner include: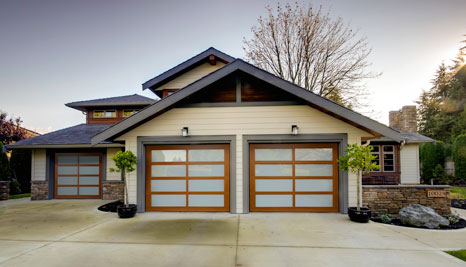 an upscale garage door replacement, returning 98.3 percent;
a midrange deck addition, returning 82.8 percent; and
an upscale window replacement, returning 69.5 percent.
Whether selecting wood grain finishes for a new garage door, deck, railings, or window and door framing, Linetec has the pattern to meet the desired aesthetic and required performance.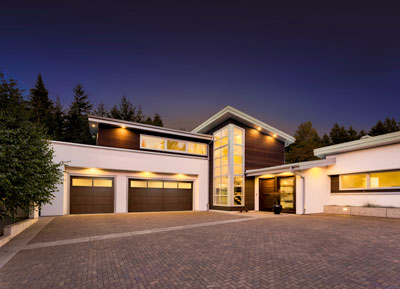 Linetec's Wood Grain Gold Series palette features 14 textured, wood grain finishes that meet the higher performance criteria of AAMA 2604. Additional finishes also are available in more than 50 wood grain patterns. These powder coat painted finishes meet the stringent standards of AAMA 2604 for color uniformity, specular gloss, dry film hardness and adhesion, as well as resistance to impact, chemicals, detergents, scratches, corrosion, salt spray and fading due to ultraviolet light. The coatings also are fire retardant, and resistant to water and humidity.
Supporting environmentally sound practices, Linetec's wood grain finishes utilize a powder coat process that does not emit volatile organic compounds (VOCs). Wood grain finishes can be specified with recycled aluminum content, and may be recycled after its long product lifespan.
Please contact us for personalized service in selecting the correct finish on your next project and for samples of our wood grain finishes.