Choosing high-performance, durable, easy-to-clean finishes for architectural aluminum products supports companies' goals to create attractive, efficient, safe, healthy and productive workplaces.
First Impressions
Office buildings and their owners face a competitive environment for attracting new tenants and retaining existing ones. As in a job interview, first impressions matter. A bright, clean exterior in good condition provides the best introduction.
Helping present the desired appearance, finished exterior architectural aluminum systems include metal wall panel, canopy and entrance systems; framing for curtainwall, storefronts, windows and skylights; and decorative accents. Painted finishes can be selected in a nearly unlimited range of colors to complement and match corporate branding. Specialty finishes can add texture, sparkle and shimmer; and mimic natural stone and wood materials. Anodize finishes showcase a range of natural metal in tones from clear to black, shades of bronze, and even Copper and Bordeaux.
In addition to our proprietary anodize finishes, Linetec operates an in-house blending laboratory to custom-match and create architectural paint coatings. Our dual finishing capability allows you to choose one color or finish type on the exterior, and a different color or finish type on the interior. Our dual-finish option is competitively priced when paired with our thermal strut services.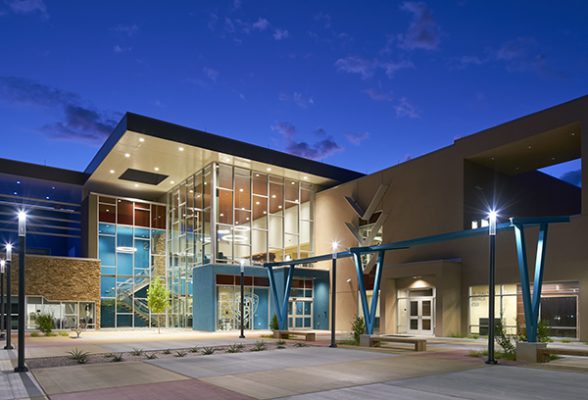 Efficient Performance
Improving thermal performance on aluminum-framed glazing systems contributes to office buildings' energy efficiency, utility cost savings and carbon emission reductions. By keeping cold and heat outside, and reducing condensation, it also can increase tenants' comfort and owners' leasable floor space.
To finetune your window, door and curtainwall systems' performance, we offer a choice of thermal strut or thermal pour-and-debridge services. Operable windows and natural ventilation can further contribute to energy-savings potential when used in conjunction with efficient HVAC systems.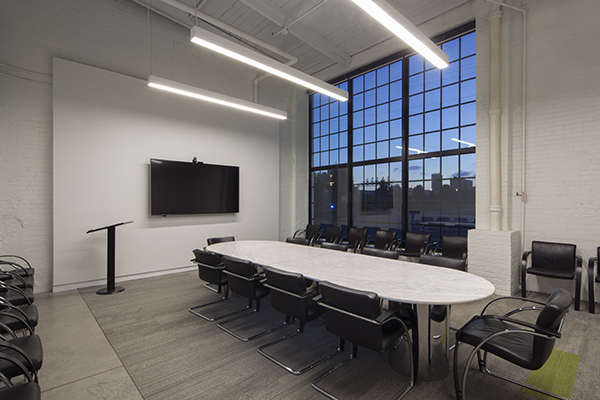 Along with a comfortable indoor temperature, access to daylight, views and environmental air quality (IEQ) are all contributing factors to improving accuracy, concentration, employee satisfaction and retention. Happy, healthy workers are more productive workers; and happy tenants mean fewer vacancies and greater value to building owners.
Wellness at Work
According to the Building Owners and Managers Association (BOMA) International, "Building managers have an obligation to provide healthy and safe environments for their occupants and employees."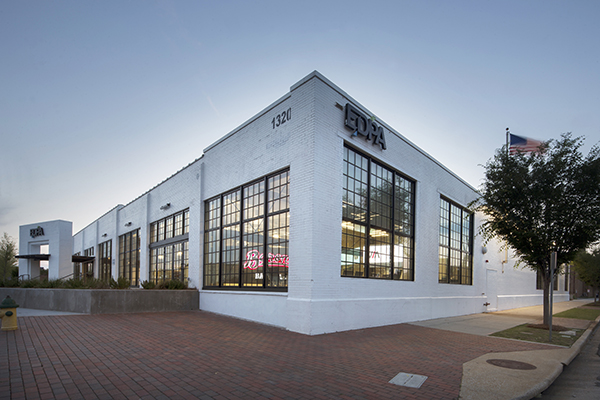 Protecting health and wellbeing also has been a long-time goal of the U.S. Green Building Council's LEED® rating systems. Its IEQ credit category and four new Safety First pilot credits address such occupant wellness-focused considerations as lighting, acoustics, thermal comfort, air quality, low-emitting materials and green cleaning.
Low-emitting materials refer to products with low/no volatile organic compounds (VOCs). As an environmentally responsible finisher, Linetec uses a 100% air capture system and regenerative thermal oxidizer to safely destroy the VOCs in liquid paints' solvents. By managing this in our quality-controlled facility, there is no adverse environmental impact either at Linetec or on your jobsite. Our no-VOC eco-friendly finish options also include powder coatings and anodize finishing.
Linetec's no-VOC anodize finishing options have earned a Declare Label as Living Building Challenge™ (LBC) Red List Free. This means that all of our anodize finishing is in full compliance with the highest level of LBC criteria established through the International Living Future Institute. Declare LBC Red List Free products are recognized by LEED, the International WELL Building Institute and the U.S. Environmental Protection Agency (EPA).
The Declare Label for our anodized aluminum lists a life expectancy of 40 years. Because it is an integral part of the aluminum substrate, Linetec's anodic coating results in a hard, durable finish. The finished aluminum provides excellent wear and abrasion resistance, and long-lasting performance that meets or exceeds the AAMA 611 industry-leading standard.
For the highest level of durability and longevity in architectural painted coatings, specify 70% PVDF resin-based finishes to meet AAMA 2605.
Clean and Clear for Re-entry
Whether choosing paint or anodize, architectural aluminum systems in our high-performance finishes not only last a long time, they also are easy to clean and to keep clean. Regularly scheduled cleaning helps extend the longevity of these durable products.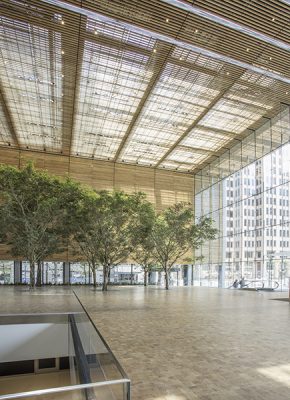 While many employees were working from home during the pandemic, some building owners and managers turned off the HVAC and other climate control systems to conserve energy and operational costs. "Reopening America: Strategies for Safer Offices," published by the American Institute of Architects (AIA), cautions that buildings that were idle or not maintained during closure may require recommissioning to ensure safe re-occupancy.
One of the concerns during a shut-down is the potential growth of mold, mildew and other microorganisms. To inhibit the growth of stain- and odor-causing bacteria that may affect the coating's surface, Linetec also offers 70% PVDF resin-based finishes with antimicrobial protection that meet AAMA 2605. The coating's antimicrobial protection safeguards the coated product's surface throughout its useful lifetime. Reducing the time and labor needed to maintain or repair office buildings further increases the overall savings and value to the owner.
The most simple cleaning method of anodized or painted aluminum is to flush the finished surface with water using moderate pressure to remove dirt and soil. More frequent cleaning may be recommended in high-traffic and common areas, such as lobbies, corridors, conference rooms, fitness centers, mailrooms and open offices, and other areas where people may lean, sit and touch exposed surfaces.
To reduce the spread of COVID-19, the EPA and the Centers for Disease Control and Prevention (CDC) published "Guidance for Cleaning and Disinfecting Public Spaces, Workplaces, Businesses, Schools, and Homes." It states: "Normal routine cleaning with soap and water removes germs and dirt from surfaces. It lowers the risk of spreading COVID-19 infection. Disinfectants kill germs on surfaces. By killing germs on a surface after cleaning, you can further lower the risk of spreading infection."
As workers prepare to return to office buildings, BOMA recommended, "The areas that experience the heaviest amount of foot traffic should receive the most attention. This includes elevators, entrance and exit routes, common areas and lobbies. Pay close attention to frequently touched surfaces in these areas." The AIA, USGBC and others provided the same guidance.
"Facility managers face heightened demand for demonstrating to their occupants that they are providing a clean, healthy, sustainable, and safe building," emphasized the International Facility Managers Association (IFMA) Foundation.
Rebuilding Better
"With much of the country entering into an initial reopening phase, businesses and government must rebuild people's trust and demonstrate how the estimated 5.6 million commercial buildings in the U.S. are focused on health and committed to positively impacting communities moving forward," advised USGBC.
A survey of 2,300 U.S. workers by Gensler found that "70% of people want to work in the office the majority of their week." In addition, "55% of people report that in order to feel comfortable returning to the office, a combination of stricter sick policies and changes around office cleaning and space configurations that accommodate physical distancing must be made first."
Responding to workers' desires and concerns, 32% of 11,000 corporate real estate professionals surveyed by CoreNet Global said they are "planning significant renovation or redesign of office space to facilitate social distancing and/or enhance employee health and safety upon return to the office" and 47% "plan to reconfigure office layouts."
Contributing to flexible, interior designs, open offices can be converted into partially enclosed ones with the additional of interior walls and aluminum framing systems to increase separation between workers. Interior aluminum doors and framing systems also can better define private and common spaces within the building.
Working together, while maintaining safe distances and practices, we all can contribute to a better-quality office experience and a productive future.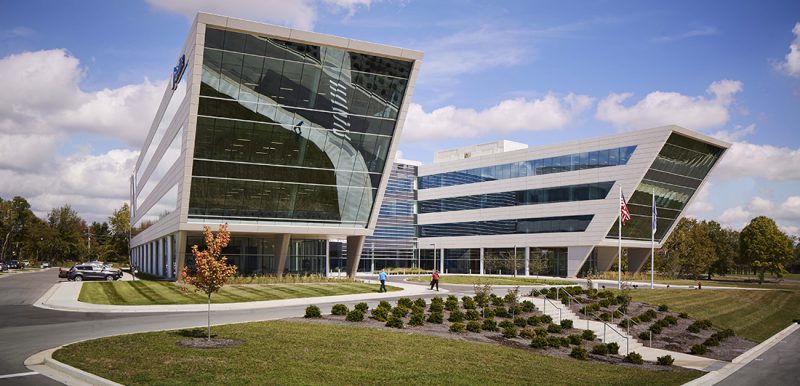 To learn more, please contact your Linetec sales associate for more information.
Photo Credit by Super Sky, Winco Window, Americlad, Tubelite, Wausau Windows, Apogee Renovation