When your project calls for a truly unique finish, a multi-colored spattercoat finish provides a completely customized look for architectural aluminum products. We use multiple colors on top of a solid undercoat, applied in a handcrafted pattern to create your one-of-a-kind lightly textured, finish.
Linetec's specialty spattercoat finishes are not only used on metal wall panel cladding systems, but also are specified for window frames, doors, coping, soffits and decorative interior accents. When real marble and slate are outside the budget, or heavy steel and stone are impractical to fabricate and install, our spattercoat finishes offer high performance with a comparable aesthetic.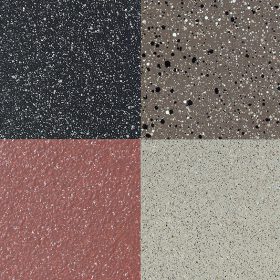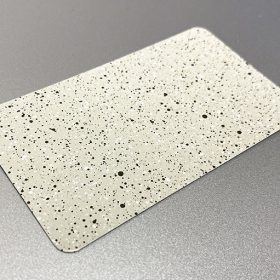 The term "spattercoat" may bring to mind the works of abstract artist Jackson Pollock, and while our associates' hands-on artistry is essential, our spattercoat paint process combines precise color matching with quality-controlled factory application. The paint spatters can be many or few, large or small, thick or thin, speckled or swirled to produce the desired three-dimensional depth and textured effect.
As always, you decide what's right for your project. Do you want your spattercoat-finished material to stand out or blend in with the surrounding components and décor?
Create a dramatic accent or feature wall with bold, primary colors over a light base coat. Try the reverse using a dark or black base coat with bright, light colors on top. Bring together corporate, brand or school colors into signature architectural detail, or seamlessly tie an entire color palette together.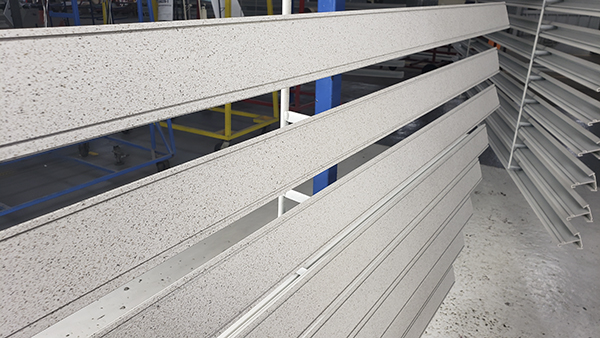 For an elegant touch, dark undercoats also can be applied as the foundational color for simulating granite, such as on aluminum column covers, or slate to complement a roofline or wall cladding. The right selection of brown or gray tones spattered over black can produce the appearance of aged wrought iron or steel for aluminum railings or window framing members. Red and brown tones for a base color can be paired with dark or light colors for a brick-look effect. Lighter color undercoats are commonly applied to match concrete, marble and other stonework.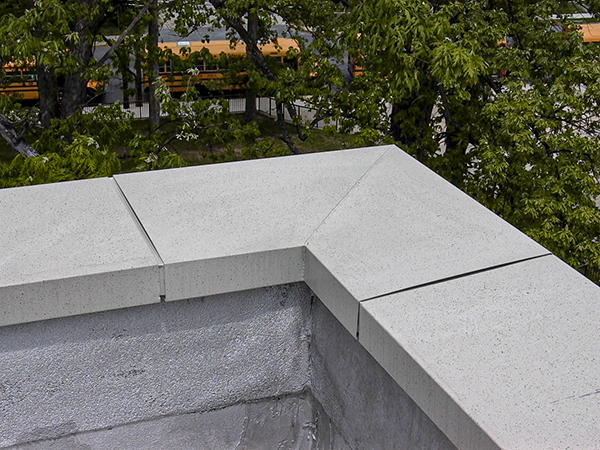 Even when our spattercoat finish mimics other materials, it provides the same, consistent, reliable performance as all of our other architectural coatings for aluminum. For exterior applications and high-traffic interior surfaces, we typically recommend a 70% PVDF resin-based coating system applied to industry-leading AAMA 2605 specifications. These painted finishes exhibit outstanding resistance to humidity, color change, chalking, gloss loss and chemicals, ensuring a long-lasting, durable finish with minimal maintenance.
Because every spattercoat finish color and pattern is personalized to the project, please contact us for assistance as you beginning planning for your project's needs.