Skylights give us the naturally rejuvenating feeling of standing outside basking in sunshine, while remaining sheltered from the elements. High-performance glass and thermal performance framing let us enjoy the comfort without unwanted heat or glare.
As a single source solution, Linetec's finishes and thermal barrier systems help skylight manufacturers and installers meet their projects' goals for interior environmental quality, energy efficiency, durability, longevity and an attractive appearance.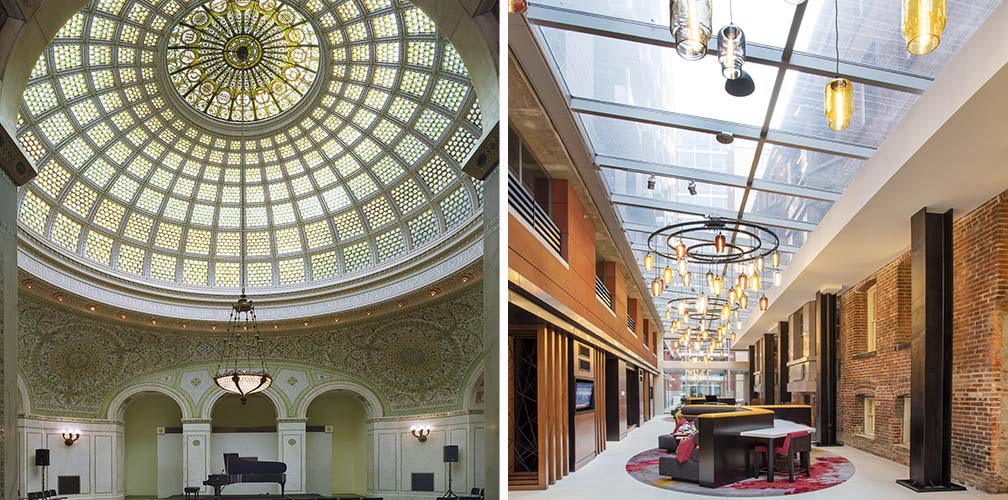 Inspiring appearance
From open, airy atriums and comfortable conference rooms to spacious special event venues and dramatic dining halls to peaceful patient rooms and light-filled luxury car dealerships – skylights create inspiring interiors . Their size, shape and finish can be designed to meet the building's aesthetic vision.
Linetec offers manufacturers a nearly unlimited palette of architectural coatings and an expansive selection of anodized metal in rich tones including Copper or Bordeaux Anodize. Other imaginative, specialty finishes for skylights' aluminum framing include terra cotta colors to match real stone roofs, mica and metallic coatings to add dynamic sparkle and luxury, or wood grain patterns to complement warm biophilic interiors.
Custom-blended coating formulations can precisely represent a company brand or school colors. Linetec also offers a dual-finish option, where manufacturers can select different finishes and colors for the interior and exterior framing members.
Top-lighting for energy efficiency
Along with upward views, skylights' downward light can naturally spotlight specific areas or be combined with windows, curtainwall and storefront to illuminate a whole floor. Optimizing the skylight's glazing and position, top-lighting can provide excellent diffused daylight even on cloudy days. Exterior and interior shading devices further soften the direct light. Reflective light shelves and transparent room dividers help carry the natural light more deeply throughout an interior.
According to the Fenestration & Glazing Industry Alliance (FGIA): "All of the newest U.S. energy conservation codes specify that many suitable buildings must now use skylights (and automated lighting controls) over specified portions of the occupied floor area because of the energy savings that are achievable in such buildings."
Ensuring a durable, energy-efficient skylight system, Linetec works in collaboration with manufacturers and installers to provide the optimal finish and thermal barrier for your aluminum framing. Manufacturers can choose from either our thermal strut or pour-and-debridge thermal services to separate and insulate the metal extrusions, minimizing heat transfer and improving energy efficiency.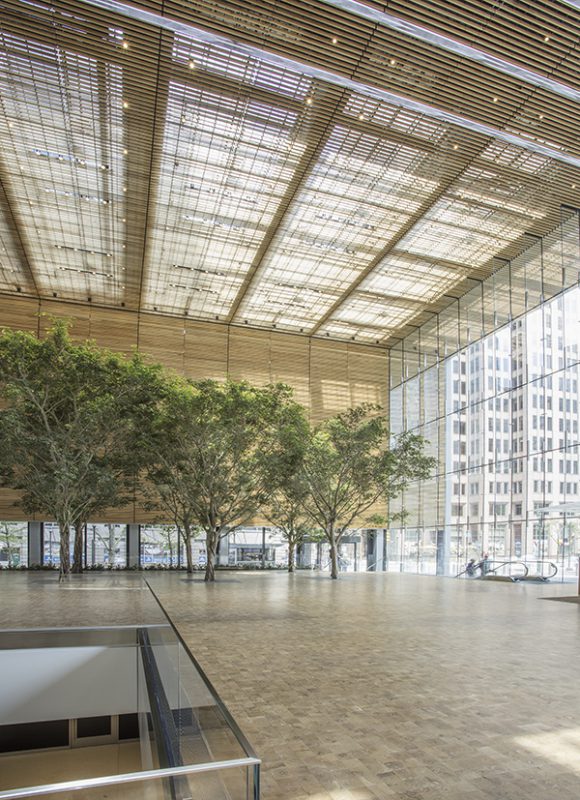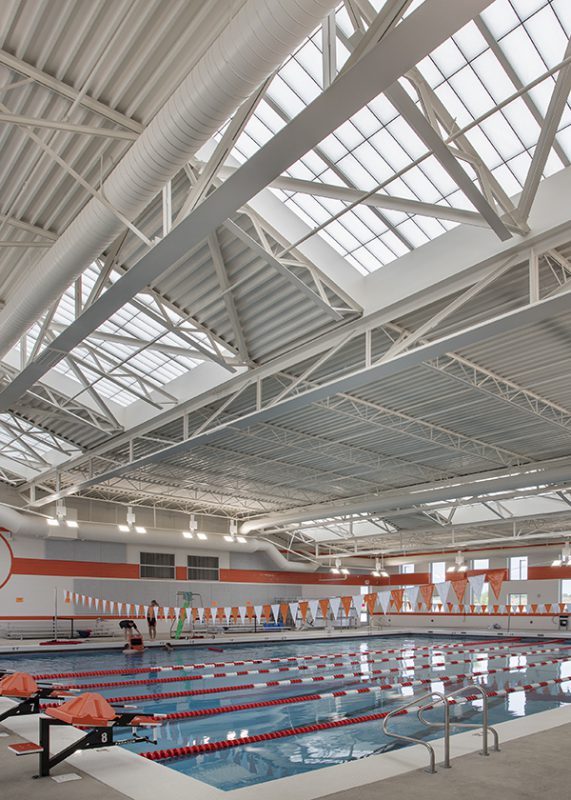 Long-lasting performance
Skylights are essentially windows that must perform as roofs, requiring careful engineering and finishing to create resilient protection from the weather. For exterior-facing framing members, the finish must provide adequate protection not only against precipitation in all its forms, but also against direct exposure to UV light.
Other location-specific performance may require additional resistance to air pollution in industrial environments or salt spray in coastal settings. Interior performance also must be considered, for example, on specialty applications like aquatic centers.
For the highest performance, Linetec recommends specifying 70% PVDF resin-based architectural coatings to meet AAMA 2605 and Class I anodize finishes to meet AAMA 611. Once installed, building owners and property managers also appreciate that these the finished skylights require minimal maintenance to perform and look their best year after year.
Shaping skylines
Skylights in single family homes often resemble a single window in the ceiling, but for commercial, industrial, public and multi-residential buildings, full daylighting requires a larger system. The most common skylight shapes are:
The double-pitch skylight, which meets at a top ridge and may have hips or gables to connect it to the rest of the roof. This shape is adaptable and classic, essentially looking like a glass roof and frequently found in industrial manufacturing centers, hotel pool areas, office conference rooms and university study areas.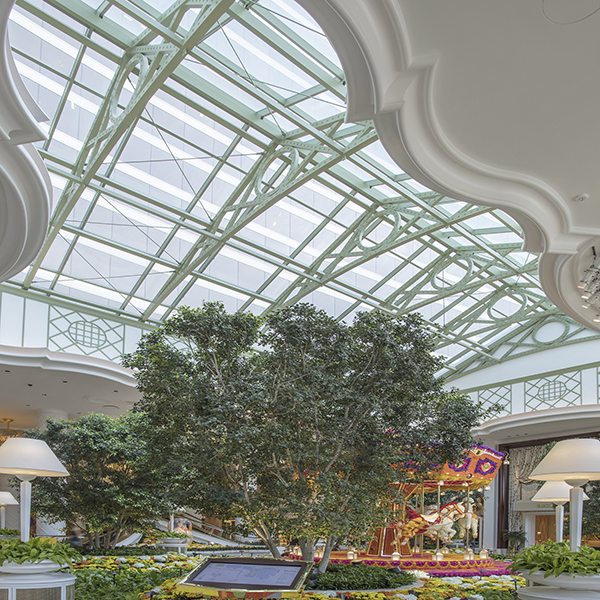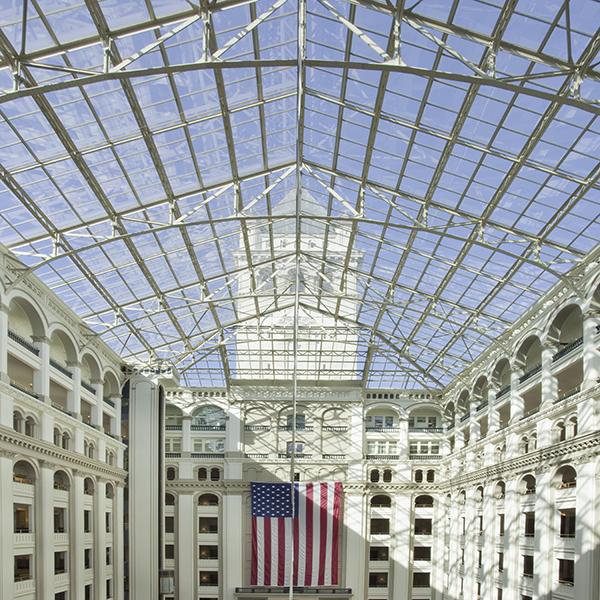 The single-pitch skylight, either straight or radial, usually covers a narrower space such as the ceilings of interior throughfares, hallways and smaller lobbies. This design is especially useful for multi-residential corridors. It gives the impression of a street or alley, while reinforcing the individuality of dwelling units.
Connecting rooms in museums and galleries also benefit from these narrower skylights to distinguish collection display rooms or delineate spaces between exhibits. Malls and commercial spaces can use these daylit throughfares to replicate the feel of an outdoor window-shopping experience.
Skylights with specific geometric shapes, like pyramids, domes or polygons, typically are used as a central feature in large interior rooms such as atriums, cafeterias and libraries. These shapes add visual interest to rooms with limited window views and provide welcoming daylighting to gather, dine, read or relax.
Following the geometric cues of other interior elements, these functional gem-like skylights enhance the room's shapes and lines. These skylights also are designed as essential exterior design elements adding to a building's iconic structure and community presence.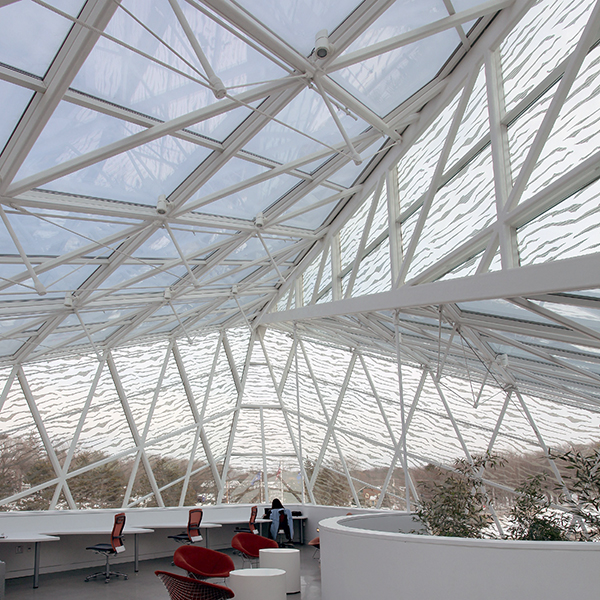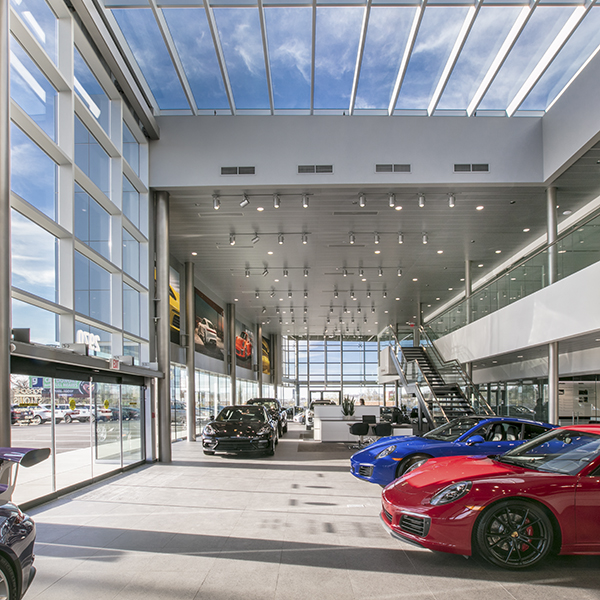 Another skylight that adds emphasis to the exterior is a single-pitch with vertical, also known as a "lean-to" skylight. These skylights look like an extension of the curtainwall, pitched to meet the roof of the rest of the building. Reminiscent of a massive sunroom, conservatory or greenhouse, these skylights deliver extra solar exposure and exceptional daylighting for perimeter rooms. Whether to showcase the breathtaking views outside of a hotel or the merchandise inside of a retail store or auto dealership, these skylights provide unobstructed views.
Vault skylights, which present a shallow arch shape, also can be incorporated into rooflines or as an extension of buildings arched entrances. This classically shaped skylight is a favorite in travel terminals like airports and train stations, grand ballrooms and event centers, and fits well with traditional geometry found in many historic buildings.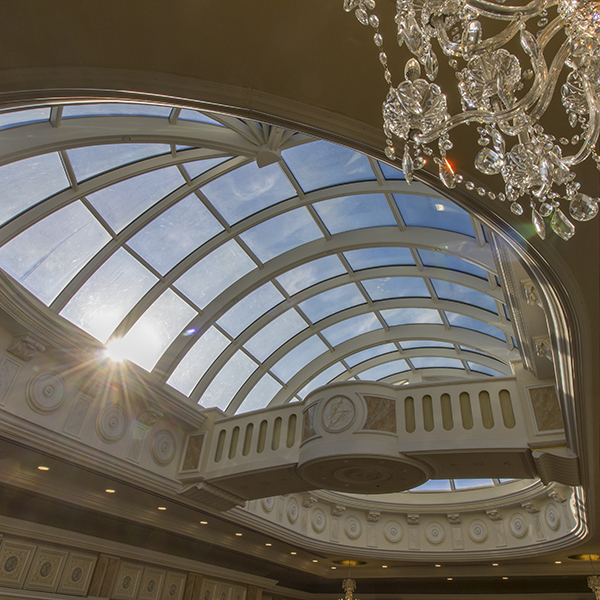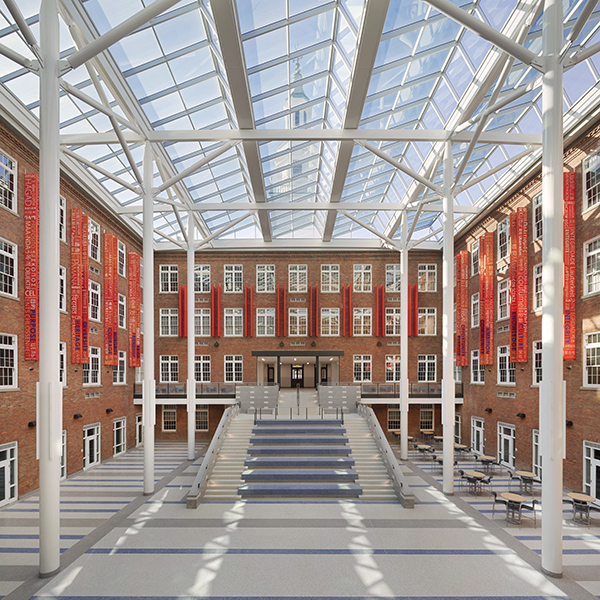 Angular and curved skylight shapes also fit modern designs and contemporary applications. Sawtooth skylights, once reserved for industrial styling, now appreciated for their unique appearance and daylighting delivery in everything from private residences to high school courtyards. Almost any custom shape, with a variety of slopes, ridges and hips can be created to bring an architectural vision to life.
For personalized assistance with selecting your finishes and value-added services, please contact your local representative.
Photos courtesy of Acurlite Structural Skylights, Major Industries, and Super Sky Products Enterprises