When a road sign says, "Caution Curves Ahead," it's good to be alert and reduce your speed. When it comes to curving and finishing your aluminum extrusions, we can alleviate your worries while you keep accelerating.
As a single source solution, Linetec not only offers a choice of finishing and thermal improvement services for your linear aluminum extrusions, we also can provide the same for your curved material.
Stretch Forming for Fenestration
Stretch forming pairs modern fabrication techniques with traditional bent forms to easily incorporate curves with your finished aluminum framing for window, skylight, storefront, curtainwall and entrance systems.
You can use stretch forming to create spirals, serpentine shapes, ellipses and arches. Classic shapes like half circles (180 degrees), eyebrow curves (135 degrees) and gothic arches are popular requests.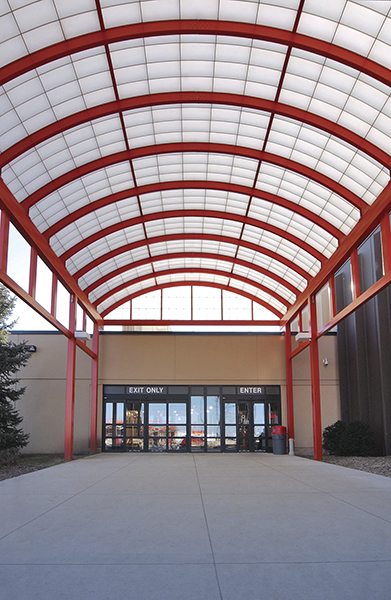 Finish with Flair
As with all of your architectural aluminum product, we can enhance your curved extrusions with colorful painted coatings in bold hues, soft pastels or earth tones. To highlight the natural beauty and durability of metal, consider our anodize finishes in clear, champagne, bronze tones or black.
Expand your expectations beyond the standard with specialty options including our Copper and Bordeaux anodize, textured terra cotta coatings, shining metallics, sparkling micas and one-of-a-kind spattercoat creations.
Energy Efficient Enhancement
Like your straight lengths, angles and corners, we can thermally improve your curved extrusion shapes to meet building projects' energy efficiency goals. Separating and insulating the extruded, curved aluminum profiles can be accomplished with either a thermal pour-and-debridge process or a thermal strut system.
If you choose thermal strut to improve your fenestration products' aluminum framing members, we also offer dual finish options. This allows you to specific different colors or even different finish formulations to match different palettes and performance requirements for interiors and exteriors.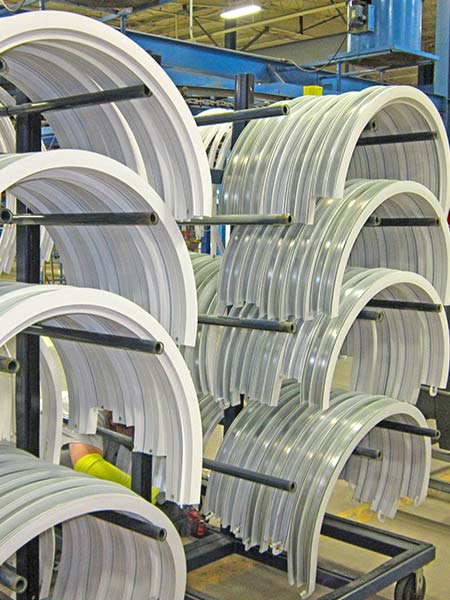 Natural connection
Nearly all finishing service providers and coating manufacturers' warranties require that the aluminum extrusions are finished after curving. We follow the proper sequence of services to ensure a full warranty on your finished, stretch formed aluminum:
1. First, stretch form
2. Next, finish
3. Then, thermally improve
Let us take the caution out of your next project calling for curved material. We can manage your stretch forming, finishing and thermal improvement needs in a single location. Completing both your curved and linear extrusions in the same batch minimizes variation for a consistent, high-quality appearance and reliable, high performance, backed with a standard full warranty.
We're happy to help
For personalized assistance with your stretch forming selections or other finishing service needs, please contact your local representative:
Contact Us