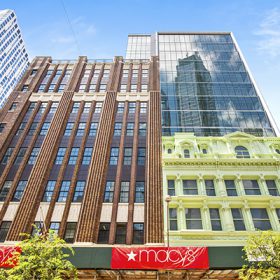 Featuring a crisp, refreshing "Key Lime" green, Linetec finished Winco Window's historically inspired windows to match the renovated, four-story, cast-iron façade of Macy's New York in downtown Brooklyn. Retrofit magazine's July-August issue showcases the high-profile success story among its curated case studies of retail projects from across the country.
Today, Macy's occupies approximately 300,000 square feet of retail space on the four lower floors, retaining its street-level prominence, architectural heritage and community connection. The nine-story building's top five levels have been converted to Class A offices with a contemporary curtainwall separating it from the historic structure below.
Located at 422 Fulton Street, the department store opened in 1865 when horse-drawn carriages were the primary transportation. The building was designed in the French Second Empire architectural style capped with a mansard roof and clad in a cast-iron façade consisting of thousands of interconnected pieces. The building underwent several renovations and expansions through the decades.
While the new windows look as if they could be original, they were engineered and finished with modern performance to meet the Architectural AW-100 Performance Class designation per the North American Fenestration Standard (NAFS). Supporting the windows' performance and durability, Linetec finished the aluminum framing and panning using a 70% PVDF resin-based architectural coating.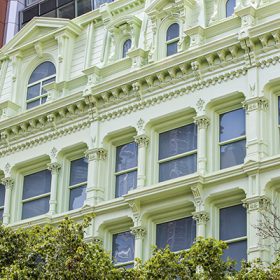 To retain the project's unique color and to withstand New York's climate and high-traffic conditions, Linetec ensured the windows' painted finishes meet the industry-leading AAMA 2605 coatings specification for high resistance to corrosion, weathering, pollution, salt spray, humidity and abrasion.
In total, 63 aluminum-framed windows were supplied with panning by Winco Windows and finished by Linetec. Each window's dimensions span approximately 4 by 9 feet and 15 were manufactured with arched tops. Winco's 1450H Series window systems are fixed with offset lites to replicate the look of traditional, operable hung units.
The historic retail destination has grown and developed with the community around it. With the renewed store, Macy's executives said it seeks "to fuse its traditions with Brooklyn's local flavor to create a modern environment of cutting-edge style and hip, urban attitude."
Read the full digital feature article in Retrofit magazine.
For personalized assistance in custom-matching colors to your historic renovation projects, selecting appropriate finishes for historically inspired designs or other finish options for brand new construction with a contemporary aesthetic, please contact your local representative