Glass Magazine's April Trendhunter feature shares "Finishing Trends to Watch."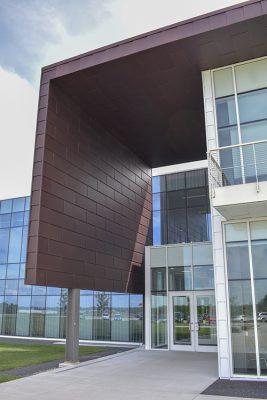 Authored by Linetec's marketing manager, Tammy Schroeder, LEED Green Associate, the article highlights six top trends:
• Blues and greens – celebrating color of the year selections from fashion-forward sources
• Biophilic beauty – bringing inspiration from our natural world into the built environment
• Tactile textures –enhancing the sensory experience with touchable surfaces
• Sparkle and shine – adding vibrant dimension with reflective, specialty coatings
• Rich and resilient – combining precious metal and jewel tones with high performance
• Custom creations – achieving almost any color you can imagine
An image of 2400 Market St. in Philadelphia illustrates Linetec's biophilic wood grain finishes, and its new Bordeaux Anodize is showcased on Iowa State University Economic Development Building.
Read the full article in Glass Magazine's digital edition.
For personalized assistance with on-trend finishes for your next project, please contact your local representative.