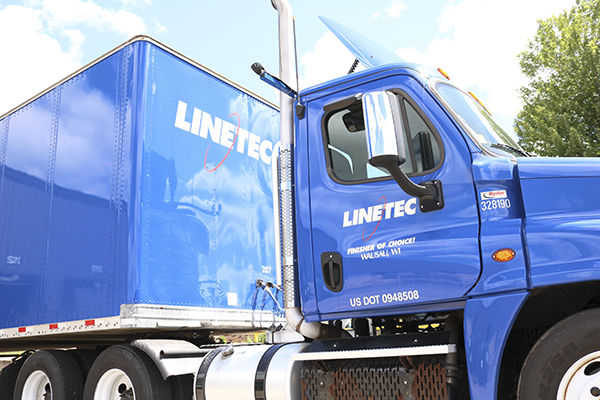 We understand how important it is for your finished material to arrive on time and as specified. To provide our customers with the greatest convenience and the best possible quality control, we have operated our own fleet of trucks since 1997.
Today, even when we're all facing other uncertainties, Linetec and our truck drivers remain fully operational and ready to serve you efficiently and safely. Many of you already are familiar with our trucking service for large orders and regular deliveries. Even if you have limited building access or a small order, please contact us to discuss your delivery options. Our drivers may already be in your area.
Dedicated Service + Savings
As the nation's largest independent architectural finisher and contract hauler, we can provide you with cost-effective, reliable, damage-free shipments.
• Save time – You no longer need to find and schedule your own contract hauler.
• Save headaches – With Linetec in control of the truck and the schedule, we can better ensure that your material will be picked up and delivered on time. Using experienced drivers, we also can ensure that your material is properly loaded to protect against damage during travel.
• Save money – For partial loads, freight costs are more economical when our customers are able to share a truck with others in their area. For customers who currently have only partial loads on a dedicated truck, this can result in sizable savings.
Regular Routes
We have numerous routes throughout the U.S. covering the Central, Midwest, Southern and Eastern regions from our home in Wisconsin to you. If a customer's project falls outside of our regular delivery zone, we can provide service or arrange for trucking whenever possible.
Our trucking can provide you with pick-up and delivery services, making your outsourced finishing needs an easy, turnkey operation. Depending on the frequency and urgency of your deliveries, we can provide several options:
• Linetec Managed Trucking, Regular Route – For our customers with weekly deliveries and pick-ups, we arrange for transportation via a Linetec truck or an outsourced carrier.
• Linetec Managed Trucking, Dedicated Run – For customers that have truckload quantities of material moving either one, or both directions (inbound and outbound), we can arrange for a dedicated truck.
• Customer Managed Trucking – For customers that prefer to make their own arrangements with a carrier of their choice, via common carrier (LTL) or exclusive carrier (truckload material).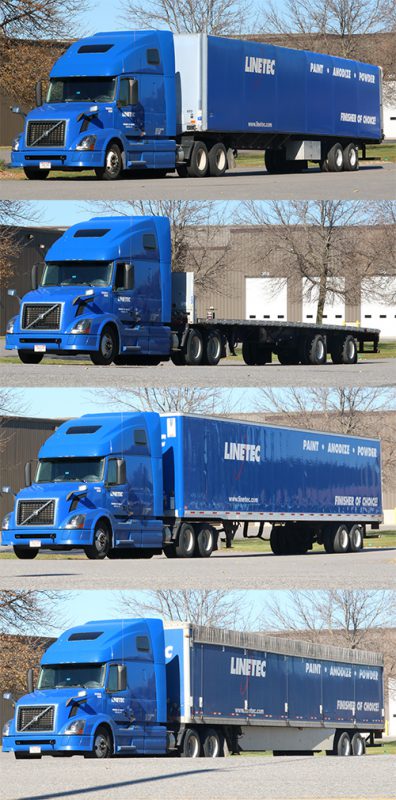 Truck Types
Your finished products are transported safely and efficiently by one of our three truck types:
• Local trucking – Linetec's semi-trailers and straight trucks are used for deliveries within a 30-mile radius of Wausau, Wisconsin. Enclosed trailers can haul carted material, as well as crates and skids.
• Open-top trailers – Linetec's hard-side, open-top trailers have an open or tarped roof that is ideal for overhead crane loading and unloading. The hard sides eliminate the need to strap down the material, and airbags can be used to snug the material to the walls. Open-top trailers also can be loaded and unload from the tail end at dock height with forklifts and pallet jacks.
• Accordion trailers – Linetec's accordion trailers are a flatbed trailer, but with a rolling attached tarping system. It allows the same as above, side or end loading and unloading, although skids and crates must have closed tops. Our accordion trailers are ideal for lineal shapes, bundles, boxes and crated material.
We also offer custom packaging solutions – from boxing and master bundling to individually packaging material into crates. Helping our regular customers to save on packaging costs, time and labor, Linetec also offers a cradle rental program for shipping of lineal extrusions.
Using experienced drivers, we ensure your material is delivered damage-free. On Linetec dedicated trucking, your material is never offloaded until it reaches the delivery location.
Please click here for a PDF of our inbound trucking guidelines. For outbound guidance, please contact your inside sales representative. Let us know if we can assist you with additional trucking and packaging options.