Chicago's Wrigley Field first opened for baseball in 1914. Designed by architect Zachary Taylor Davis, the ballpark was one of the earliest U.S. stadiums built with steel-beams and concrete, and meant to last. During the past century, Wrigley Field's facility has been expanded and enhanced, as has its surrounding Wrigleyville community.
Situated across the street from Wrigley Field, the new Hotel Zachary pays its respects to both the ballpark's architect and the enduring style of Chicago's North Side. Part of Marriott International, Inc.'s Tribute Portfolio, the seven-story, 238,000-square-foot boutique hotel presents up-to-date accommodations with a sensibility that feels perfectly at ease with its historic ties.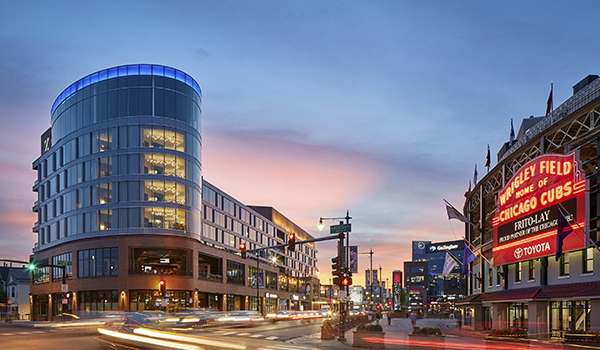 Designed by Stantec, the hotel's façade blends classical masonry elements with a contemporary curtainwall. Pittco Architectural Metals manufactured the curtainwall and entrance systems installed by Architectural Glass Works on the first two stories. Linetec finished the aluminum framing for these systems in Champagne Metallic to complement the brickwork so familiar on Chicago's streetscapes. For the upper level curtainwall, Linetec used West Pewter mica architectural coatings to convey a distinctively modern look accentuated with vertical sun shades.
The shimmering metallic and mica finishes elicit thoughts of vintage industrial materials, tying today's glass towers to the rich past of Chicago. Steely blues and copper tones, abound not only on the exterior façade, but also throughout the hotel's interior. The colors offer a counterpoint to the ornamental muted-green grillwork and red terra cotta roofing of Wrigley Field.
Reminiscent of the ballpark's curved entrance across the street, the Hotel Zachary features an elliptically shaped tower prominently placed at the corner of Clark and Addison. To create this reciprocal aesthetic, Linetec stretch-formed the aluminum framing members of the tower's curtainwall before finishing them.
The Hotel Zachary spans an entire block of frontage to the stadium, with a score of locally run restaurants to feed hungry fans. The building includes 173 smartly styled guest rooms with cozy, living room-inspired suites that provide views into the stadium.
From the outside looking into the Hotel Zachary, Linetec's metallic and mica architectural coatings add vibrancy and visual appeal to the hotel's curtainwall and entrance systems. The light reflectance of the aluminum flake within these coatings gives these finishes their lively appearance.
In addition to providing a memorable impression, the high-performance coatings also protect the aluminum by providing a durable finish. Linetec applies these 70% PVDF resin-based coatings to meet the industry-leading specification AAMA 2605. These finishes exhibit outstanding resistance to humidity, salt spray, color change, chalk, gloss loss and chemical, and require minimal maintenance throughout the seasons.
As an experienced aluminum finisher, Linetec helped the high-profile project achieve a homerun for the hotel's owners and guests.
For personalized assistance with selecting metallic and mica architectural finishes to match your next project, please contact your local representative.
Hotel Zachary Chicago; 3630 N. Clark St., Chicago, IL 60613; www.hotelzachary.com
• Owner: Marriott International, Inc.'s Tribute Portfolio
• Developers: Hickory Street Capital; Chicago
• Architect: Stantec (formerly VOA Associates); Chicago
• General contractor: Walsh Construction; Chicago
• Curtainwall and entrance systems – glazing contractor: Architectural Glass Works; Tinley Park, Illinois
• Curtainwall and entrance systems on first and second floor– manufacturer: Pittco Architectural Metals, Inc.; Elk Grove Village, Illinois
• Curtainwall on top floors – manufacturer: Oldcastle Building Envelope
• Architectural coatings manufacturer: The Sherwin-Williams Company
• Curtainwall and entrance systems – finishing and stretch forming: Linetec; Wausau, Wisconsin