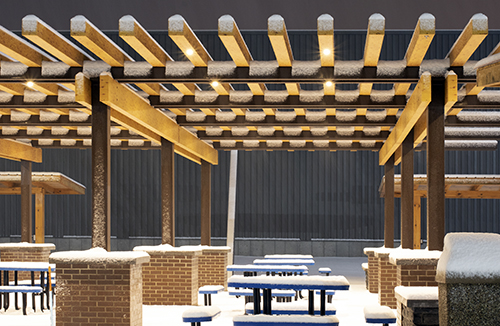 Achieving the look of wood without the maintenance, Linetec offers a Gold Series Palette of wood grain finishes for architectural aluminum products. Our 16 standard wood grain options are available in a vast variety of different options, colors and species including the look of weathered or reclaimed wood.
The use of real wood in applications like curtainwall mullions and interior window surfaces has become very popular. This process of wood grain coatings on aluminum gives us the ability to offer a similar look to real wood at a lesser cost. It also provides the softness and warmth of wood in environments where a hard, cleanable surface is still desired, such as in health care and education facilities or other high-traffic areas.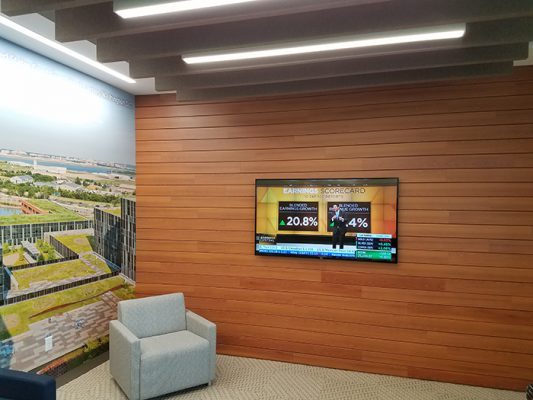 Wood grain finishes can offer a serene healing environment to a buildings interior, with its biophilic design, by resembling the look and texture of natural wood. Biophilic design relies on naturally inspired practices and materials to help reconnect people with their surrounding environment. Studies have shown that a connection to nature can help improve cognitive function, creativity and well-being; reduce stress and expedite healing.
These aluminum architectural finishes not only resemble natural wood, they also can be thermally improved to support energy efficiency. Wood grain finishes can be applied to recycled aluminum and, at the end of their useful lifecycle as an architectural product, the aluminum can once more be recycled. Aluminum also is easy to fabricate, curve and bend – typically at a lower cost than real wood.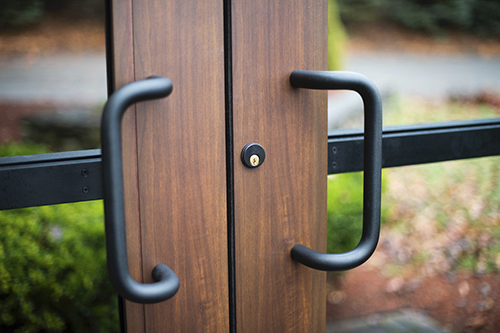 After installation, the finished aluminum products require minimal maintenance. Linetec's wood grain finishes for aluminum mimic the aesthetic of real wood without swelling, rotting, or warping. Scratch- and corrosion-resistant, these finishes provide durable protection from UV rays and are impervious to humidity and insects.
Suitable for both interior and exterior applications, these wood grain finishes are ideal for a variety of architectural components: canopies, trellis systems, handrails, fencing, interior and entry doors, interior wall panels, façade cladding systems, garage doors, shutters, column covers, window and door framing, mullions and decorative accents.
Linetec's finishes are applied to meet or exceed the American Architectural Manufacturers Association (AAMA) 2604 standard. These wood grain finishes have been subjected to the most demanding testing for durability, ruggedness, chemical and weather resistance. The results of this testing allow for a warranty in most indoor and outdoor environments.
Request a brochure or samples of our wood grain options here or email us at sales@linetec.com.
Click to view full image
Photos courtesy of: Architectural Glazing Systems, Lawrence Fabric, NovaSign, Greg Benson Photography and Joe C. Garvin Photography