Linetec returns to the Association of Licensed Architects (ALA) Midwest Architecture Conference. This year's event will be held Oct. 29 at the Drury Lane Conference Center in Oakbrook Terrace, just outside of Chicago.
Representatives from Linetec will be in booth #308 in the expo hall from 10 a.m.-3:45 p.m. Visitors to Linetec's booth can see and touch our newest specialty finishing options for aluminum:
Wood Grain finishes – Offering the beauty of wood without the maintenance, we recently added Aged Light Oak and Aged Dark Oak to our Gold Series Palette of wood grain finishes for architectural aluminum products. These new patterns, present the look and feel of weathered or reclaimed wood, increasing Linetec's offering to 16 standard wood grain options.
New Bordeaux Anodize – Expanding our proprietary finishes for architectural aluminum products, we proudly introduce Bordeaux Anodize. As the name describes, the hue leans toward rich burgundy tones. Using inorganic tin and copper metals in the anodizing process a unique, bold, earthy finish is created.
By visiting Linetec, Tubelite and other exhibitors at ALA Midwest, attendees can earn 1.0 continuing education unit (LU) for their time on the show floor.
Up to 6.0 LUs are available for ALA's conference participants. This includes a 2.0 LU keynote presentation by Olson Kundig's principal Blair Payson, AIA, LEED AP, and up to 3.0 LUs of educational sessions on subjects addressing safety, performance and code requirements.
Nearly 300 architectural professionals are expected to attend the 2019 ALA Midwest Architecture Conference. Registration is required. Learn more at https://www.alatoday.org/conference-2019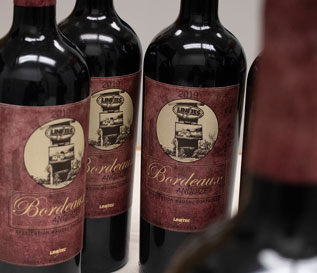 Be sure to stop by our booth, #308, to see our newest finishes and to register to win a specialty bottle of Linetec's Bordeaux Wine
Whether or not you can attend the conference in person, please follow along on social media using the hashtag #ALAConf2019 and these channels:
https://www.facebook.com/associationoflicensedarchitects
https://www.houzz.com/pro/alatoday/association-of-licensed-architects 
https://www.instagram.com/alaarchitects 
https://www.linkedin.com/company/association-of-licensed-architects
https://twitter.com/ALALicensedarch