Wausau, Wisconsin (Aug. 2019) – Linetec, the nation's largest paint and anodize finisher for architectural aluminum products, won a 2019 Wisconsin Business Friend of the Environment Award. The awards are hosted by the Wisconsin Manufacturers & Commerce (WMC) to honor environmental stewardship, innovation and sustainability.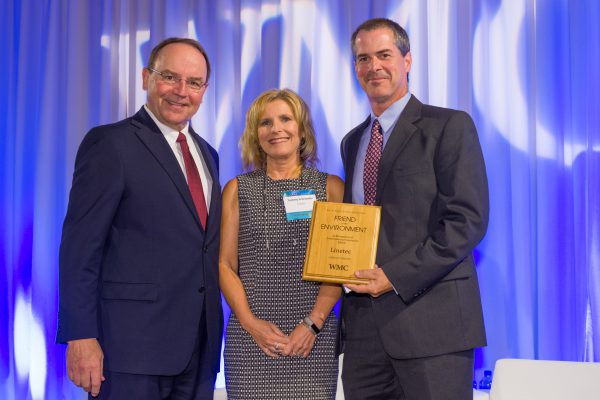 Located in Wausau, Wisconsin, Linetec serves its customers as a single source solution for anodize, paint and specialty finishing, as well as value-added services. "We are proud of our long-standing reputation as a leader in environmentally conscious practices and sustainable finishing options," said Rick Marshall, Linetec's president.
He continued, "For nearly 20 years, environmental responsibility has been written into Linetec's Core Values. Our practices have yielded notable savings and significant conservation of precious, natural resources."
Linetec was recognized in the category of "Environmental Innovation" for demonstrating the creative use of technology or process to improvement the environment. The company previously earned the 2012 award in this category and has continued to improve upon its environmental initiatives and successes. Recent examples include:
Linetec replaced all of its fluorescent and incandescent lights (5,050 bulbs and 1,020 fixtures) with energy-efficient LED lights. This presents an estimated energy savings of $55,000 per year in addition to cutting waste disposal and recycling frequency.
The Wisconsin Department of Natural Resources approved Linetec to use 20 tons of solid waste per week, created from the anodize process, as an alternative daily cover for local landfill. The benefits associated with this daily cover go beyond improved aesthetics and include controlling the spread of disease vectors, preventing fire hazards, managing odors, preventing blown litter and scavenging, minimizing dust generation and movement.
Linetec instituted a paint solvent management and recycling program with one of its suppliers. The supplier safely cleans the used solvent and returns it to Linetec for re-use. On a yearly basis, 190.6 tons of waste solvent are recycled and 128.3 tons of recycled solvent are purchased.
Linetec's vice president of sales and marketing, Jon Close, and marketing manager, Tammy Schroeder, LEED® Green Associate, accepted the award, from Senator Tom Tiffany, on Aug. 13. The presentation was part of the WMC's Policy Day program held at the Monona Terrace Community and Convention Center in Madison, Wisconsin.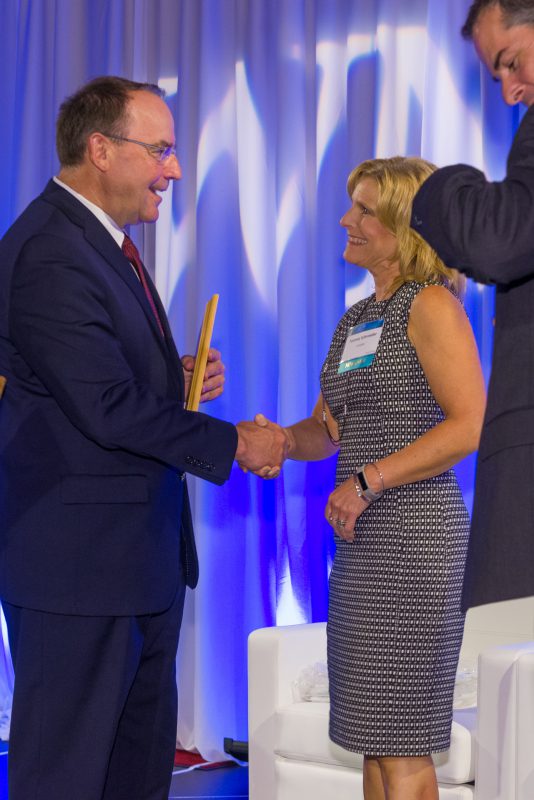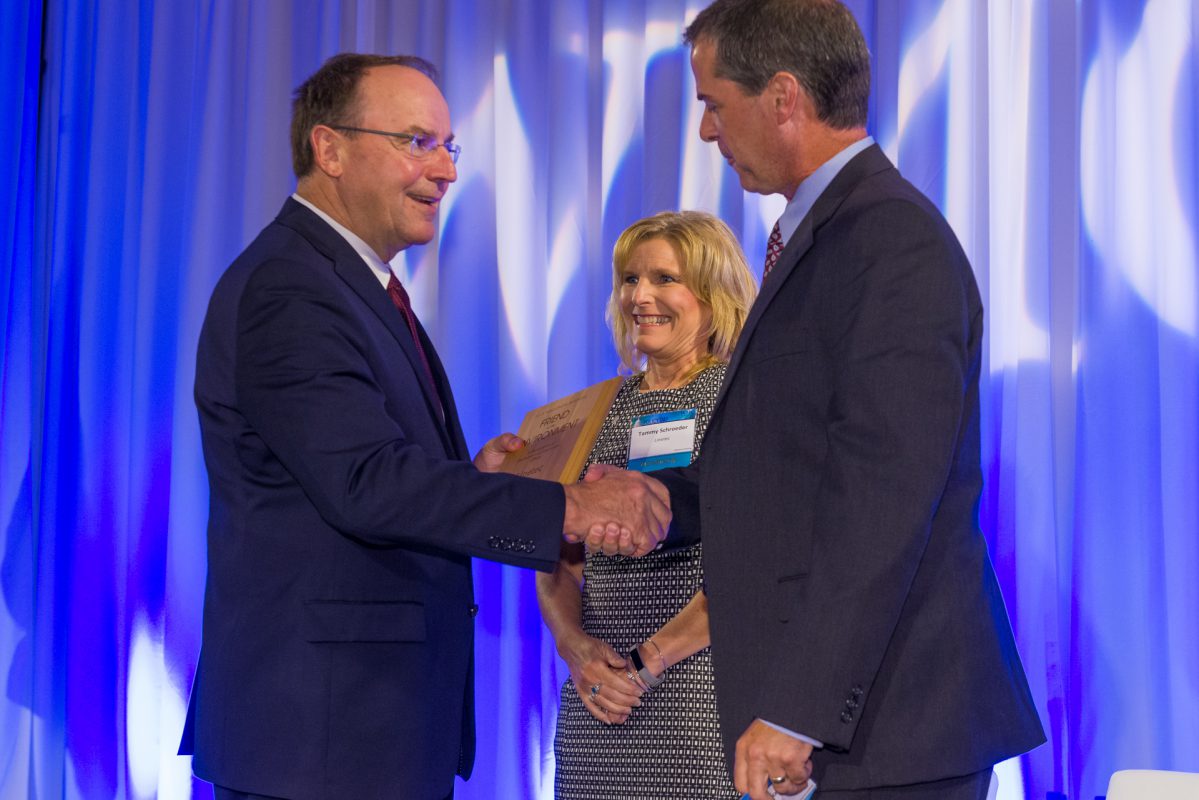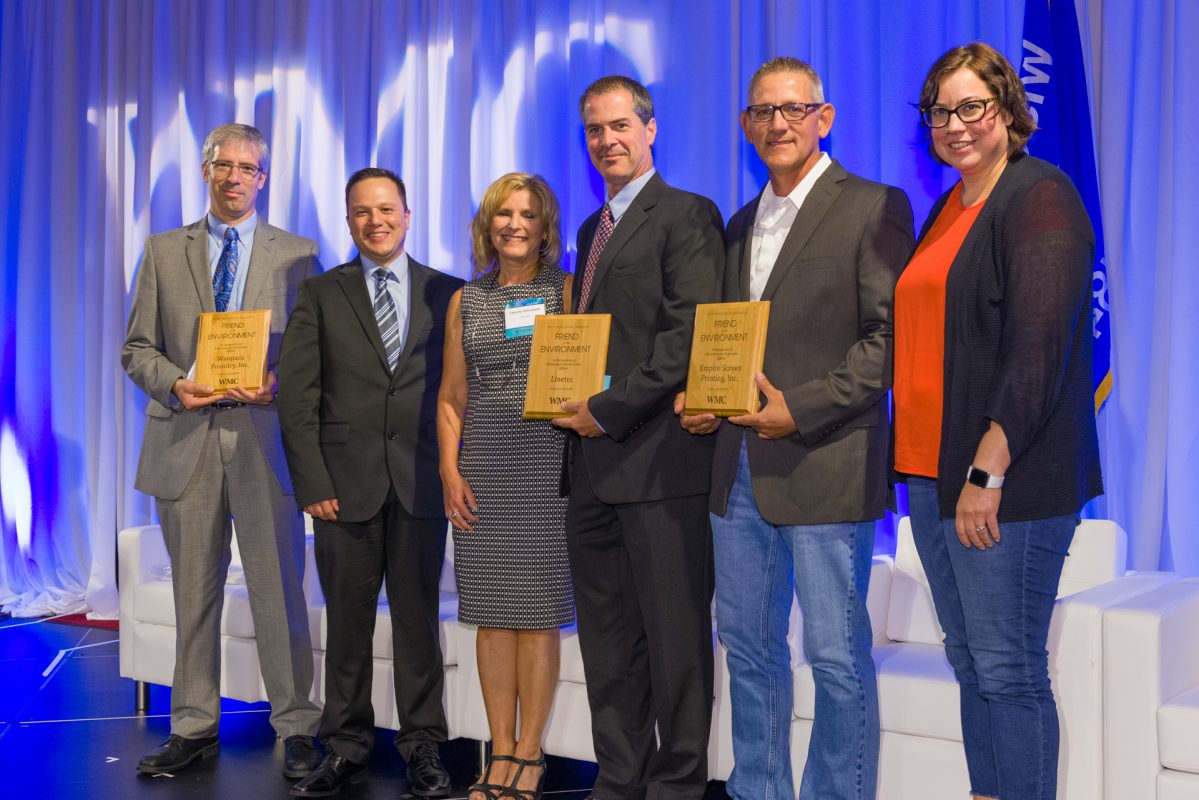 The 30th Annual Wisconsin Business Friend of the Environment Awards accepted nominations from private industry companies headquartered or with significant operations in Wisconsin. The award nominees were reviewed by a panel of independent judges representing the Department of Natural Resources, environmental engineers and industry leaders. Twenty award finalists are selected and three winners are named in three categories – Sustainability, Environmental Stewardship and Environmental Innovation – for a total of nine.
To learn more about Linetec's commitment to sustainability, and its environmentally friendly finishing and value-added services, please call 888-717-1472, email sales@linetec.com or visit https://linetec.com.
For more information on the Wisconsin Business Friend of the Environment Award and the Wisconsin Manufacturers & Commerce, please see https://www.wmc.org/bfoe.
About Linetec
Located in Wisconsin, Linetec serves customers across the country, finishing such products as aluminum windows, wall systems, doors, hardware and other architectural metal components, as well as automotive, marine and manufactured consumer goods. The company is a subsidiary of Apogee Enterprises, Inc. (NASDAQ: APOG).
Linetec is a member of the Aluminum Anodizers Council (AAC), the American Architectural Manufacturers Association (AAMA), the American Institute of Architects (AIA), the Association of Licensed Architects (ALA), the National Glass Association/Glass Association of North America (NGA/GANA), the U.S. Green Building Council (USGBC) and the Window and Door Manufacturers Association (WDMA).
###