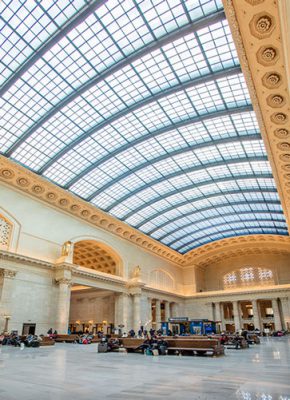 Wausau, Wisconsin (July 2019) – Chicago Union Station is the third busiest in the U.S. serving 3 million Amtrak customers and 35 million Metra passengers annually, using 300 trains for 120,000 commuters on a typical weekday. As the station approaches its 100th anniversary, it has been re-envisioned and restored to a level that suits the 21st century. The $22 million, three-year project was completed in Jan. 2019.
Soaring 115 feet above the floor, the renovated station's Great Hall now features a two-tier skylight system: the original restored, 177-foot-long, barrel-vault system and a new, 187-foot long, high-performance system installed approximately five feet above it by Super Sky Products Enterprises LLC. Enhancing the durability and minimizing future maintenance, Linetec finished the new skylight's aluminum framing in a Bone White, 70% PVDF resin-based architectural coating.
Completed in 1925, the Chicago station originally was designed by Daniel Burnham and successor firm Graham, Anderson, Probst & White. Built by a "union" of four railroads, the building accommodated the ever expanding demand for passenger rail to and from Chicago. Through the decades, the skylight system had deteriorated leading to water damage to the skylight and to the walls of iconic, Beaux-Arts styled Great Hall.
The renovation team sought to maintain Union Station's historic appearance; increase natural light within the Great Hall; improve moisture control, energy efficiency and durability; comply with current codes; as well as minimize future maintenance. Plans call for developing the real estate in and around the station, and increasing station capacity, accessibility and safety to prepare it for the next 100 years.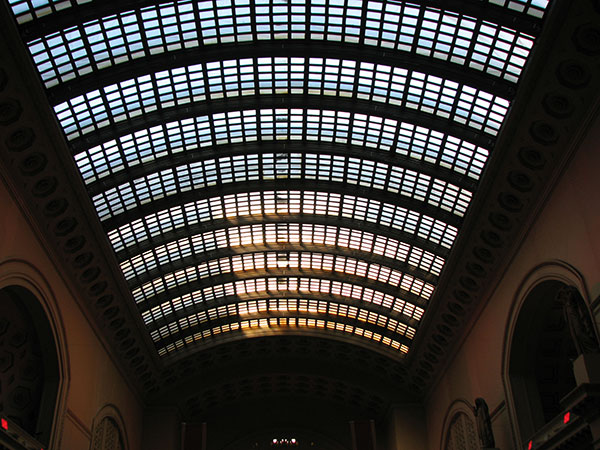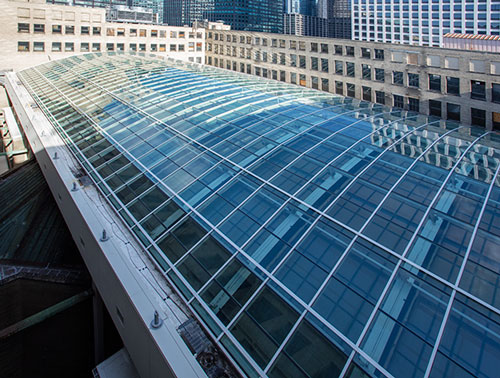 Following two years of investigation and planning, renovation began in Oct. 2017. Architects at Goettsch Partners designed a multi-layered solution for the Great Hall's skylight: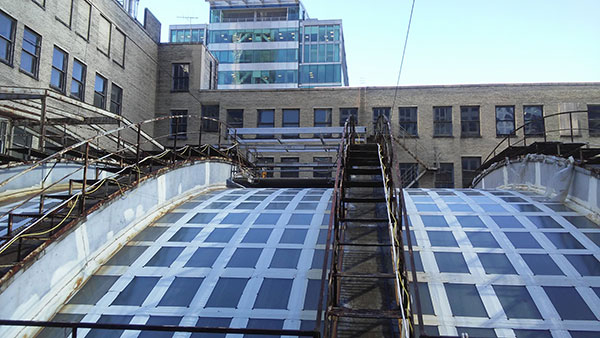 The original skylight's cast-iron frame consisted of 13 individual, 12 feet wide by 83 feet long, segmented "ribbons" with a total of 2,068 lites of 1/4-inch wire glass. This system was de-glazed, repaired, re-painted and its existing glass lites replaced with 9/16-inch-thick translucent, laminated, heat-strengthened glass.
Five feet above this visible, curved glazing structure, a 105 feet wide by 184 feet long, outward-facing segmented vault skylight was constructed to protect the historic skylight with a new drainage design and maintenance system. The exterior, exposed system features aluminum framing finished by Linetec.
"Essential to our vision for this project was preserving the historic design features of the building, while making necessary improvements and repairs to stabilize this landmark for the long term," described Goettsch Partners' principal, Len Koroski, FAIA, LEED® AP. "We wanted to preserve the old and put a weather barrier over the top of it."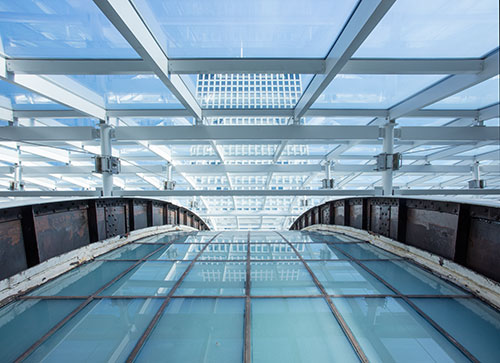 "These 70% PVDF coatings hold up under continuous exposure to solar heat and light, as well as Chicago's wind, rain and snow. Important to transportation and historic properties, they are formulated for premium durability – shielding the aluminum against weathering, pollution and aging; resisting long-term chalking; and retaining their color and gloss," explained Linetec's marketing manager, Tammy Schroeder, LEED Green Associate.
At Linetec, high-performance 70% PVDF architectural finishes meet the stringent, industry-leading American Architectural Manufacturers Association (AAMA) 2605 specification. This industry-leading standard's rigorous testing involves more than 4,000 hours of salt spray, and heat- and humidity-resistance, to ensure lasting performance with minimal maintenance.
In addition to its durable painted aluminum framing, the new skylight is composed 878 individual lites of Viracon's VE1-2M high-performance, insulated, heat-strengthened, laminated, clear glass with low-e coating. Demonstrating the skylight renovation's success, natural light increased 50% within the Great Hall.
To minimize disrupting the thousands of daily commuters and visitors to Union Station, the Great Hall remained open and in operation throughout the renovation. Berglund Construction performed much of the work from a suspended working deck and swing stages, rather than from traditional scaffolding.
"The entire skylight opening was covered on the interior by the suspended scaffolding for nearly a year," said Todd Wilde, Super Sky's renovation manager.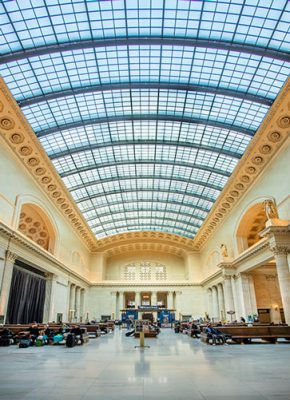 He was involved on the station's skylight renovation from the earliest investigation stage through bidding, field measurement and installation. "The project went very smoothly in all phases and resulted in the newly renovated existing skylight looking magnificent when viewed from the Great Hall floor. The new exterior skylight, although only visible from the sixth floor or above, is a fantastic looking field of faceted glass."
Union Station's skylight replacement and renovation was completed within budget and on schedule. Its was unveiled to the public in Nov. 2018, just ahead of the holiday season. The total project was finalized in Jan. 2019.
"This work enhances our customer experience, with a much brighter and inviting Great Hall," said David Handera, Amtrak's vice president for Stations, Properties and Accessibility.
Rebekah Scheinfeld, commissioner with Chicago Department of Transportation, added, "The splendor of the Great Hall reminds us of what a great architectural gem Union Station is."
Goettsch Partners' Koroski concluded, "Visitors now enjoy the authentic experience intended in the 1920s, full of sunlight and color."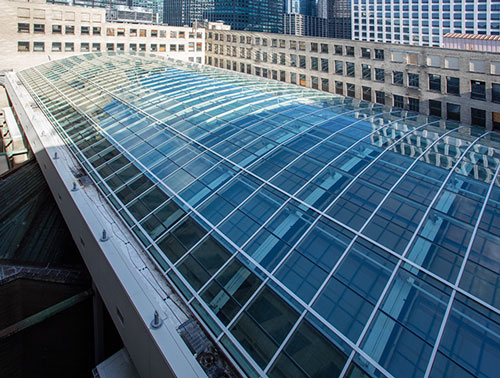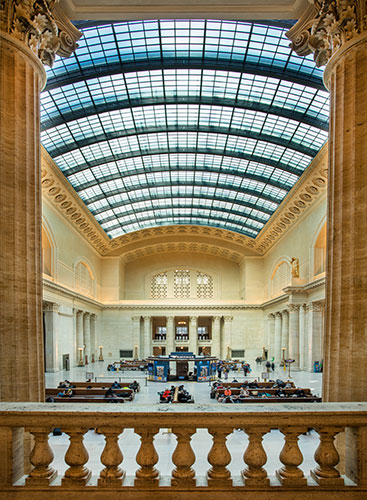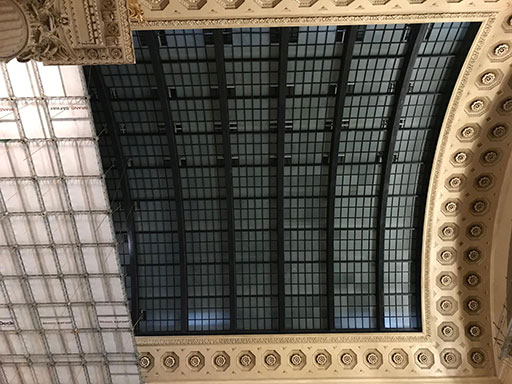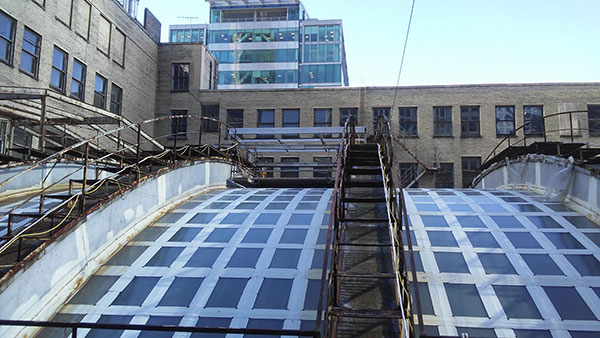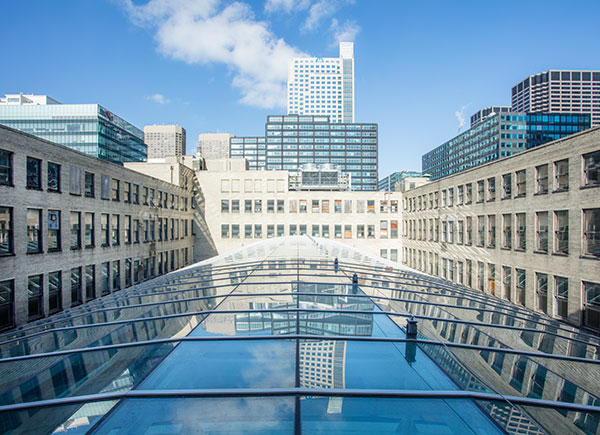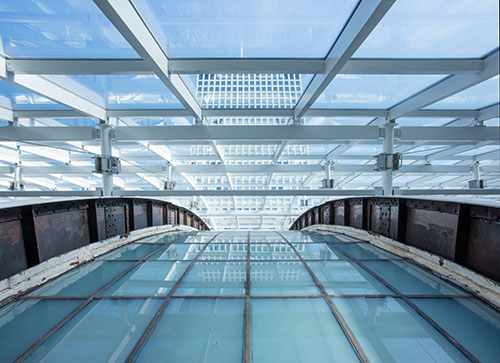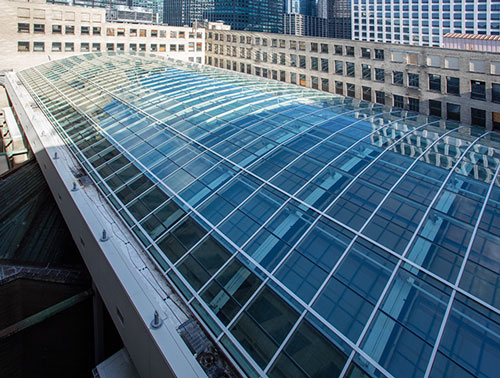 Chicago Union Station Great Hall; 500 W. Jackson Blvd., Chicago, IL  60661; https://chicagounionstation.com
Building owner: Amtrak; Chicago; www.amtrak.com
Original architects: Daniel Burnham and Graham, Anderson, Probst & White
Renovation architect: Goettsch Partners; Chicago; www.gpchicago.com
General contractor: Berglund Construction; Chicago; www.berglandco.com
Skylight – manufacturer and installer: Super Sky Products Enterprises LLC; Mequon, Wisconsin; www.supersky.com
Existing Skylight – glass manufacturer: Oldcastle BuildingEnvelope; www.obe.com
New Skylight – glass fabricator: Viracon; Owatonna, Minnesota; www.viracon.com
New Skylight – aluminum framing finishing: Linetec; Wausau, Wisconsin; https://linetec.com
Photography:
Amtrak, https://media.amtrak.com/media-images/amtrak-chicago-union-station-project-image-gallery/
William Lemke, courtesy of Super Sky Products Enterprises LLC
In-person tours: http://www.architecture.org/learn/resources/buildings-of-chicago/building/union-station