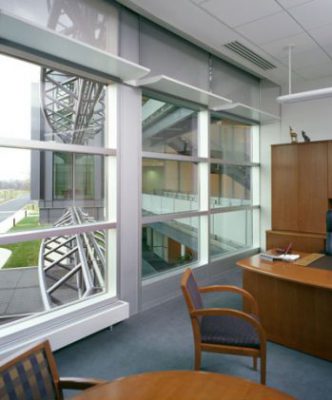 While many are aware of the wide selection of finishing choices available for architectural aluminum products installed on buildings' exteriors, some may not know that they have the same creative freedom and performance reliability for interior finishing options. With Linetec as your single-source solution for finishing, not only is the color selection practically unlimited, so are the combinations of shades, textures and patterns for distinctive exterior and interior applications.
Colors and customization
Interior applications for finished architectural aluminum products go beyond the inside surfaces of curtainwall, storefront, window, entrance and skylight systems. Aluminum also is a top material of choice for interior wall cladding, framing systems, doors, column covers, handrails and light shelves.
Light shelves are traditionally finished in bright white to maximize daylight reflection into the core interior. Maintaining the natural light and transparency through a building's interior, glass and aluminum interior framing and door systems are gaining in popularity to enclose offices, patient rooms and classrooms. The finishes for these products can be as varied as the other room décor, ranging from bold primary colors to sparkling mica and metallics.
Specialty finishes for interior aluminum products also can mimic the look of other, often more expensive or less durable materials.
Do you have a project where you wish the owner could afford copper for even a few accent pieces? Consider copper anodize.
Thinking about wood-clad column covers or wood panels or plank walls, but don't want the maintenance? Take a look at wood grain specialty finishes for aluminum.
Discussing marble crown molding, but know it wouldn't fit the budget and timeline? Review painted spattercoat options.
Craving the look and feel of terra cotta, but already been told that it's not practical? We have a textured finish to match your needs.
Hoping for a brushed stainless steel interior wall panel system that doesn't require structural engineering? We have an anodize option to make it work.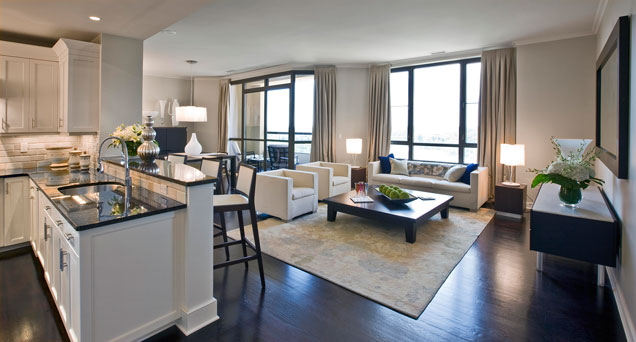 Multiple choice
When choosing finishes for windows, doors, skylights and other aluminum-framed products, the first consideration typically is to consider the performance criteria for the exterior-facing surface. This is a great place to start, but it is only one of two exposed sides. The interior-facing surface will be seen by at least as many people. Depending on the product and where it is installed, the finished interior framing also could have even more people touching and bumping into it, such as an entrance system or an eye-level window frame.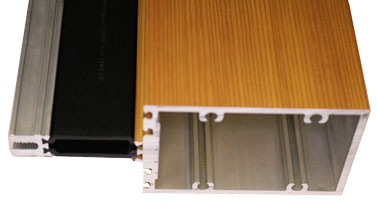 Yes, it's fairly simple to select the same, durable finish for both inside and out. Most of us like to have more than one choice. Building owners and design professionals are no exception.
The benefits of dual-finishing not only expand the aesthetic options, they also can be fine-tuned to the performance requirements on each surface to help save costs. For example, a high-performance painted finish can be applied to withstand extreme exterior conditions and a wood grain coating can be used to bring warmth, comfort and character to the interior.
Reliable performance and durability
Performance for the interior surface of a finished architectural aluminum product usually is less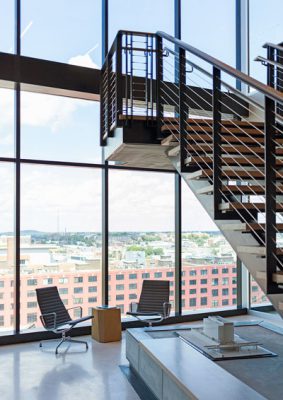 demanding than for exteriors. There's no rain, snow, sleet or hail. There may be some sunshine, which could mean UV protection is a consideration. Again, depending on its placement, there definitely could be some bumps and scrapes. But, for the most part, you're looking at a lower performance requirement on the interior versus the exterior.
With this in mind, let's talk about finish types. You have anodize for the highest durability, and a range of liquid and power painted coatings, as well as baked enamel and sublimation processing. Linetec offers all of these, so we can help you understand their strengths and weaknesses.
Anodized aluminum resists the ravages of time, temperature, corrosion, humidity and warping, is not combustible and is 100% recyclable. Almost every finishing provider will assume Class I anodize as the specification. However, Linetec also offers a Class II anodize in clear especially for interior applications.
On the exterior, 70% fluoropolymer (PVDF) resin-based painted coating systems will offer you exceptional protection for aluminum components. On the interior, for standard colors, a 50% PVDF coating still provides good color and gloss retention, as well as hardness and abrasion resistance, even in high-traffic interior spaces.
If color retention, chalk, fade and weatherability are not necessary, a one-coat baked enamel also could be an option.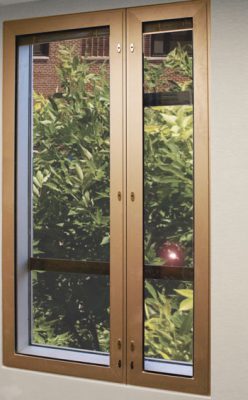 Linetec's specialty finishes also comply with the industry standard specifications outlined by the American Architectural Manufacturers Association: AAMA 2605, 2604 and 2603. AAMA 2603 outlines the least stringent specification and frequently meets the requirements for interior applications.
Longevity with minimal maintenance
If you opt for an interior finish that offers great color options and good value for aluminum products, but the highest performing AAMA 2605 exterior architectural-grade finish is not required, a 50% PVDF, AAMA 2604 coating is recommended to ensure your paint coatings  longevity and warranty.
Additional modifications to an architectural aluminum product also can affect its warranty. For example, if a framing system is curved, such as to make an arched window, the stretch forming needs to be done before the finishing to uphold the warranty.
As your single-source solution, Linetec can manage this fully-warrantied process of stretch forming, coupled with thermal improvement services and dual-finish options.
Please contact us for personalized service in selecting the correct exterior and interior finish on your next project.