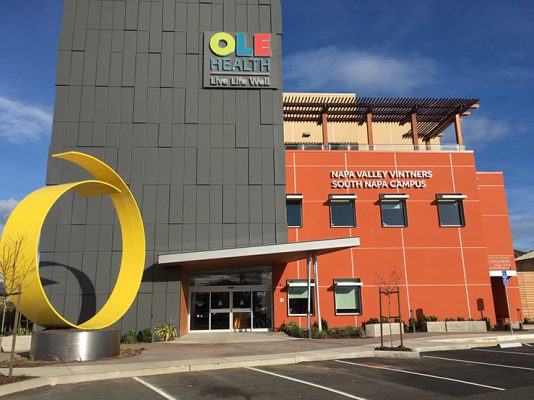 On May 22, OLE Health celebrated the grand opening of its Napa Valley Vinters South Napa Campus in California. More than 15,000 patients are anticipated to use the healthcare services annually at this new facility, which is OLE Health's ninth location.
Designed by INDE architecture of San Francisco, the 29,000-square-foot, three-story building's exterior colors showcase a contemporary, agriculturally inspired palette including terra cotta, light brown and slate gray tones. More accurately, the slate color is called, "Charcoal Smudge." It was applied by Linetec using Sherwin-Williams Fluropon® 70%, two-coat, PVDF resin-based coatings.
The breadth of colors offered in Fluropon durable coatings make them a popular choice for architects, specifiers and aluminum architectural product manufacturers. Linetec currently offers more than 50,000 colors and its in-house blending laboratory can match or make almost any conceivable color.
In total, Linetec finished 5,500 square feet of Dri-Design's painted aluminum panels. These were installed by Rua & Son Mechanical in a randomized, stepped, vertical pattern to create a visually textured façade. "In addition to achieving the desired look, the painted finish also hold up to California's sunshine," said Linetec's marketing manager, Tammy Schroeder, LEED® Green Associate. "Fluropon coatings hold up under continuous exposure to solar heat and light. They are formulated for premium durability – resisting long-term chalking, and retaining their color and gloss."
High-performing Fluropon coil and extrusion coatings, manufactured by the Sherwin Williams, meet the stringent, industry-leading American Architectural Manufacturers Association (AAMA) 2605 specification. This specification's rigorous testing performance standards include more than 4,000 hours of salt spray, and heat- and humidity-resistance. These 70% PVDF resin-based coatings shield the aluminum against weathering, pollution and aging.
Linetec's environmentally responsible practices also support building projects' sustainability and wellness efforts. When applying liquid coatings, Linetec uses a 100% air capture system to safely contain and destroy VOCs before they leave its facility. When the finished aluminum arrives at the jobsite, there is no adverse environmental impact.
According to INDE architects, sustainable finishes and energy efficient buildings systems were important considerations for OLE Health, given the building's proximity to wetlands. Schroeder added, "The finished material arrives ready to be installed, helping to support the project's sustainability, performance and aesthetic goals for years to come."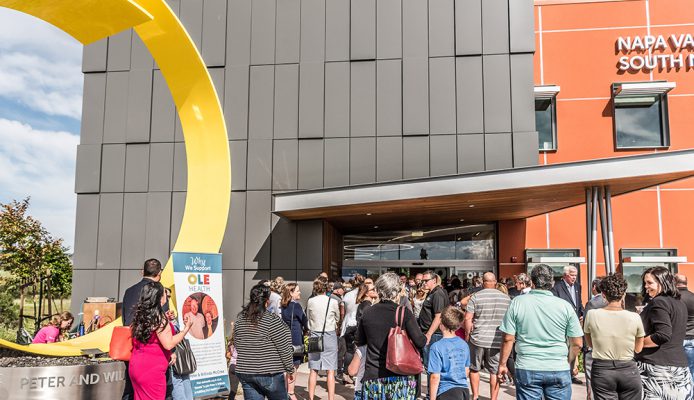 Central to every aspect of the project's design is the patient's experience. "This beautiful new facility supports our unique model of team-based care, in which the team works closely together to deliver services in a way that is integrated, patient-centered and seamless," said OLE Health CEO Alicia Hardy. "This building was designed for our patients, to give them the best possible healthcare experience we can offer."
OLE Health was founded by farmworker advocates in 1972. It now provides care to one in four children and one in six adults in Napa County, including more than 4,000 agricultural workers. Half of its clients speak Spanish as their first language and 85% are bilingual.
The newly opened facility includes 18 patient exam rooms, nine dental chairs, full optometry services, health education classrooms, a teaching kitchen, and consultation rooms for integrated behavioral health, nursing, nutrition and clinical pharmacy services. Modern conveniences include self check-in kiosks, a fully wireless building and secure texting with doctors. Outdoor learning spaces include a garden to teach patients about healthy food choices and nutrition.
In addition to its dedicated service staff, board of directors and leadership over the years, a key element to OLE Health's growth has been deep and consistent support from the local community. The new facility is named in honor of the Napa Valley Vintners with respect to its long history of support and its generous donation of $6 million toward the building. Managing the $32 million project, Ledcor Group served as general contractor and completed the Napa Valley Vinters South Napa Campus facility on schedule.
Today, OLE Health has nine locations in Napa and Solano counties, employs 250 people and serves more than 37,000 patients. OLE Health is a Federally Qualified Health Center (FQHC) and the only nonprofit community health clinic in Napa County. OLE Health accepts Medi-Cal, Medicare, and private insurance. For uninsured patients, fees are calculated on a sliding scale. All patients are treated regardless of lack of insurance or inability to pay. Learn more at olehealth.org.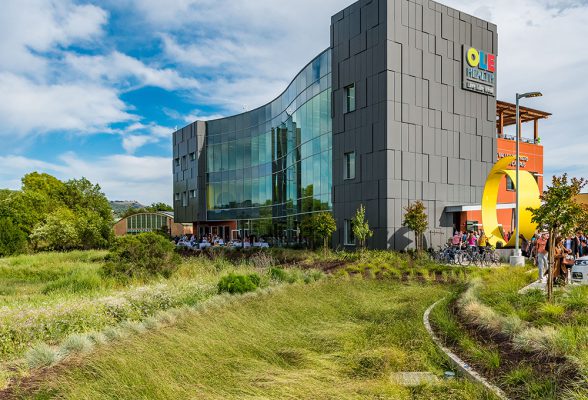 OLE Health – South Napa location, 300 Hartle Court, Napa, CA 94559
• Owner: OLE Health; http://www.olehealth.org
• Architect: INDE architecture; San Francisco; https://www.indearchitecture.com
• General contractor: Ledcor Group; Napa; California; https://www.ledcor.com
• Metal panel systems – installing contractor: Rua & Son Mechanical Inc.; Rocklin, California; https://www.ruainc.com
• Metal panel systems – manufacturer: Dri-Design; Holland, Michigan; http://www.dri-design.com
• Metal panel systems – finishing provider: Linetec; Wausau, Wisconsin; https://linetec.com
• Metal panel systems – paint manufacturer: The Sherwin-Williams Company; Cleveland; https://www.coil.sherwin.com

• Photos by: Bryan Gray Photography
• Videos:  
 Construction time lapse: https://www.youtube.com/watch?v=hmnFkGFBDjM&feature=youtu.be
 Grand opening: https://www.youtube.com/watch?v=1QlHASOAWM4