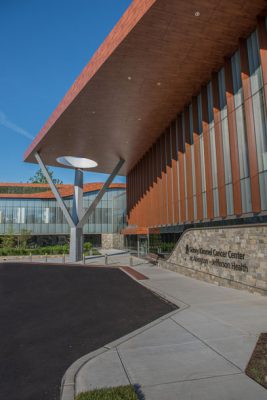 DSGNWELL, one of the world's first and only independent online sources for wellness architecture, recently showcased Linetec's wood grain finishes on the Asplundh Cancer Pavilion.
The Pennsylvania health care facility's design by EwingCole incorporated biophilic principles and expansive outdoor views of its serene healing environment and natural landscape.
R.A. Kennedy & Sons, Inc. performed all of the exterior glazing, which included aluminum-framed curtainwall and entrances, and custom aluminum trims. Kawneer manufactured large, vertical aluminum sun shade fins, and deep horizontal curtainwall cover plates.
Linetec finished the architectural aluminum components in a hazelnut brown, textured wood grain color that captured the look and feel of wood without the associated maintenance. Unlike natural wood, the finished aluminum does not swell, rot, warp or attract insects. These durable finishes are fire retardant; resist corrosion, water and humidity; and meet the stringent standards of AAMA 2604.
Click here to read the project profile in DSGNWELL.
Linetec currently offers more than 15 options in its standard palette of textured wood grain finishes. To learn more about Linetec's wood grain finishes, please visit the Specialty Finishes section. For personalized assistance with finish selection, contact your local representative or email sales@linetec.com.