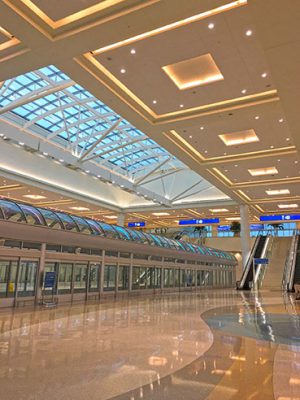 "Daylight Greets Travelers to Sunshine State," a recent article in Commercial Architecture Magazine, presents a warm look at the Orlando International Airport's new Intermodal Terminal Facility (ITF). The project features a massive skylight by Acurlite Structural Skylights, Inc., with framing finished by Linetec for Florida's climate and conditions.
The 8,000-square-foot, heavy-duty low-rise, segmented barrel-vault commercial skylight was manufactured and installed by Acurlite Structural Skylights, Inc. Linetec provided stretch forming, thermal improvement, and finishing of the skylight to meet the airport's aesthetic, sustainability, and high-performance requirements.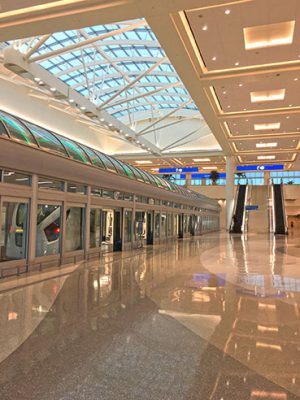 Hundreds of aluminum-framed segments compose the total skylight system. Linetec finished each aluminum framing member in a Bright Silver color using Sherwin-Williams' Fluropon Classic® II 70 percent PVDF resin-based architectural extrusion coating system. Applied by Linetec, the painted finish meets or exceeds the American Architectural Manufacturers Association's high-performance exterior specification, AAMA 2605.
Painted coatings that meet AAMA 2605's exterior, architectural specifications comply with rigorous testing that involves withstanding more than 4,000 hours of salt spray and humidity. These coatings also must maintain film integrity, color retention, chalk resistance, gloss retention, and erosion-resistance properties for a minimum of 10 years on the South Florida testing site.
The daylighting system on the ITF helps connect those arriving and working within the space to the welcoming surroundings and the Florida sunshine outside. Orlando International Airport serves 44.3-million annual passengers. The ITF is expected to be the first building on the airport campus to meet the U.S. Green Building Council's LEED v4 certification standards. The ITF project completed the first phase of the South Airport Complex's construction plan, which will continue through 2020.
Please click here to read the full article on Orlando International Airport's skylight at ITF. For more information on durable painted coatings, please see our web page.