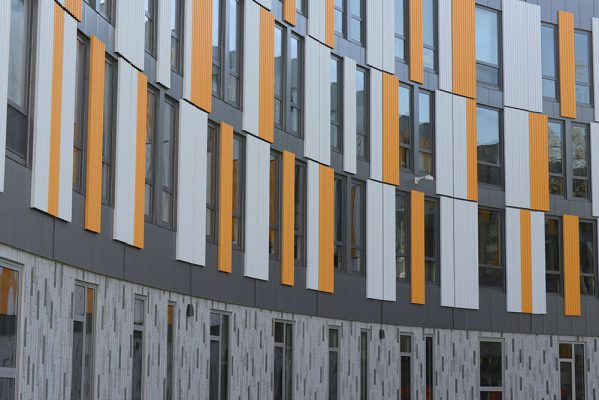 Glass Magazine recently featured Holly Pointe Commons, a new $145 million residence hall on Rowan University's campus in Glassboro, New Jersey, as a "Great Glazing" success story.
Designed by Erdy McHenry Architecture, the 303,000-square-foot facility showcases a modern aesthetic and serpentine-shaped footprint that unites a four-story and a seven-story building connected by a bridge.
Linetec provided the finishing and thermal improvement services for all of 1,500 window units provided by Wausau Window and Wall Systems. Many of the window units showcase dual color finishes with Bright Silver on the exterior and Medium Gray on the interior. The remainder was painted in Medium Gray on both surfaces. All of the aluminum framing members were finished in a three-coat, metallic, 70 percent polyvinylidene fluoride (PVDF) resin based, liquid paint.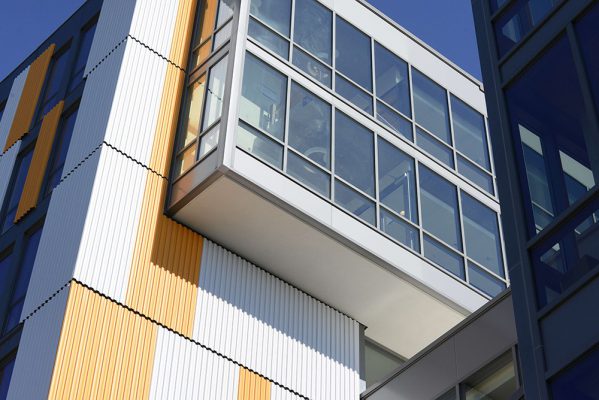 Torcon, Inc. served as the construction management firm for the design-build project. Completed in just 14 months, the student residence meets the university's accessibility and sustainability goals, including requirements of the Americans with Disabilities Act (ADA) and is targeting LEED® Silver certification through the U.S. Green Building Council.
Click here to read the full article in Glass Magazine.
For personalized assistance in selecting the finish for your next project, please contact us and we'll be happy to assist you.
###
Photos courtesy of: Rowan University ©2016 Joel Schwartz