"We need it ASAP" is repeated often in the construction industry. The faster the material is at the jobsite, the faster the building can be closed in, and the faster the owners can earn a return on their investment.
Helping meet tight timelines, Linetec's Quick Ship Program provides finished stock flat sheet aluminum in four days. We can assist you with stock sheets in sizes ranging from 48 by 96 to 60 by 144 inches, and from 0.040 to 0.125 inch thick. Quick ship is available for 25 sheets or less, but you can order our finished flat sheet in any quantity.
In addition to supporting your efficiency, we encourage your creativity. Our Quick Ship Program includes your choice of anodize finishes and 30,000+ in-house paint colors, including some micas and metallics, and custom matches.
As a single source solution, we not only finish the aluminum flat sheet to meet your exact specifications, we also can manage the delivery by common carrier to your shop or directly to the jobsite. All sheets are protected with Polymask removable film, and carefully packaged with skids to make your material easy to move by forklift.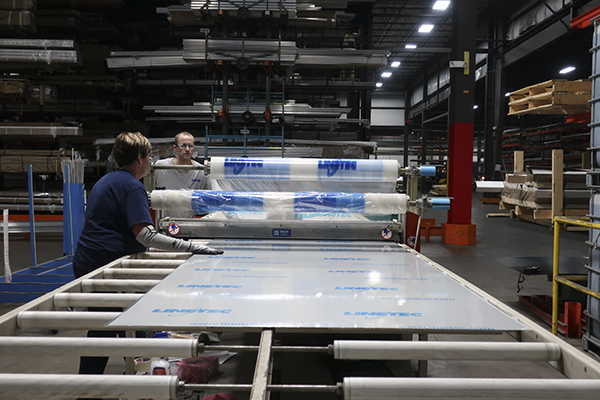 To learn more about Linetec's finished flat sheet offering, please visit our webpage.
Ready to request a quote? Please complete our online form.
For personalized assistance with your flat sheet or other finishing service needs, please contact your local representative.