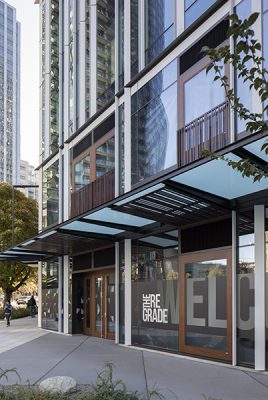 Re:Invent Tower, the third building comprising Amazon's new Seattle headquarters, opened in June 2019. The project is pursuing LEED® Gold certification through the U.S. Green Building Council (USGBC). Supporting the high-profile project's sustainable, visual and performance goals, Linetec provided Teak wood grain finishes for the aluminum door systems and Black Beauty architectural paint coatings for the 37-story building's aluminum-framed curtainwall.
Re:Invent Tower offers workspace for 5,000 Amazon employees who focus on the company's cloud computer service, known as AWS. The street level is home to one of Amazon's retail "4-star store" concepts. This 5,000-square-foot retail space sells more than 2,000 items, all of which have customer reviews of at least four out of five stars from those who have purchased them, or have been selected because they are new or trending on Amazon's website.
"To reflect Amazon's community-focused culture, the design seeks to build a neighborhood rather than a campus, with emphasis given to ground-level amenities open to the public and to diversity in building character," according to architectural firm NBBJ, whose Seattle office designed all three buildings for Amazon. "For instance, ground-level retail on each street front, sheltered pedestrian arcades and public art create a vibrant mixed-use neighborhood in an urban area formerly dominated by surface parking lots."
Transcending interior and exterior spaces for a greater connection to nature and community, and creating a warm, approachable façade, large openings permeate the first and second floors. Capturing this biophilic sensibility, Linetec finished dozens of doors in a Teak wood grain color using the Decoral® process. These specialty wood grain finishes from Linetec offer the natural beauty of actual wood with minimal maintenance. Unlike natural wood, the finished aluminum does not swell, rot, warp or attract insects. The finishes also are fire retardant; resist corrosion, water and humidity; and meet the American Architectural Manufacturers Association's AAMA 2604 specification.
Working closely with glazing contractor All New Glass and manufacturer Wausau Window and Wall Systems, Linetec provided numerous wood grain samples before the final Teak wood grain finish was selected. More than 40 of Wausau's finished doors were installed in multiple sizes, up to 11 feet tall, and for both sliding and hinged operation.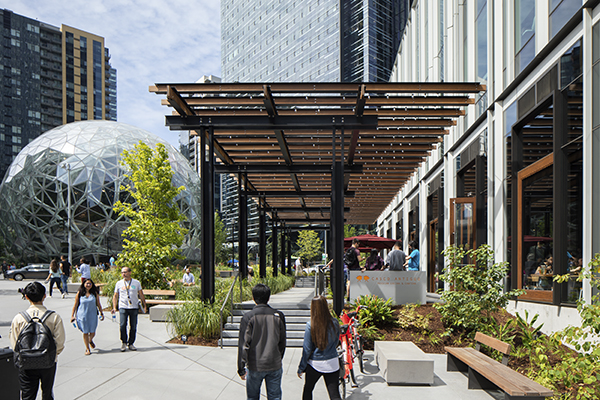 All New Glass also installed several doors and SuperWall™ 7750 SSG curtainwall from Wausau that were finished by Linetec in a Black Beauty color using PPG Duranar® 70% PVDF resin-based architectural coating. No other coating system can withstand the rigors of nature and time like those based on the 70% PVDF resin-based coatings. These high-performance coatings meet the AAMA 2505 industry-leading specification for outstanding resistance to humidity, color change, chalking, gloss loss and chemicals, plus salt spray testing for Seattle's coastal climate.
The black aluminum frames of Re:Invent Tower's door and curtainwall systems are reminiscent of historic, industrial facilities' old steel framing. The dark metal look contrasts with the translucent blue glass and the warm wood finishes seen throughout the building envelope.
The importance of such distinctive design elements was noted by general contractor Sellen Construction Company, Inc. saying, "In the race for talent recruitment and retention, design aesthetics and office amenities are playing a larger role than ever before as firms use them to differentiate themselves and attract employees."
Beyond Re:Invent Tower's attractive appearance, Amazon set sustainability as a key goal for the project. Durable, high-performance finishes are one part of these sustainable considerations. As a USGBC member, Linetec supports green building through its eco-friendly finishing applications, ongoing research, and environmentally friendly business practices and facilities.
PVDF resin-based coatings have been the proven mainstay in the architectural market for decades, but some of the solvents in these liquid coatings are considered volatile organic compounds (VOC) content and must be destroyed. Linetec uses a 100% air capture system and safely destroys the VOCs in liquid coatings with a regenerative thermal oxidizer, so there is no adverse environmental impact. Powder coatings, like those in Linetec's wood grain finishes, contain no VOCs.
Amazon's Re:Invent Tower, other new offices and fulfillment centers incorporate such green building features and energy-efficient technologies as LED lighting, advanced building management systems, motor variable frequency drives, high-efficiency heating and cooling systems, remote energy and power monitoring, as well as high-performance façade systems and eco-friendly finishes. At the time of Re:Invent Tower's opening, the USGBC had awarded 26 of Amazon's Seattle buildings with LEED certifications.
While under construction, the Re:Invent Tower went through several iterations. It was referred to as Block 20, Rufus 2.0 Podium, Amazon Tower III and The Garden. Its ultimate name of "Re:Invent" pays respect to Amazon's annual cloud-computing conference of the same name.
The completed project encompasses three city blocks and include three high-rise office towers, a mid-rise office building, a multi-purpose meeting center and, most notably, the landmark Spheres, three spherical conservatories that serve as an employee lounge and workspace. Amazon now carries a Seattle real-estate footprint of 11.5 million square feet and employs more 45,000 employees in the area.
Re:Invent, 2121 8th Avenue Seattle, Washington 98121
• Owner: Amazon; Seattle; https://www.aboutamazon.com
• Architect: NBBJ; Seattle; http://www.nbbj.com
• General contractor: Sellen Construction Company, Inc.; Seattle; https://www.sellen.com
• Glazing contractor: All New Glass; Auburn, Washington; http://www.allnewglass.com
• Monumental doors and curtainwall system – manufacturer: Wausau Window and Wall Systems; Wausau, Wisconsin; http://www.wausauwindows.com
• Monumental doors and curtainwall system – aluminum finishing: Linetec; Wausau, Wisconsin; https://linetec.com
• Photography: NBBJ
• Construction photo gallery: https://blog.aboutamazon.com/community/in-photos-building-amazon