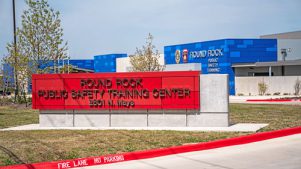 Blue, gray and red tones comprise the palette of colors for the new Public Safety Training Center facility in Round Rock, Texas, inspired by the uniforms of the first responders who train there.
Linetec applied 70%, two-coat, PVDF resin-based, Fluropon® architectural coatings to finish 11,600 square feet of Dri-Design's painted aluminum panels for the training facility's façade. The multi-colored metal panels were installed in a staggered pattern to add further visual appeal to the box-shaped, modern building.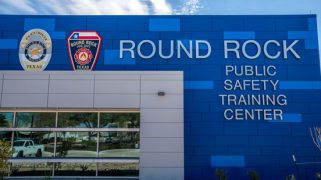 Design and Build with Metal recently featured the three-story Public Safety Training Center, designed by Brinkley Sargent Architects in association with G2 Solutions Group. The new center creates a shared space that allows first responders from multiple agencies, including those from neighboring counties, to train in a cooperative setting.
Click here to read the complete article in Design and Build with Metal.
For personalized assistance with finish selection, please contact your local representative or email sales@linetec.com.
Photos by: Ethan Lankford, City of Round Rock, Texas