Over the last couple years, apartments, condos and other multi-unit buildings have been built at a historically high rate – about 50% over pre-pandemic levels, according to the National Association of Realtors. This boom has been fueled by an attempt to offset high building costs and as a reaction to low vacancy rates in growing metropolitan areas. For occupants, multifamily residences provide an affordable place to live in dense city centers and other highly desirable areas. They offer amenities not available in most single-family homes like gyms, pools, large lounges, underground parking, and security, maintenance and concierge services.
In contemporary multifamily residential construction, finished architectural aluminum is commonly used because of its versatility, recyclability and light weight. Finished aluminum is most often seen in the window systems, entrances, cladding, soffits and fascia of condos, apartments and townhomes. Architectural aluminum enhances the economic advantages of constructing a single building with multiple units by reducing construction, maintenance and energy costs. The finishes used on architectural aluminum components elevate designs by adding resilience and creating a specific aesthetic for each building and space.
Functional Finished Aluminum
A durable finish such as a Class I anodize or a 70% PVDF resin-based coating is suitable to provide long lasting protection on exterior components, as well as add exceptional durability for the high-traffic interiors. These protective finishes reduce maintenance and repair costs while keeping a building looking like new, no matter how many residents come and go.
When it comes to windows and doors, a single solution finisher can apply protective finishes and provide value-added services such as thermal improvement. Adding thermal insulating barriers between aluminum framing members interrupts heat transfer, supporting whole-building energy efficiency . Specifying separate finishes on the interior and exterior framing members also enhances design goals in all areas.
For Old and New
Aesthetically, finished aluminum is a great choice for new constructions and historic multifamily residences alike. Modern buildings can utilize the natural metallic tones of anodize, ranging from clear to a dark bronze, to create a sophisticated contemporary aesthetic.
Historic buildings, like the Woolworth Tower Residences in Manhattan, can benefit from retrofitted aluminum-framed windows finished to a period-appropriate look by using the finisher's color matching abilities to find the perfect painted coating.
Make a Statement
To create a multi-family residence that really stands out, an almost unlimited number of color choices and specialty finishes are available to help a building make a big impression. Micas and metallics create an apartment building that sparkles in the sun and catches the eye
Copper and Bordeaux Anodize on exterior cladding, as used at The Forge luxury residential tower in Queens, New York, lays a foundation for an upscale luxury apartment building.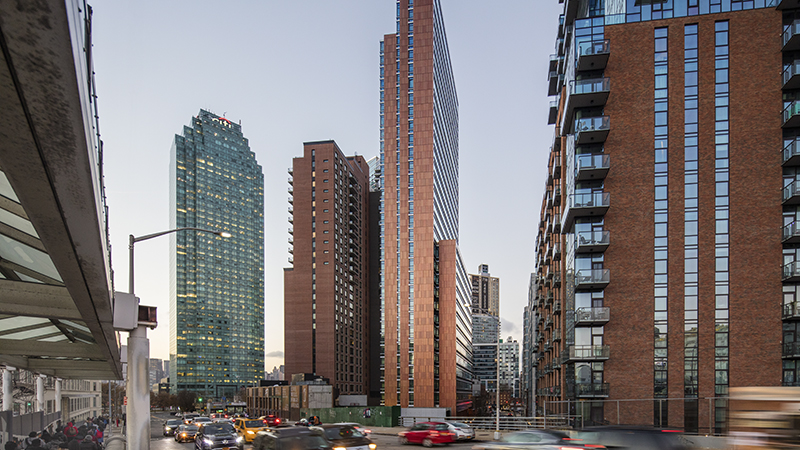 Create Comfort
Comfort is of huge importance for a residence and a finish can go a long way to provide a welcoming sense of warmth. Skylights finished in white also can add comfort by accentuating daylighting and reducing eye strain.
Wood grain finishes, as seen on the Franklin Tower Residences in Philadelphia, provide a soft textured appearance for cladding panels and framing that will not fade, warp or rot. These biophilic design components help create a calm comforting atmosphere to make a multifamily residence feel homier.
Photos Courtesy of: Tameo12-Shutterstock and Pierdelune-Shutterstock, Oleg March and Travis Mark, Arch Photo, Inc., Eduard Hueber, Greg Benson Photo