As we look forward to the Super Bowl at SoFi Stadium in Los Angeles, hockey teams continue to face off across the country and qualifying athletes from around the world head to the Winter Olympics. Soccer season kicks off in February and baseball spring training moves into full swing, too. Before we know it, March Madness will be here.
Stadiums and arenas are once again drawing crowds. Linetec is proud to contribute to the team effort of creating the venues where we gather to watch, play and celebrate together.
For sports and entertainment destinations, exceptionally durable finishes are a must. As energetic crowds return to cheer, building owners and property managers are reassuring their guests to expect good clean fun. Delivering on this expectation, maintenance staff appreciate materials that withstand high traffic with minimal wear and surfaces that are easy to wash.
Architectural aluminum product manufacturers know these facilities benefit from low-maintenance, high-performance finishes. Class I Anodize and 70% PVDF resin-based painted coatings are the MVPs of finishes for aluminum doors and entrance systems, window framing, wall cladding and more. Linetec's custom color matching and in-house blending laboratory ensure that the finished material upholds the team's brand, a school's identity or a corporate sponsor's image.
Applying a variety of colors and finishes also can help a huge complex feel more welcoming. Little Caesars Arena in Detroit embraced a "deconstructed" design featuring numerous buildings composing the whole sports and entertainment destination, and anchoring a 50-block area branded as The District Detroit.
Designed by HOK, the LEED Silver-certified arena blends historic and modern aesthetics with massively scaled, fan-friendly interiors and modestly scaled, pedestrian-friendly exteriors. Tubelite, Inc.'s curtainwall, storefront and entrance systems were finished by Linetec in four painted colors and Clear Anodize to support the project's aesthetic.
Linetec applied high-performance 70% PVDF architectural coatings in Medium Gray, Black, Traffic Gray and a custom-blended Detroit Red Wings color. Class I Clear Anodize was selected on the exterior curtainwall and doors, and Class II Clear Anodize as the interior finish. The wide variety of finishes along with many configurations of brick, glass and metal that comprise the complex's façade convey a sense of both contemporary and permanent placement that give the impression of different buildings on a downtown street.
When used on building exteriors or on interiors that are open to the elements, the finished aluminum components have to be a worthy opponent to the changing seasons and variable weather. These finishes need to retain their appearance and perform as specified, while subjected to direct sunlight, heat, humidity, rain and even snow. For high-touch and high-visibility surfaces, such as in dining and amenities plazas, painted finishes also can be specified with antimicrobial protection.
Many sports and entertainment venues also have long-storied histories and brands. The correct color and finish are important details to properly situate these constructions within an already established aesthetic.
Carson Field at Nippert Stadium has been the venerable home of the University of Cincinnati (UC) football team since 1901 and provides the Bearcats with one of the best home-field environments in college football," according to UC. Updated in 2015, "UC went from having nearly no premium seating options to the addition of 1,100 scholarship club seats and 53 indoor and outdoor suites of varying sizes."
Sheltering these premium seats and suites, the five-story West Pavilion spans 105,000 square feet and 130 yards long. Designed by FRCH Design Worldwide, the pavilion overlooks the field and features Pittco Architectural Metals Inc.'s thermally improved, curtainwall, storefront and horizontal ribbon window systems finished by Linetec in Silver Smith Duranar.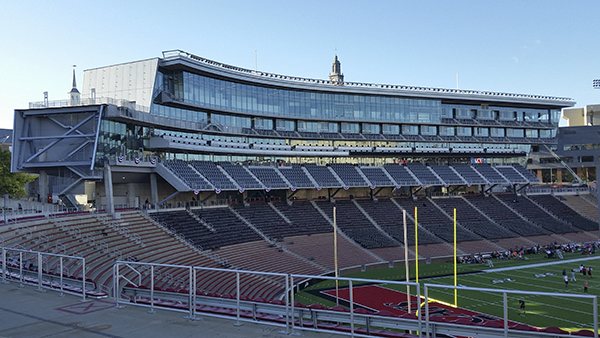 With skylights, bringing daylight inside takes priority over the view outside. Volkar Center for Athletic Achievement at Gonzaga University in Spokane, Washington, showcases a skylight capping the entire main corridor. Manufactured by Major Industries, Inc., Linetec finished the skylight's aluminum framing members in 70% PVDF Silver Mica. The 51,000-square-foot student athletic facility designed by ALSC Architects is considered among the finest in the nation and is certified LEED Gold.
Also certified LEED Gold, Southern Methodist University (SMU) Robson and Lindley Aquatics Center and Barr-McMillion Natatorium exemplifies SMU's commitment to sustainability and to its legacy of Olympians and world record-holders. Brinkley Sargent Wiginton Architects designed the 42,000-square-foot Aquatics Center to reflect the traditional Georgian architecture on campus, while achieving environmental responsibility and energy-efficiency goals.
For SMU's Aquatics Center, B and B Glass, Inc. installed Tubelite's high-performance curtainwall, storefront and Wide Stile Entrance systems. All of the aluminum framing members contain up to 70% recycled content and were finished by Linetec in Class I Clear Anodize.
Linetec's no-VOC, eco-friendly anodize produces a frosty, matte finish that helps hide small imperfections sometimes seen in recycled aluminum. These qualities have helped Linetec's anodize earn a Declare Label as Living Building Challenge™ Red List Free, which is recognized by LEED and other sustainable building programs.
Because anodize is the most durable finish available, Tubelite's aluminum-framed curtainwall, storefront and entrance systems further support SMU's goals of creating "attractive, low-maintenance spaces."
The anodized aluminum window systems also played a key role in the integrated strategies to reduce the building's energy usage, while providing occupants with greater comfort. A computer simulated model predicted the potential for 31% energy use reduction overall. According to SMU's Office of Facilities Planning and Management, "more than 90% of all regularly occupied spaces have a direct line of sight to the outdoors, which enables them to maintain a visual connection to the surrounding environment."
Whether you're supporting a team with custom colors, fitting an historical aesthetic or enhancing a campus with environmentally responsible choices, our finishing services can add lasting value to sports and leisure-time destinations.
Let us assist you with the right finish for your project's peak performance. Please contact your local representative for personalized assistance.