Schools, colleges, universities and training centers not only are expected to promote student achievement, but also provide safe, sustainable, resilient and attractive learning spaces. COVID-19 also has focused greater attention on health, wellness and cleaning practices. Choosing architectural aluminum products with high-performance, durable finishes supports educational facilities' multiple goals, condensed construction schedules and limited budgets.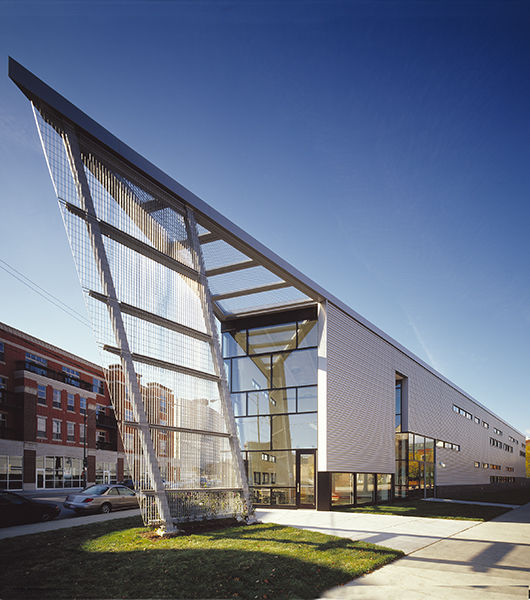 Best in Class
Campuses welcoming students, teachers and staff back to in-person classes have, at minimum, implemented policies for face masks to help minimize viral transmission and reconfigured classrooms to accommodate more distance between people.
Among the guidelines offered in "Reopening America: Strategies for Schools," the American Institute of Architects (AIA) highlights several areas where finished architectural aluminum systems are installed. As examples:
Operable window systems – open windows to increase natural light and fresh air circulation
Entrance systems – use multiple entry points to reduce congestion and increase separation
Canopy systems – add covered, outdoor learning spaces to increase natural ventilation and daylight
Interior partitions – convert open offices into partially enclosed ones with the additional of interior walls and framing systems to increase separation between students, staff and visitors
With the proper finish, these metal products are exceptionally durable, easily customized and simply maintained. Architectural paint coatings specified to meet AAMA 2605 and anodize finishes specified to meet AAMA 611 will deliver the industry-leading performance requirements critical to educational facilities. In addition, specialty finishing options also are available to match and complement school colors, mimic natural materials, add sparkle or texture, or enhance protective qualities.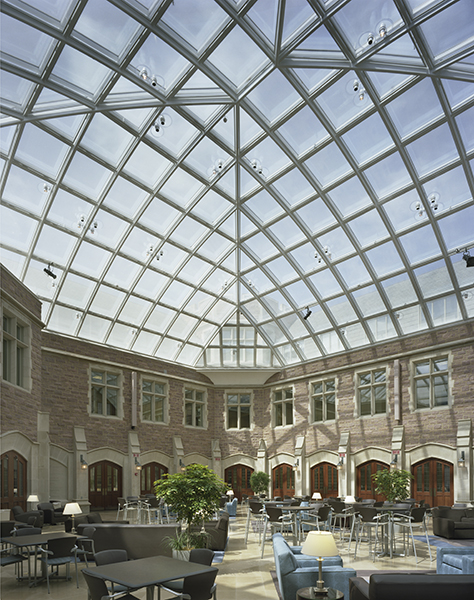 Keep it Clean
When students are not in class, many school districts and facility managers turn off HVAC and other climate control systems to conserve energy and operational costs. During these shut-downs, certain conditions can lead to the growth of mold, mildew and other microorganisms.
To inhibit the growth of stain- and odor-causing bacteria that may affect the coating's surface, Linetec offers 70% PVDF resin-based finishes with antimicrobial protection that meet AAMA 2605. When moisture is present, the ion exchange mechanism in the antimicrobial finish is activated and silver cations are released. The microbes die off and are not replaced. The coating's antimicrobial protection safeguards the coated product's surface throughout its useful lifetime.
Antimicrobial coatings do not replace the need for occasional cleaning. Hard, nonporous, finished, architectural aluminum products are generally easy to clean and to keep clean. Minimizing touch-up and repairs, the extreme hardness of anodize withstands the daily trials of active students as they bump and scuff against aluminum-framed entrances and interiors.
Winning with Wellness
The health and wellbeing of students, teachers and staff goes beyond creating and maintaining clean and functional learning spaces. The AIA, the Collaborative for High Performing Schools (CHPS), International Living Future Institute (ILFI), the International WELL Building Institute, the U.S. Green Building Council's LEED rating systems and many other organizations are incorporating wellness as a key consideration in educational facilities' design, construction and maintenance.
Access to daylight and indoor air quality are central concepts in the pursuit of wellness. Some studies have shown these also reduce absenteeism and even improve students' test scores. Window, storefront, curtainwall and skylight systems all can provide natural light. For warm climates and seasons, operable units also provide access to fresh air. In addition to natural ventilation, products with low/no volatile organic compounds (VOCs) also are recognized as contributing to healthy indoor air quality.
As an environmentally responsible finisher, Linetec's uses a 100% air capture system and regenerative thermal oxidizer to safely destroy the VOCs in liquid paints' solvents. By managing this in its quality-controlled facility, there is no adverse environmental impact either at Linetec or on the jobsite. No-VOC eco-friendly options from Linetec also include powder coatings and anodize finishing.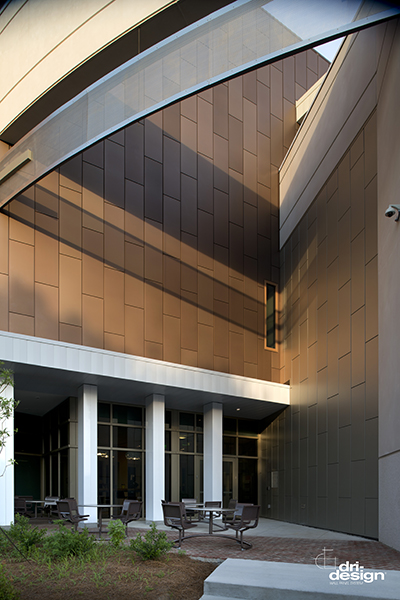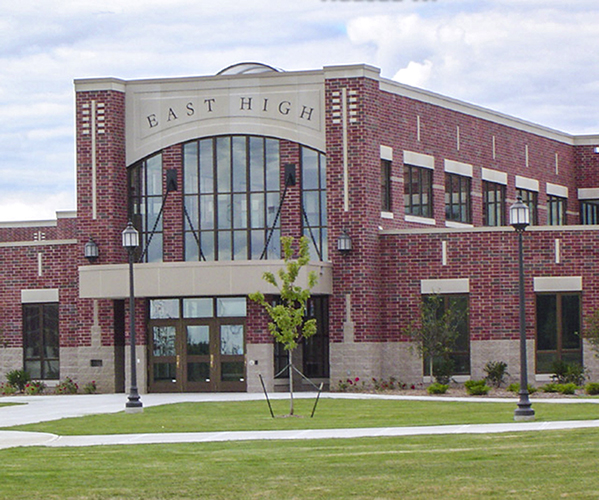 Sustain and Gain
Further supporting educational facilities' environmental and economical goals, selecting high-performance finishes for architectural aluminum products protects the material throughout its long lifespan until it is recycled and reused. Demonstrating these beneficial attributes and a life expectancy of 40 years, Linetec's anodize finishing for aluminum has earned a Declare Label as Living Building Challenge™ (LBC) Red List Free through ILFI.
Reducing the need for maintenance and repairs also benefits the bottom line for colleges, universities and school districts. Saving energy and associated costs also is an important budget item for taxpayers, funders and facility managers. Beyond finishing, Linetec also can thermally improve the aluminum framing for window, entrance, storefront and curtainwall systems. Both thermal strut and thermal pour-and-debridge services are available to enhance these products' energy-efficiency and -savings potential.
Whether building a new educational facility, undergoing a major remodel or renovating existing spaces, Linetec can help your finished architectural aluminum products perform and look their best for many school years to come.
To learn more, please contact your sales associate for more information.