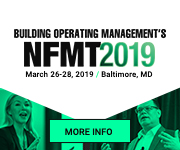 Join the Apogee Renovation team at the Building Operating Management's National Facilities Management and Technology (NFMT) Conference & Exposition, March 26-28. NFMT is held at the Baltimore Convention Center, One West Pratt Street, in the city's Inner Harbor.
As part of the conference, Apogee also will be hosting "Your Checklist for Window Replacement," a 20-minute Solutions Exchange. The informational discussion takes place over beers on March 27, 5 p.m., at the Pratt Street Lobby.
Apogee's representatives also will be in booth #1935 at the Baltimore Convention Center. Expo hours are:
March 26, 12-4 p.m.
March 27, 11:30 a.m.-3:30 p.m.
March 28, 11:30 a.m.-2:30 p.m.
Free registration to NFMT Baltimore includes access to the Solution Exchange, the 100+ educational sessions, networking events and the expo hall. This year's conference also lets registered attendees attend the Clean Buildings Expo, which is conveniently co-located at the Baltimore Convention Center.
Apogee Renovation provides window and curtainwall solutions to optimize energy efficiency and enhance aesthetics of commercial properties. With these solutions, building owners, developers and facility managers can reduce energy costs, increase tenant satisfaction and improve overall value of their buildings.
Apogee Renovation's services include building surveys; energy and daylight modeling; assistance with architectural details, drawings, renderings, specifications and budgeting; and a network of quality, authorized installers across North America. Apogee's companies include Alumicor; EFCO Corporation; Harmon, Inc.; Linetec; Sotawall; Tubelite Inc.; Viracon; and Wausau Window and Wall Systems.

To learn more, please visit http://apog.com/renovation.html or contact Kevin Robbins at krobbins@apog.com, 715-409-0821.
Whether or not you can attend NFMT Baltimore in person, you also can follow along on social media using #NFMT19:
https://www.linkedin.com/groups/3271136/profile (ask to join)
https://www.facebook.com/NFMTConference
https://www.youtube.com/user/NFMTExpo 
https://twitter.com/nfmt_conference