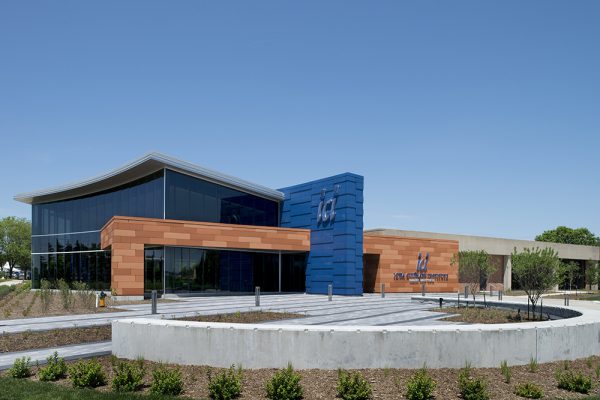 As a world-renowned program, the Iowa Culinary Institute (ICI) at Des Moines Area Community College (DMACC) provides high-end culinary experiences and serves students, staff and visitors. Reflecting ICI's reputation and revitalizing its facility for future growth and success, Shive Hattery Architecture + Engineering designed a fresh, contemporary look for the existing structure and its two additions.
Today, the updated building encompasses 34,000 square feet and features an attractive, modern façade that resembles terra cotta, but actually is aluminum. The specialty finish applied by Linetec to Dri-Design's wall panel system mimics both the look and the feel of natural terra cotta.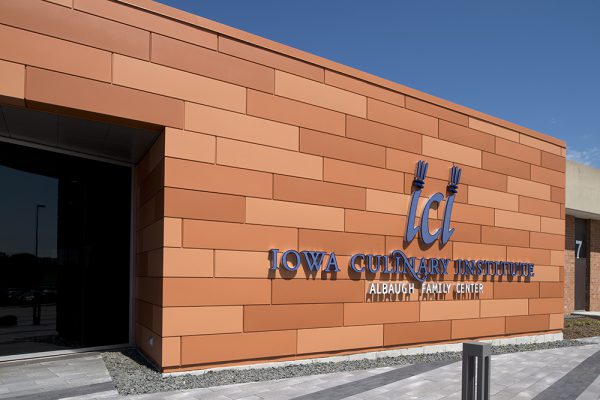 Attractive in Terra Cotta and Regatta
Shive Hattery found its inspiration in a building located to ICI's west that used a true terra cotta tile. To achieve a similar aesthetic, Linetec applied three different colors of terra cotta finishes to Dri-Design's 0.080-inch aluminum wall panels: Terra Cotta Armagnac, Terra Cotta Mountain and Terra Cotta True Penny. SGH Inc. installed these in a planned "random" pattern to further replicate the desired, natural look of stone.
In addition to the terra cotta textured finishes, Linetec painted 5,038 square feet of Dri-Design's Shadow Series panels in Pewter and Regatta color mica coatings. The vibrant blue Regatta corresponds with the college's brand identity.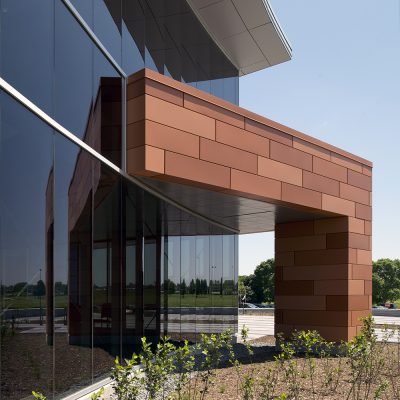 Easy Installation, Cost Effective
"The design team wanted to match that look with something that installed easily, was cost effective and has low maintenance," explained Dri-Design.
Compared with true terra cotta, aluminum wall panels painted with Linetec's terra cotta textured finish are a more economical option and delivered in a short lead-time. SGH Inc.'s installation team also appreciated the lighter weight of aluminum versus stone.
Using 70 percent PVDF resin-based coatings achieves the signature color and the highest levels of performance suitable for exterior architectural aluminum products. Like all 70 percent PVDF coatings applied by Linetec, the terra cotta finishes meet the requirements of the American Architectural Manufacturers Association's standard AAMA 2605. Tested to exhibit outstanding resistance to humidity, color change, chalk, gloss loss and chemicals, these durable finishes need minimal maintenance to keep their intended appearance.
Functional, Fashionable for the Future
Completed in the spring of 2016, ICI's redesigned entryway, lobby and pre-banquet space set a tone complementary to gourmet dining experiences. The north addition houses the new million dollar mechanical equipment systems. The south addition provides additional classroom, office and conference room space, as well as 7,500 square feet for an indoor common space capable of hosting large-scale events.
"The Iowa Culinary Institute (ICI) at DMACC is a visual statement of a building," said Paul Rathjen, architectural designer at Shive-Hattery. "Both the client and contractors were very satisfied. It's crazy, but it's cool. While visually it demonstrates a unique design, it's really not that complicated. Everyone loves the color, and it pops from the street."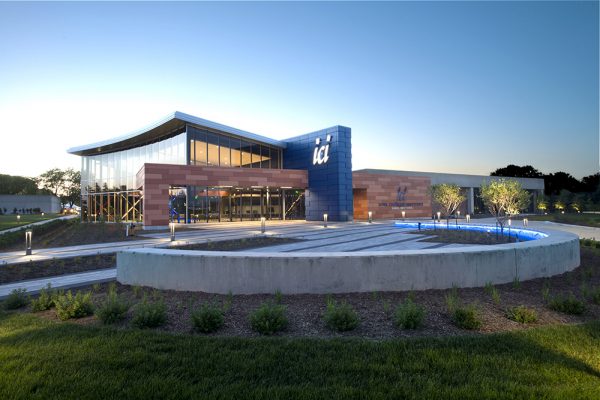 Rob Denson, DMACC President and CEO called the $5.5 million project "one of the most attractive and functional culinary facilities in the nation and a great place for our many guests to visit."
Iowa Culinary Institute at Des Moines Area Community College; 2006 South Ankeny Blvd., Building 7, Ankeny, Iowa 50023; https://dmacc.edu/ici/